Designing a small bathroom, en suite, or wet room can initially seem like a challenge, but, with the right porcelain or natural stone bathroom tiles, even the most compact of bathrooms can feel spacious while remaining big on style.
Tiles not only serve a functional purpose, but they also play a crucial role in enhancing your space stylistically and can even make a small bathroom appear larger through visual trickery. In this blog post, we'll explore a variety of small bathroom tiling ideas that can help you make the most of your home and create an appealing and functional space.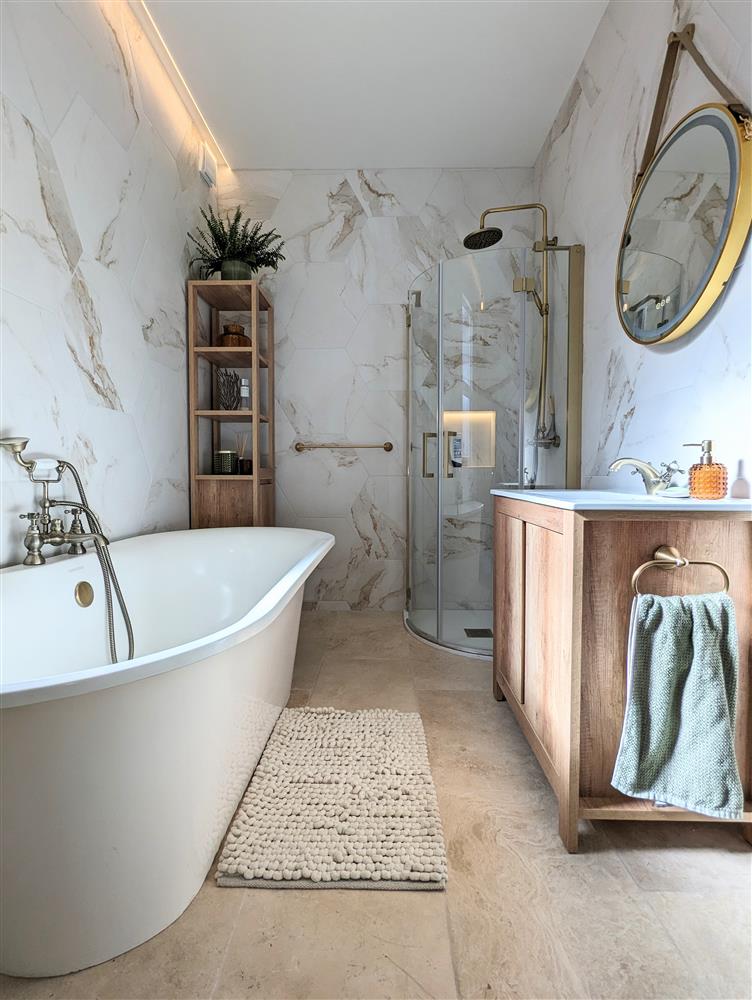 Calacatta Hex Gold Matte Porcelain Tiles
How to make a small bathroom feel bigger using tiles
When it comes to making a space appear bigger, it's all about optical illusions and clever tile choices. With some creativity and attention to detail, you can make your small bathroom look much larger than it actually is. So, with that in mind, read on to discover the small bathroom tiling ideas you can incorporate in your home!
Tile sizes to make your bathroom feel bigger
Use the same tile for your walls and floors to give the illusion of a larger space by blurring the boundaries of the room.
One of the most effective ways to make a small bathroom look more spacious is to use large format tiles to maximise the sense of openness and simplicity in your bathroom. Using large tiles in a small area means fewer grout lines, which creates a sleek and uncluttered appearance, giving the impression of a bigger space.
Dark grout lines can break up the visual flow of tiles, making the space seem busier, so you should also consider a grout that closely matches your tile colour, to create a more seamless look that opens the room.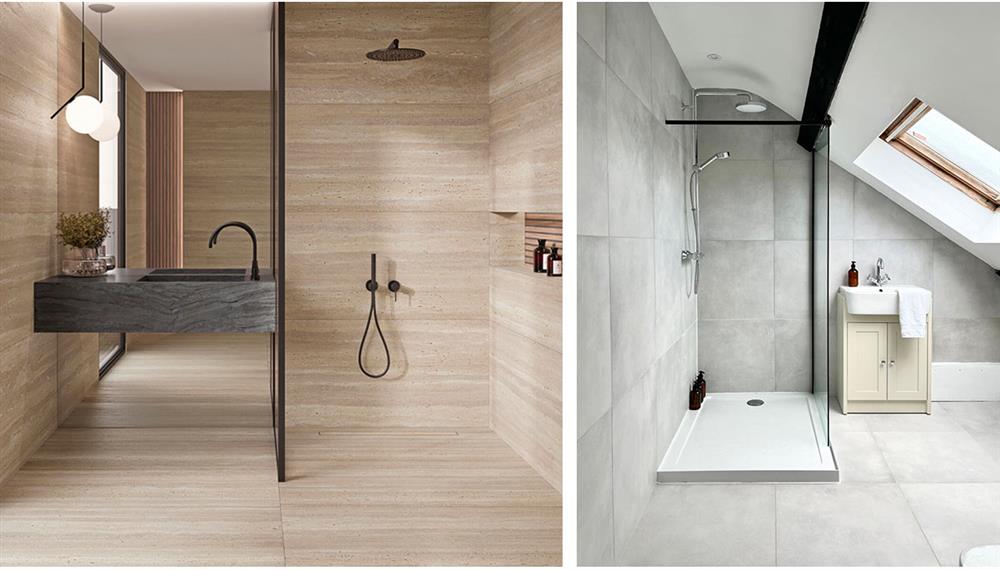 Veincut Travertino Porcelain Tiles (Left), Lavo Silver Concrete-Effect Porcelain Tiles (Right)
Tile laying patterns for small bathrooms
Even the layout you choose for your tiles can affect how big a space looks. Metro tiles are brilliantly versatile when it comes to laying arrangements and can be a nice way of adding interest and creativity through pattern.
If your bathroom has a low ceiling, arranging tiles in vertical-stacked columns will draw the eye upwards to make the room feel taller. However, if you're worried that a fully tiled wall could overwhelm your small bathroom, we suggest tiling the bottom two thirds and painting the upper portion.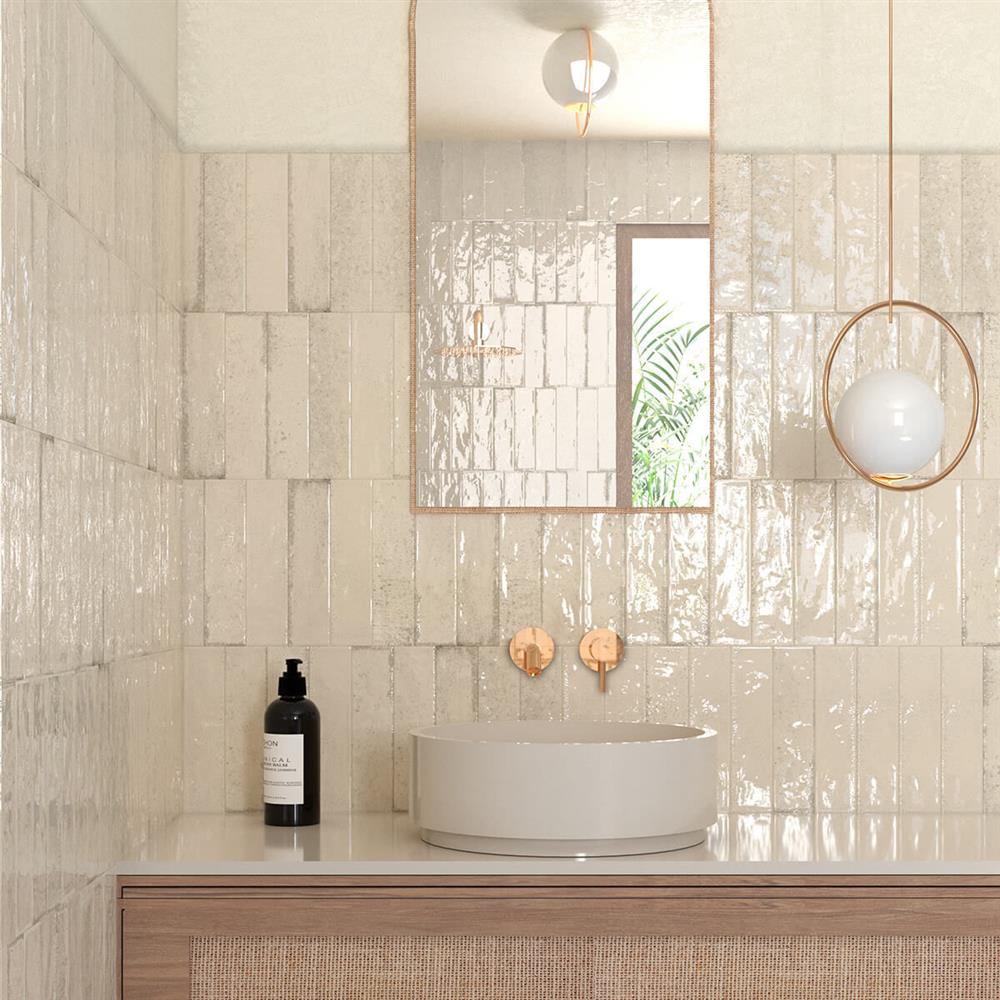 Alternatively, if you have a narrow space, consider using a herringbone pattern instead of the traditional grid. Herringbone patterns elongate the space by drawing the eye along the diagonal lines to stretch the width of the room.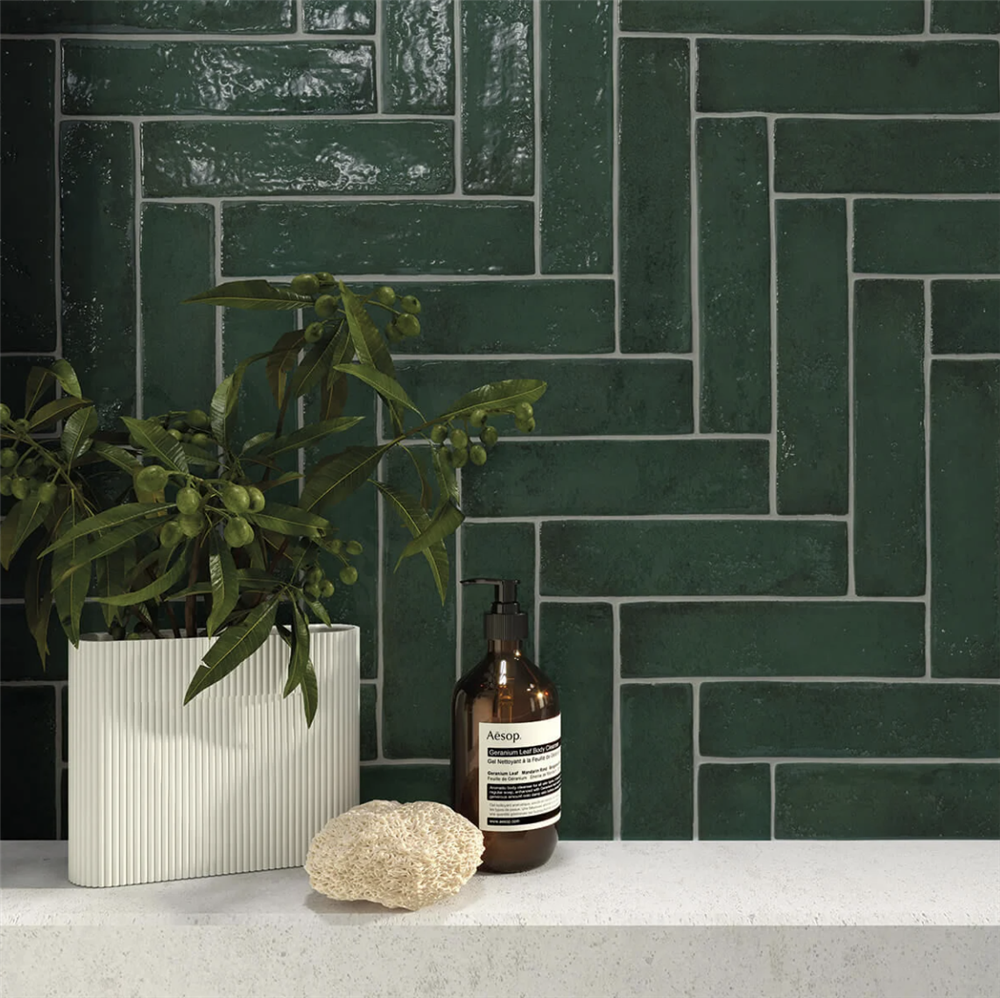 Vintage Racing Green Metro Tiles
Mirrored Surfaces and Lighting
Use your mirrors to reflect light and create the illusion of space. Combining large mirrors with tiled walls can make your small bathroom look significantly bigger, so place a full-length mirror on one wall or use mirrored cabinets to maximise the use of storage space.
The surface finish of a tile can also help to create an open and bright ambiance: opt for a gloss or satin finish to keep the natural light bouncing around the room.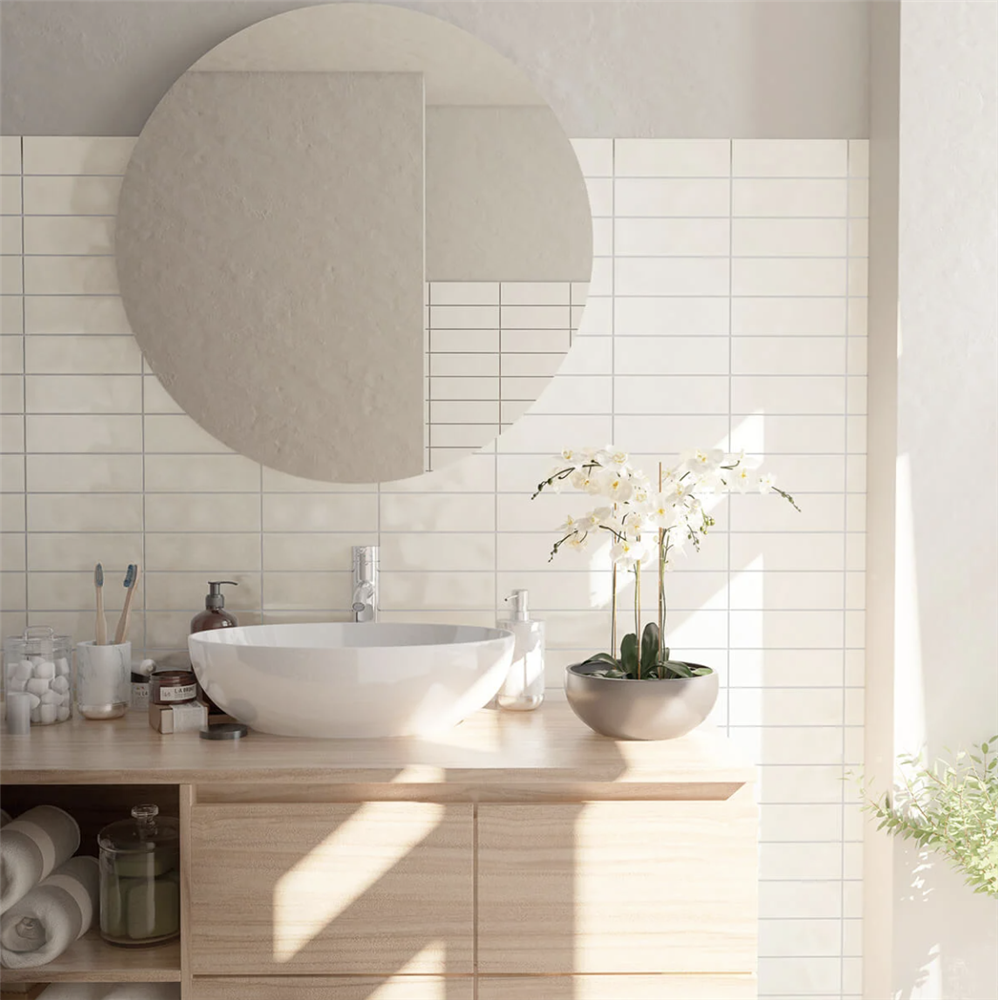 Salcombe Soft White Metro Tiles
How to use colour in a small bathroom
When working with a small bathroom, tile ideas centred around a natural colour scheme can be very effective. Colours such as soft green, earthy beige, mineral grey, or sky blue can make your space feel more open, while also create a soothing and relaxing bathroom atmosphere - perfect for unwinding after a long day.
Natural-inspired hues are arguably the best tile colour for small bathrooms, as they present a visual reminder of wider, more open outdoor spaces.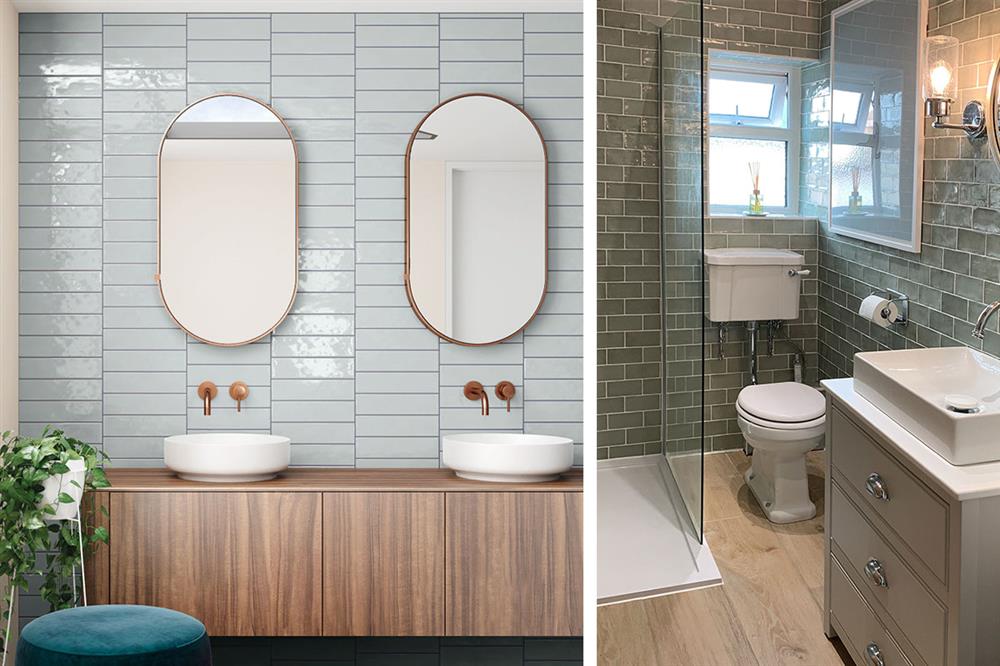 Cotswold Sky Metro Tiles (Left), Valentina Matcha Green Metro Tiles (Right)
When thinking about décor choices, don't forget to consider the fifth wall of your space - the ceiling! Painting your ceiling in the same colour as your wall will help to visually lift the space, while creating an embracing, cocooning feel.
How to use pattern in a small bathroom
If you want to push your creativity, small bathrooms can be the ideal opportunity to experiment with pattern and colour in more of a standout way. A smaller, contained room can be a great place to go braver with design decisions, if you're otherwise hesitant to experiment in some of the more open areas of your home.
Incorporating patterned tiles into a small bathroom can create a bold, dynamic feel, with a pop of character! Hexagon-shaped porcelain tiles add visual interest without overwhelming a small space, and can be applied as a feature wall, on the floor, or as a border to introduce character to your bathroom.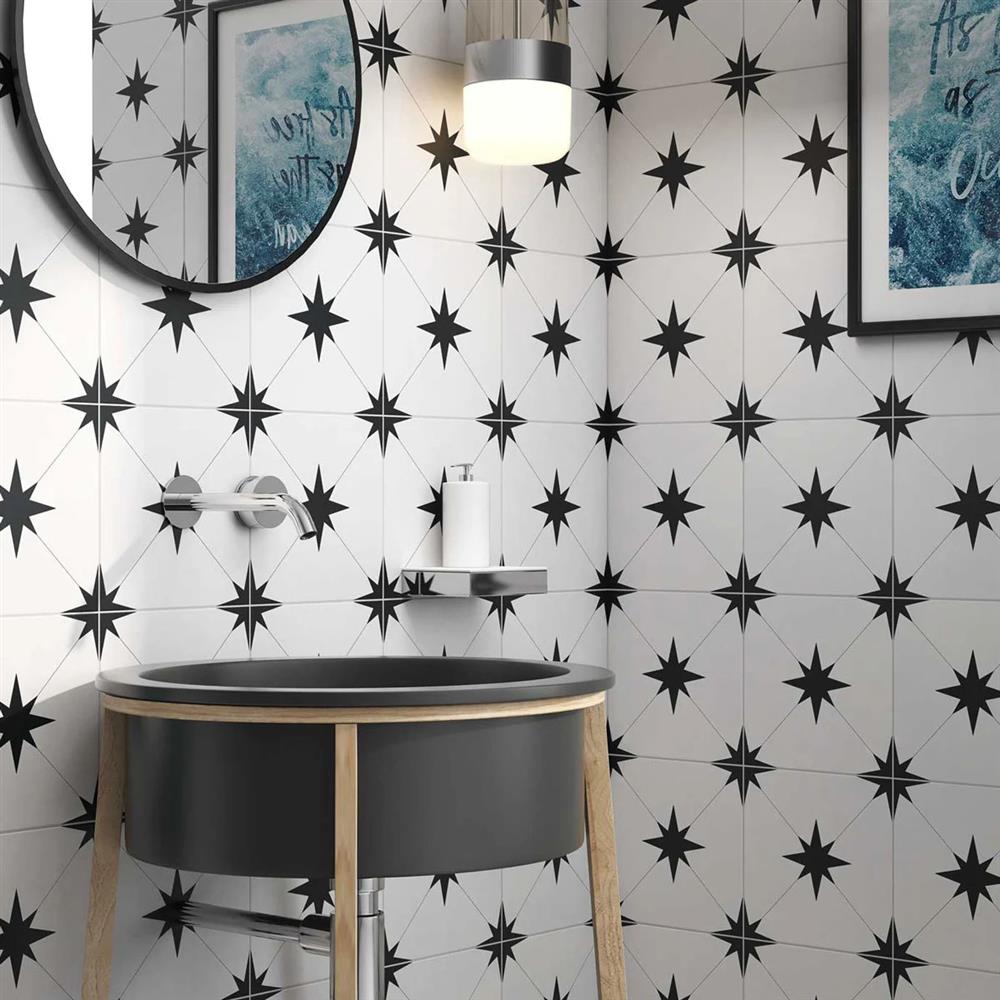 Portland Classic Patterned Tiles
Small bathroom layout ideas
Maximise floor space by installing floating vanities and wall-hung fixtures. These elements create a sense of openness by allowing more of the floor to be visible, therefore giving the impression of a larger bathroom. As mentioned earlier, combining these features with large-format floor tiles can make the room feel more expansive.
To minimise the need for external storage and to keep your bathroom looking tidy, incorporate recessed shelving or niches within tiled walls. These built-in features offer a sleek and streamlined look, ensuring that no space is wasted, to make the bathroom appear even more spacious.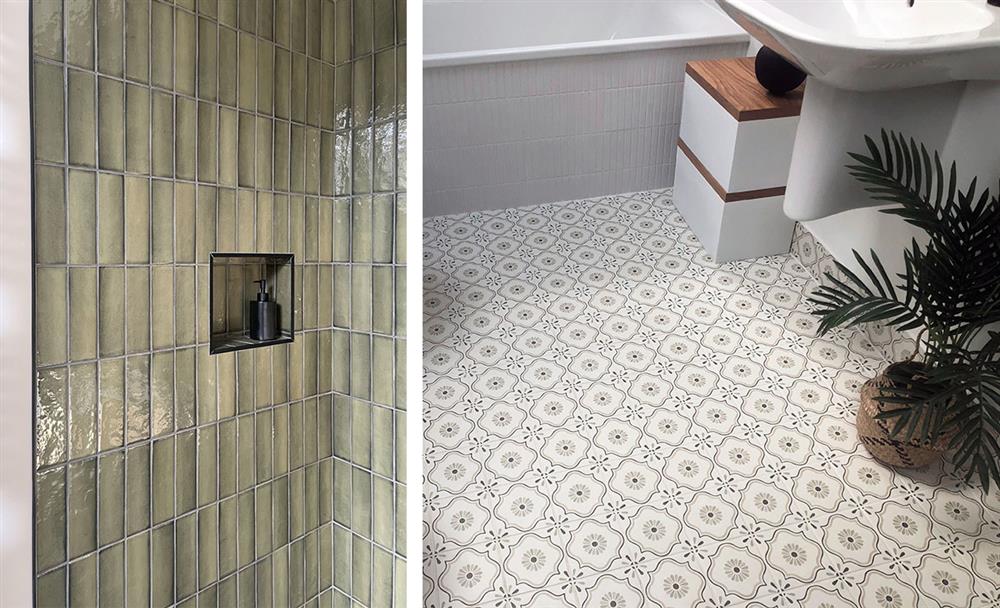 Babylon Olive Metro Tiles (Left), Wentworth Flower Patterned Tiles (Right)
Designing your own bathroom can be a great and rewarding project, and getting the right choice of tiles will make a significant impact. From large format porcelain bathroom tiles to bold and trendy options, there's a wide range of small bathroom tile ideas to suit your style and preferences. When weighing up tile options, consider factors such as colour, pattern, size, and material to achieve the perfect balance between aesthetics and functionality. With the right tiles, your small bathroom can become a space that you not only love but also enjoy spending time in.
For guidance on how to install and care for your bathroom tiles, explore our tile maintenance advice section, or keep up to date with further design ideas and inspiration on the Stone Superstore blog.
Share post