When it comes to renovating your kitchen, there are few things more sought after than a quality tiled floor or backsplash. Perfect for heavy foot traffic and resistant to all the stains and spills that come with cooking, the right kitchen tiles can truly bring this important room to life.
But if you've never had tiles in your home before, then you might not be sure exactly where to start looking. After all, there are many different tiling styles and materials out there for you to pick from.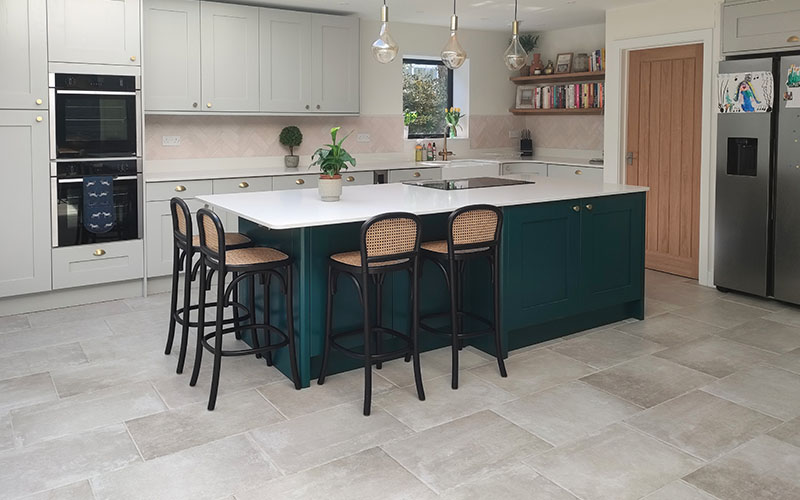 Provence Bianco Antique-effect Porcelain Tiles
So, to help you get started, we've suggested our top kitchen tiling ideas for both floors and walls, giving you plenty of inspiration to begin your search and create the kitchen aesthetic of your dreams.
1. Antiqued and worn stone
The first of our suggested kitchen tile ideas focuses on the use of traditional natural stone, specifically as part of your kitchen floor, and is ideal for those looking to replicate that traditional farmhouse floor style.
Replicating that well-loved look, a set of tumbled stone tiles, also known as antiqued tiles, immediately draws the eye by highlighting their weathered and purposely chipped nature.
A light tumbled limestone in particular looks great in a farmhouse-style kitchen with wooden or coloured painted cabinets, while a warmer shade of limestone will go well with cream cabinets.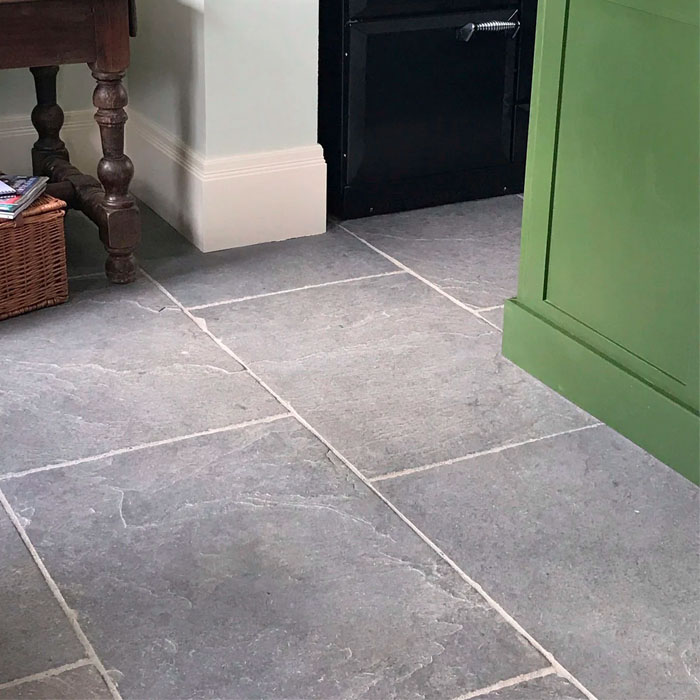 Stamford Limestone Tiles, Tumbled
2. Large marble tiles
The next of our flooring ideas for your kitchen involves the laying of large and sweeping marble tiles. A timeless classic when it comes to natural stone tiles, marble is an elegant material that can lend an air of elegance to your kitchen with its buffed finish.
Marble is a versatile material and looks beautiful in both modern and traditional settings. However, it's particularly well-suited for use in traditional kitchens in older homes, especially those that bear Victorian character, and can really bring out the elegance of an aged aesthetic when installed properly.
However, marble isn't only for use on your floor. If you want to create a statement with your open shelving or backsplash, then using a large, cream marble slab can do wonders for highlighting the area if complimented with contrasting colours.
3. Metro tiles
Named after their distinctive subway look, porcelain metro tiles are much smaller than their floor tile counterparts, which makes them perfect for use as wall tiles around specific areas of your kitchen.
For those seeking traditional kitchen design ideas specifically, you can't go wrong with opting for metro tiles due to their versatility when it comes to the range of colours available, as well as laying pattern options. For instance, herringbone or offset brick bond designs offer more of a decorative, traditional look that look great with a shaker kitchen. Read our guide on metro tile ideas for further advice on tile laying patterns.
And don't feel that you have to cover the entirety of your wall with these tiles. Consider opting for a half-and-half effect, using tiles at the base of your wall before swapping to a contrasting paint colour halfway up, to add a stylish look to your contemporary kitchen walls.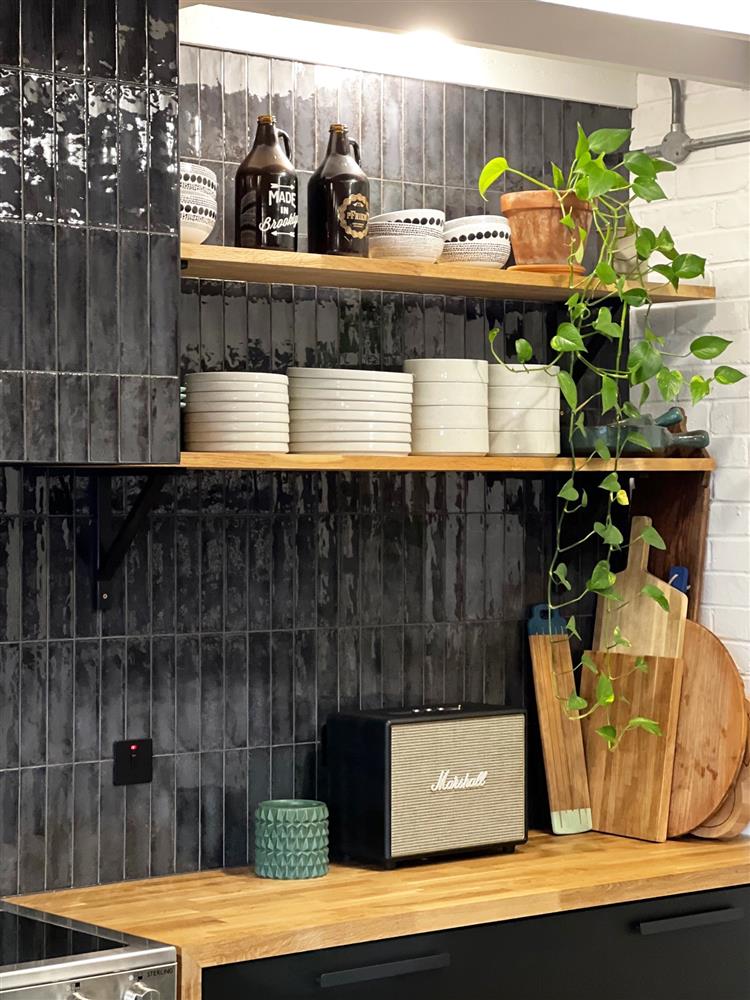 4. Bringing the outdoors in
Turning towards more contemporary kitchen floor tile ideas, one of the most popular trends right now is to continue the style of your indoor kitchen tiles through to your patio, creating a seamless transition between your kitchen and garden.
This works particularly well if your kitchen is connected to your garden through a pair of large patio doors. So, through either indoor/outdoor porcelain tiles or natural stone tiles, simply opt for one set of tiles that is suitable for both indoor and outdoor use.
5. Cool colour schemes
When it comes to styling your kitchen, it's important to use colours that you are drawn to. For an easy kitchen tile flooring idea, you could opt for the classic warm beiges and brown that come with more traditional tiles. But if warm colours aren't your style, then grey concrete-effect porcelain could be the perfect option.
This tile type works well in any kitchen but look particularly stunning when used in an industrial interior style with a dark or muted wood, and marble or granite worktops.
6. Porcelain effect tiles
Although natural stone tends to be the go-to tile material choice when looking at tile flooring ideas for your kitchen, you might want to shake things up by going for a porcelain or patterned effect tile set instead.
Porcelain tiles have a favoured ability to create a seamless, uniform finish across your entire floor. Coming in a range of stone, wood, terrazzo and even patterned effects, they offer unmatched versatility in both their layout, sizes and uses.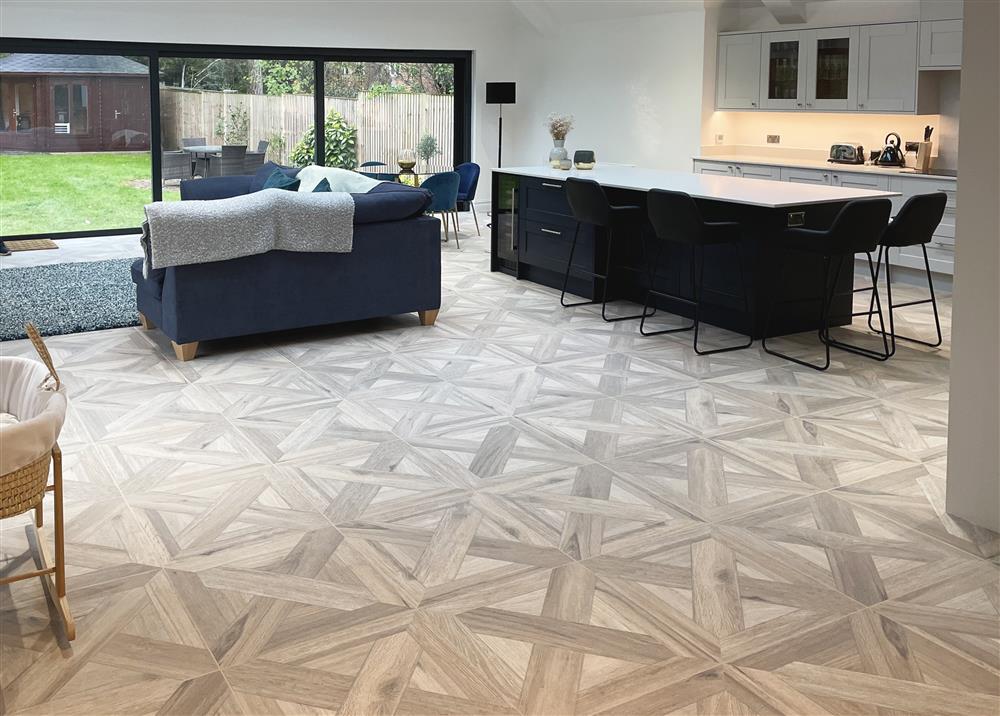 These are just some of our favourite kitchen flooring and wall ideas, surrounding tile selections. Of course, there are endless interior styles and interesting design trends out there, and we encourage you to look around for further inspiration to create a home that that you truly love.
If you have any questions about the tiling, don't forget to get in touch with our team, or look through the rest of our tile advice guides or blog for further design inspiration.
Share post