Thinking of swapping out your living room carpet for a brand-new set of natural stone tiles? Durable and versatile, natural stone offers some of the best tile options for a living room floor, especially if yours experience a lot of foot traffic on a daily basis.
But if you've never tiled your living room before, you may not know where to begin, which is why we've done the hard work for you, with a selection of living room flooring ideas below.
From a traditional limestone layout to the shiny and polished potential of marble, our tile ideas for your living room are sure to be just what you need to start planning your new renovation and get your creative juices flowing.
Which are the best tiles for living room floors?
When it comes to choosing a tile material for your living room, there are plenty of natural stone options out there for you to choose from. Here at Stone Superstore, we specialise in three specific types of natural stone tile, all of which are ideal for use in a living room:
Of course, these are just the basic types of stone we offer, and each one comes in a variety of style options and colours that add a greater degree of flexibility and aesthetic choice. And on top of these materials, we also provide tile finishes in the following designs:
- Antiquated tiles
- Polished tiles
- Honed tiles
Tumbled tiles As for which is the best flooring option for your living room, that is up to you to decide, though we hope you'll get some inspiration from our suggestions below.
Our top 3 living room flooring ideas
Ready to get started experimenting with what natural stone tiles you want to use in your living room? Here are our favourite three ideas to get you started.
1. Umbrian Grey natural stone
Offering tumbled edges and a textured surface, Umbrian Grey is an excellent example of a grey flagstone flooring solution used properly.
Being equally suitable for use as an external flagstone patio and an indoor kitchen floor tile, by using Umbrian Grey, you can create a seamless transition between your home and garden with the right set of doors.
Our Umbrian Grey is available in random lengths with a set 600mm width, or a set size of 900x600, which means you'll have no problem getting the right sized stone tiles for your needs.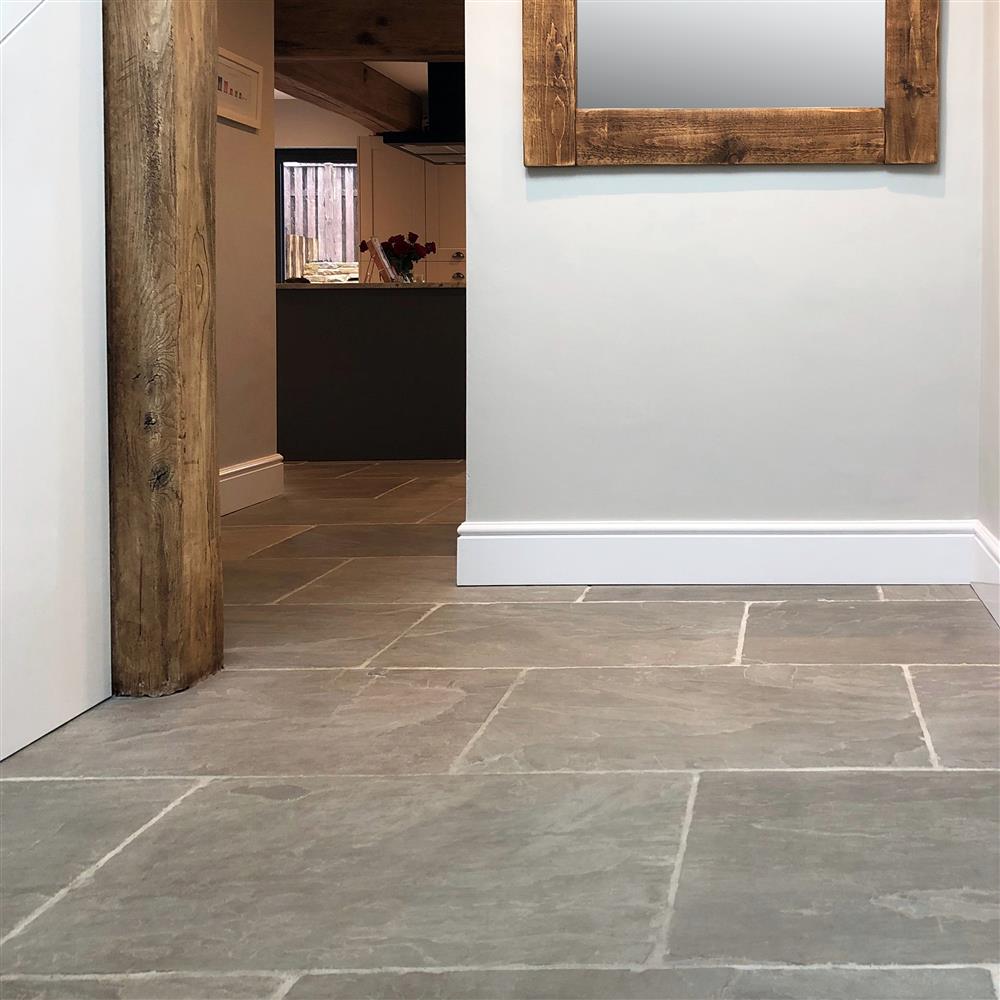 Umbrian Grey Sandstone
2. Polished Ibiza marble floor tiles
While a traditional style of flagstone can be nice, if you're after tile ideas for your living room that lend an air of elegance and grace, then we'd recommend our range of polished Ibiza marble.
Ideal for use in a large open plan area where a sleek style is a must, polished marble can both brighten up a space while also working well with a spectrum of colour options. And thanks to its unique 'sugar lump' crystalline structure, our Ibiza marble stone tiles display a subtle grey vein aesthetic that is perfectly highlighted when laid in a brick pattern.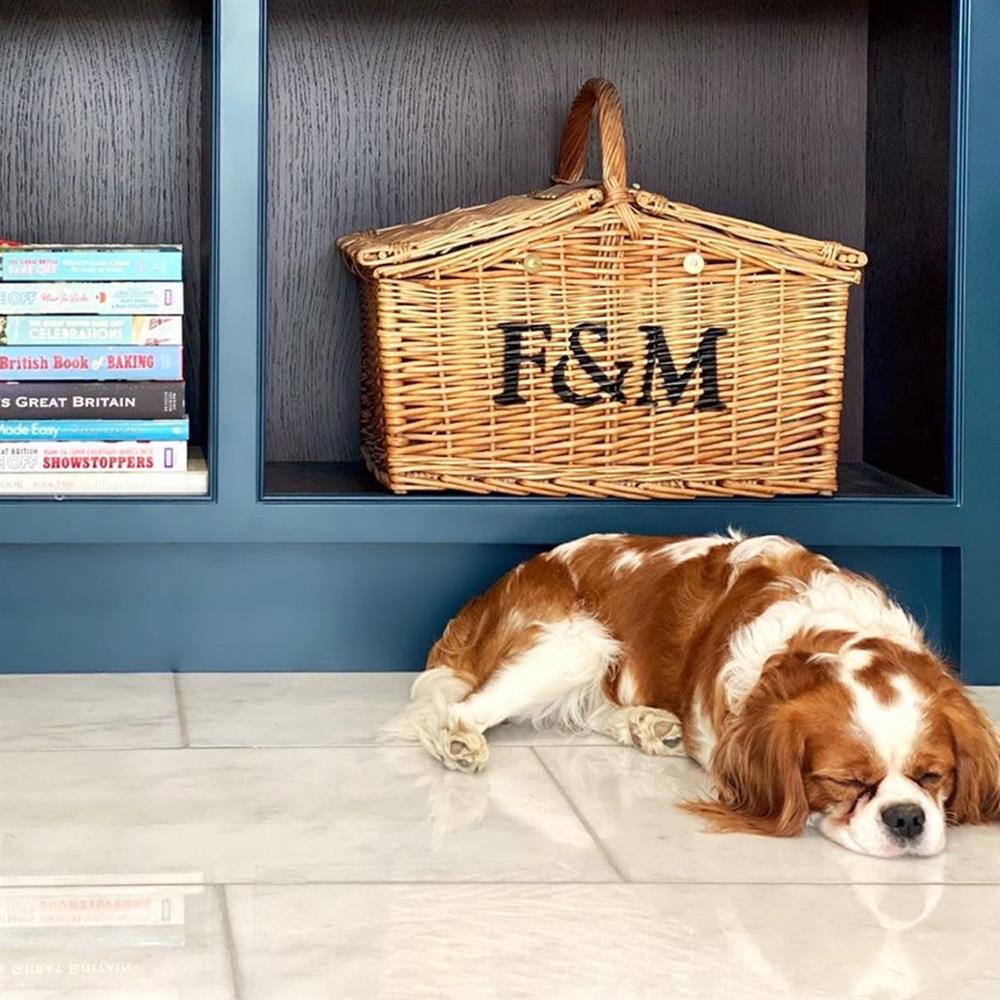 Ibizia Bianco White Marble
3. Dijon limestone flooring
Natural limestone floor tiles are widely considered one of the best floor tile options for use around the home, and when it comes to tile ideas for your living room, they are no exception.
Created from sedimentary rock formed from compacted and compressed fossils, all limestone floors offer a unique display of tiny fossils and calcite veins across their surface, giving your floor a truly natural and environmental feel.
Our Dijon limestone in particular also provides a great colour selection on top of these features, giving you the flexibility to find the right shade to match your current living room aesthetic.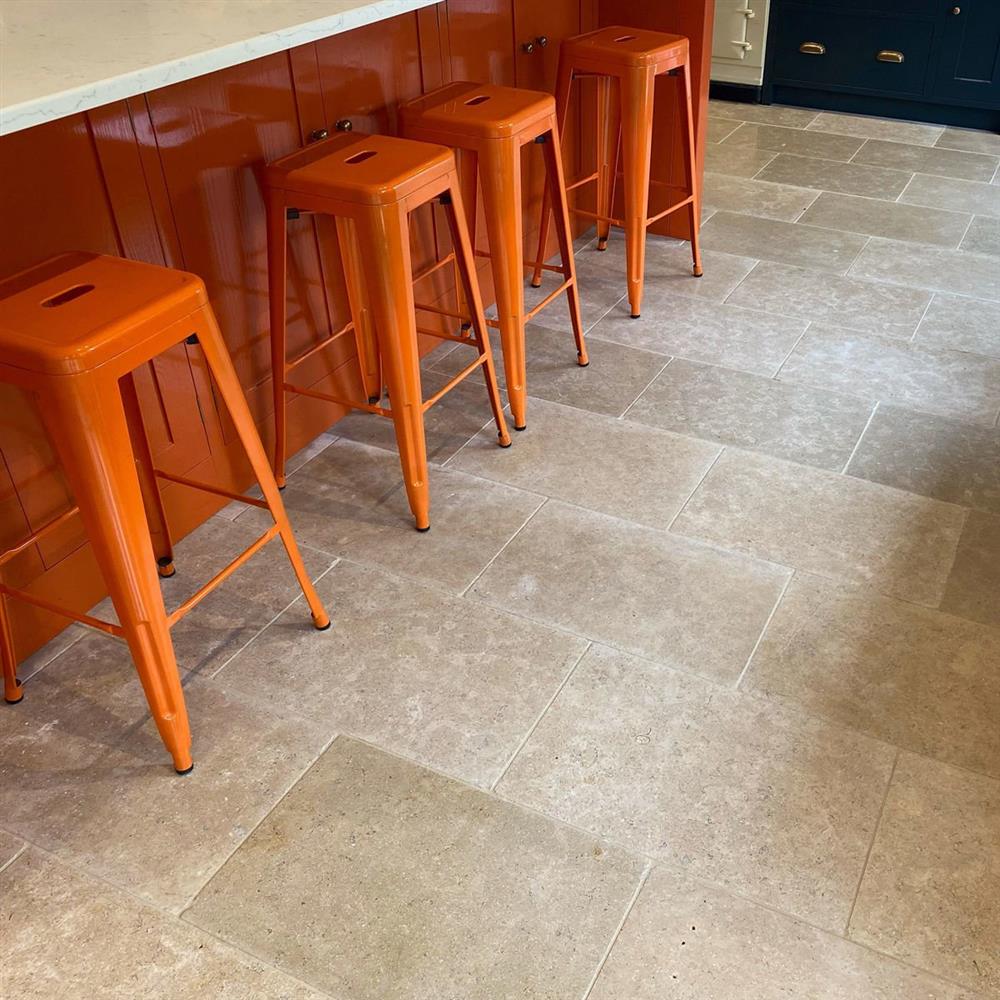 Dijon Limestone - Tumbled
Important things to consider when choosing stone tiles
Although stone is an excellent tile choice and can work with a range of living room tile ideas, you want to be sure that it is the right tile choice for you and your home's needs. When looking at natural stone tiles, be sure to consider the following before you commit to this material:
- Cost: due to their durable and hard-wearing nature, it's not uncommon for natural stone tiles to cost more than other material types. If you're on a tighter budget, consider stone-effect porcelain tiles for a look-a-like with a lower price tag.
- Aesthetic: while stone can go well with plenty of different styles, it's not suited to all designs. If you're living in a more contemporary aesthetic home, you might want to avoid stone in favour of a different, less traditional material.
- Room size: is your living room particularly big? If so, you might find that you require a lot of stone to complete the look you want, which can again add to the overall cost of your tiling project.
- Tile size: how large do you want your living room tiles to be? Stone is ideal for big tiles, but you may want to choose a different material if you plan on using smaller tiles for a patterned effect. Take a look at our blog on large tiles vs small tiles for more information on this topic.
What is the best flooring for living rooms with pets?
Any pet owner knows just how messy a pet can be, which means it's more important than ever to choose a set of living room tiles that can handle the daily wear and tear that comes with owning a pet.
Tiles take the crown over other options, such as carpet or wood, due to being hard-wearing and easy cleanable. Porcelain tiles are a great option as they're completely non-porous, however Natural Stone tiles can be just as effective if sealed and maintained properly, otherwise, they could absorb any stains and odours they're exposed to.
Are natural stone tiles good for kitchens?
While the main focus of this article has been on living room tile ideas, it should really go without saying that natural stone tiles are also an excellent choice for any kitchen. When laid and sealed correctly, a set of natural stone tiles will last you for years to come.
And there you have it; those are just some of our favourite ideas for anyone looking to style their lounge with natural stone tiling. Of course, if you have more questions on this topic, then you can contact us and our team of experts directly.
We'll be happy to answer any questions you may have, but don't forget that you can also browse the rest of our tile advice guides.
Share post