Amidst our fast-paced, digitally-driven daily routines, finding moments of tranquillity to rest and recharge is essential for our wellbeing, yet the thought of factoring in sufficient 'you time' can be easier said than done.
With self-care becoming an increasing priority, home improvement trends are following in the footsteps of hotels and luxury spas alike, where design is centred around escapism and mindfulness. As a result, the 'Spathroom' trend has emerged; reflecting the desire to create a spa-like experience within the comfort of our own homes.
To find out how to create a spa-like sanctuary with a few simple bathroom decorating ideas, here are our tips and tricks to designing your own private slice of luxury and relaxation.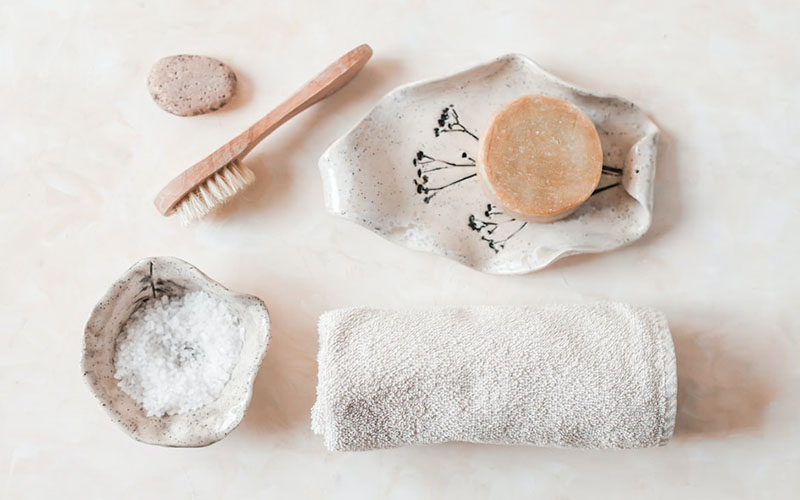 (Image credit: Diana Light)
How to make your bathroom feel like a spa
Declutter and create space
The first step to creating a spa-like experience in your bathroom is to reduce the visual clutter and be selective on what you have out on display – especially if space is relatively limited. With this in mind, remove any unnecessary items from your countertops by storing them away in cabinets, baskets or caddies.
Take it one step further by investing in floating vanities, alcove shelving or hidden storage solutions to keep your daily essentials neatly organised and out of sight. A clean, uncluttered space will provide an instant sense of calm and order. For more ideas on how to make the most of your compact space, discover our guide on small bathroom decorating ideas.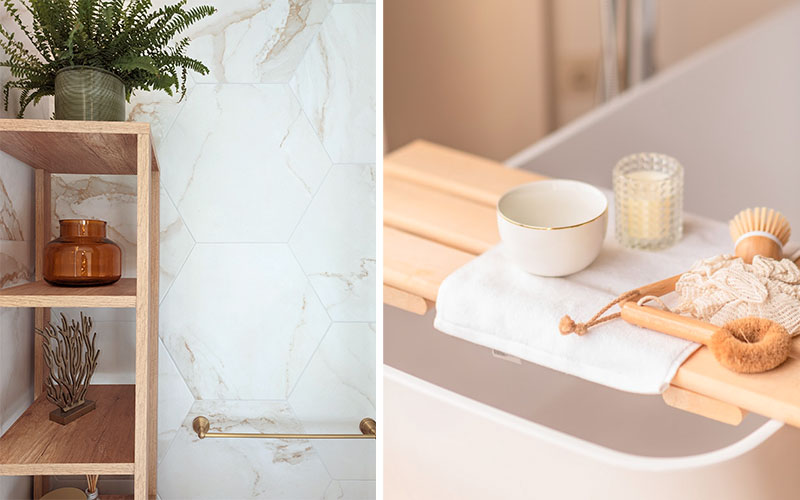 Left: Calacatta Hex Gold Matte Tiles, Right: (Image credit unsplash)
Choose a soothing colour palette
Picking a suitable colour palette for your floor and walls is crucial in creating a calming setting in your bathroom. Stick to muted, soothing colours that are present in nature to build a serene ambience. Neutral, earthy tones such as soft beiges or browns will create a grounding feel that reconnects us to nature, while blues, green, and grey tiles remind us of the land, sea and sky, evoking more of an invigorating experience. These colours mimic natural elements and provide a soothing, serene backdrop for your relaxing bathroom space.
Of course, clean white décor will work well here, yet avoid making your space feel cold and clinical by introducing accents of warmth. This could be through gold or copper brassware, of even accents of wood or rattan through accessorising.
If bolder, darker colour is more your style, be sure to keep the overall colour scheme completely cohesive within the space to maintain a cocooning, immersive atmosphere.
Consider the lighting
Lighting is crucial in setting the right mood for a relaxing space. Of course, natural daylight offers an abundance of wellness benefits, and is important to utilise throughout your home. However, if your bathroom lacks sufficient windows, opt for gentle, warm artificial lighting installed with dimmer switches to allow you to fully control the brightness and create the perfect ambiance.
Incorporate task lighting near mirrors for practicality, and include ambient lighting such as sconces, pendant lights, or LED strips to create a soft and inviting glow. A well-lit bathroom can be both functional and aesthetically pleasing to suit your needs.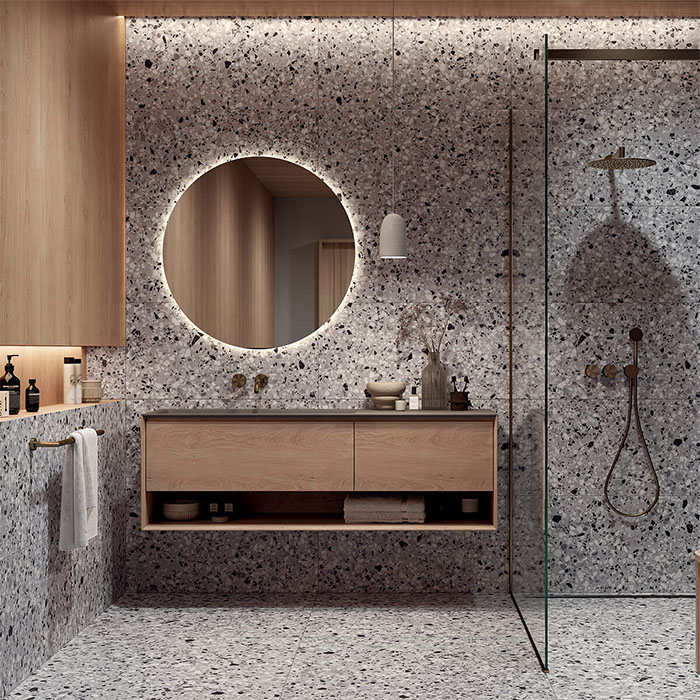 Use luxurious materials
To mimic the luxury and comfort of a spa, incorporate high-quality materials into your bathroom design through tiles, hardware and accessories.
Good quality natural stone tiles, such as marble and limestone, are an optimum choice for an authentic, relaxing, spa-like bathroom. These materials not only look beautiful but also feel luxurious to the touch, giving you a complete bathroom tile makeover, enhancing the senses, and creating a restorative experience.
Alternatively, consider porcelain tiles to achieve the visual effects of natural materials with the practicality of porcelain, which provide ultimate durability and easy maintenance. Terrazzo or travertine-effect tiles offer stylish options with a trend-led appeal that will work wonders as a modern tile choice in a spa bathroom.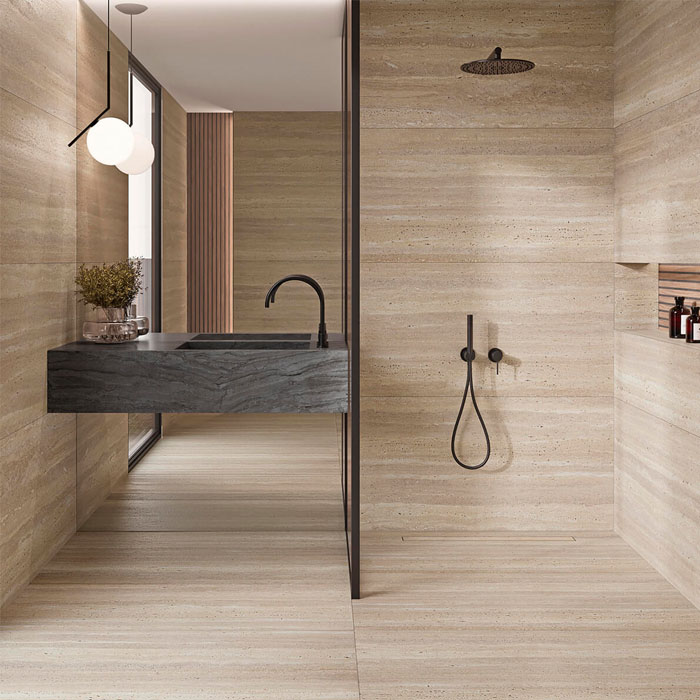 Veincut Travertino Porcelain Tiles
Incorporate nature
Bringing nature into your spaces can enhance the effects of wellness and relaxation you experience in your home. Add houseplants that thrive in high-humidity environments, such as snake plants, peace lilies, or ferns. The presence of greenery within interiors evokes a connection to the outdoors, forming your own private, zen-like oasis.
Some plants also hold healing, health benefits which can be ideal to utilise within a bathroom setting. Eucalyptus carries aromatherapeutic properties within the fragrance which can reduce stress, relieve inflammation and stimulate energy. Try hanging a bunch of eucalyptus in the shower as a great way to experience these benefits. The steam from the hot water releases the oils from the foliage making the scent easier to breathe in, producing an immediate sense of calm as part of your daily routine.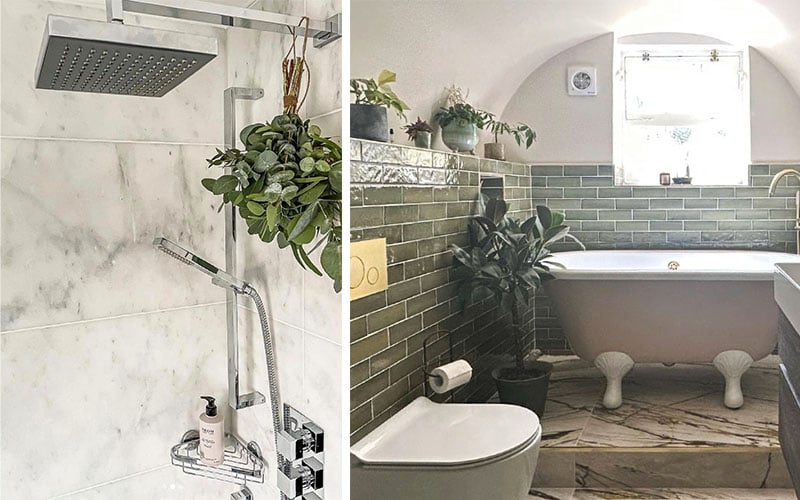 Left: Ibizia Bianco Honed Tiles, Right: Babylon Olive Tiles
Create a multi-sensory space
Appealing to all the senses is key to creating a relaxing experience that you can fully immerse yourself in, and it's easier than you'd perhaps initially expect. Here are some quick bathroom makeover tips for engaging each sense, to enhance your relaxation experience:
Sight: Limit visual clutter and use natural materials and plants that promote relaxation.
Sound: Consider installing a high-quality sound system or a humidity-resistant speaker to play soothing music or nature sounds to unwind while enjoying a bath.
Touch: Invest in using good quality, tactile materials in your space, from tile combinations and hardware finishes, to soft, fluffy towels for ultimate comfort.
Smell: Use essential oil diffusers or scented candles with calming fragrances such as lavender, eucalyptus, or chamomile.
Taste: Have a selection of herbal teas or infused water available to enjoy during your spa time to keep hydrated and enjoy the physical health benefits.
Pamper yourself
Finally, when it comes to adding the finishing touches in your spa bathroom remember less is more. However, this doesn't mean you should avoid accessorising completely. It's still important to ensure it's a place that works to meet your preferences, where you can fully disconnect, relax, meditate, or simply unwind.
Whether you choose to incorporate a selection of your favourite books or magazines, or a bath caddy displaying your collection of bath products, salts and essential oils, these small details can make a big difference in how you feel in your bathroom.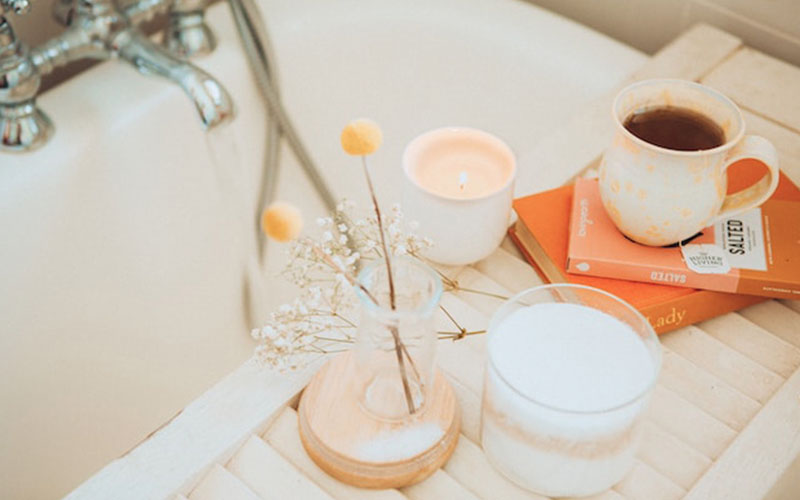 (Image credit: Maddi Bazzocco)
The benefits of an at-home spa bathroom
Even with the simplest bathroom decorating ideas, making the most of your home's 'Spathroom' potential can offer many benefits. Creating a space where you can switch off and disconnect from daily worries and to-do lists, will significantly reduce stress, anxiety and will restore a mental balance. Not to mention the improved convenience and financial benefits if you are someone who regularly visits costly spa & wellness destinations.
As well as offering personal benefits, investing time and money in luxury home improvements can increase your property value. A well-designed, spa bathroom could add appeal to buyers, though the addition of an extra, attractive, marketable feature.
If you are searching for further bathroom makeover ideas, discover how to make the most of your bathroom by reading our tips on how to choose bathroom tiles. For further design ideas, interior trends and tile advice, explore our blog and advice sections or follow us on Instagram @stonesuperstoreofficial to keep up to date.
Share post