How to clean a limestone floor
If you're looking to add rustic-style flooring, then it's hard to go wrong with a random length tile that fits into any room with minimal issues.
However, with this beauty does come a degree of regular maintenance. Fortunately, with the right knowledge, limestone maintenance is quick and easy to carry out, ensuring that your tiles look fantastic all year round. So, without further ado, read on to discover how to restore limestone floor tiles in your home.
What are limestone tiles?
Limestone tiles are a natural stone that consists of different minerals, calcite, and aragonite, which combine together to form the compact, twinkling rough stone that is limestone.
As a result of this formation process, limestone tiles have natural textures that are wholly unique to them, giving them the distinct and weathered look that makes them so appealing.
Of course, there's more to limestone than just these qualities, and you can find out more about it in our "What is Limestone" guide. But for now, let's turn our attention to keeping this type of tile clean.
How to clean limestone tiles
Limestone tiles, whether laid as kitchen floor tiles or bathroom floor tiles, shouldn't be a chore to clean. In most cases, it simply comes down to using the correct products at the right time to keep this natural stone tile looking stunning.
For the most part, day-to-day cleaning will go a long way towards making limestone floor maintenance that much easier. We suggest the following cleaning steps:
Start by vacuuming your floor to clean up any dust and debris that might get in the way when wiping your floors down. Clean your tiles down with a limestone-friendly cleaning product, such as LTP Waxwash, which is formulated specifically to maintain natural limestone flooring.
Once you've wiped your tiles, leave them to dry naturally to prevent smearing.
And that's it! regular limestone floor maintenance really is as simple as that. How often you choose to do this is up to you, but a weekly clean should be more than enough to keep your tiles looking fresh.
You might have also noticed that we specified an exact cleaning product to use. This is because many regular cleaning products are fairly acidic, and this acidity is actually strong enough to mark and damage your limestone tile, so it's best to avoid them when possible.
Deep cleaning limestone tiles
While the method we've mentioned above is fine for a light clean, you might find that this regular cleaning treatment is not enough for persistent dirt and stains.
That's why, for anything more than the removal of day-to-day dirt, we suggest using a more intense heavy-duty treatment for a deeper clean, such as LTP Grimex, which is highly effective at removing oil, grease, and ingrained dirt from limestone.
To get the most out of this product, we also recommend using a soft cloth, sponge, or toothbrush to gently scrub or remove any stains, before rinsing your tiles in distilled water and wiping them dry.
How to clean grout on limestone tiles
While a vital part of any tiling installation, grouting can sometimes be a messy process. More often than not, you'll likely find some grout spilling over onto your tiles as they're being laid, which can be unsightly if not removed promptly - and the textured surface of limestone means that grout residue is a more common problem than you might expect.
However, the good news is that this sort of limestone restoration is quick to carry out. Simply pick up some LTP Grout Residue Remover, which is a rapid-action cleaning agent, and follow the instructions on the product to swiftly remove any grout and cement stuck to your tile surface.
Carrying out limestone restoration
If you've had your limestone tiles for a long time, eventually, they will need restoring to some degree. Whether that's repairing tile scratches, breaks, or fading sealant, it's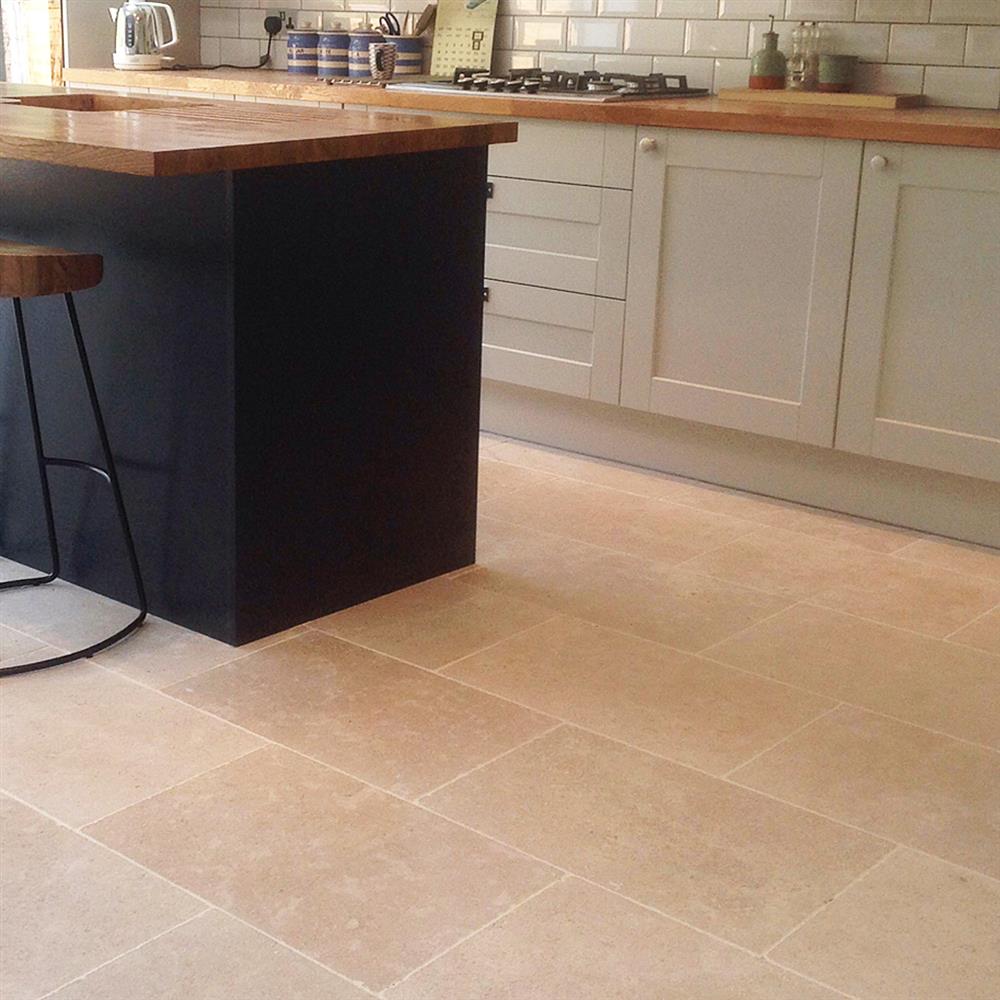 important to tackle these issues as soon as you spot them to stop them from becoming a bigger problem in the future.
Restoring your limestone's sealant in particular is very important. Natural stone tiles are highly porous and need to be sealed to help protect the surface from dirt, water ingress, and long-term staining. If left unchecked, fading sealant may very well cause the colour of your limestone to change within a few months, affecting its overall appearance.
To solve this issue and renew the protection, we recommend deep cleaning your limestone tiles with LTP Grimex and then applying an LTP Mattstone impregnating sealer.
Finally, if you do find that your limestone has suffered scratches as a result of daily movement, then you can either sand down the tile to hide the scratch or blot it with mineral oil. Either way, both of these methods will require you to reseal your tiles once you'e done, to maintain a full sealant coat.
Hopefully, with this advice in hand, you should have no issue keeping your limestone looking great for years to come. Of course, if you're yet to install limestone or natural stone tiles in your home, then why not take a look at the full Stone Superstore selection?
Get in touch with our team of experts today and they'll be happy to recommend the right stone for your home's needs, as well as answer any questions you might have along the way. You can also visit the Stone Superstore advice page for more insightful pieces like this one.
Share post