While a spacious and well-laid-out natural stone patio is a must-have for many gardens, when it comes to welcoming more natural light into your home, it's hard to beat the benefits offered by a conservatory or sunroom.
And let's face it, it's pretty hard to imagine anything better than a cold glass of wine and a good book in a bright and warm conservatory, safe from occasional breezes and summer showers, while still being able to soak in every ray.
However, if you're currently building a new conservatory, it's important not to overlook the décor and design aspect, especially when it comes to flooring. After all, there's no point in building a room that you don't like the look of.
So, to help you get a better idea of how to pick your conservatory floor material, and why tiles make for an excellent flooring option, here are our suggestions on the best flooring for a conservatory.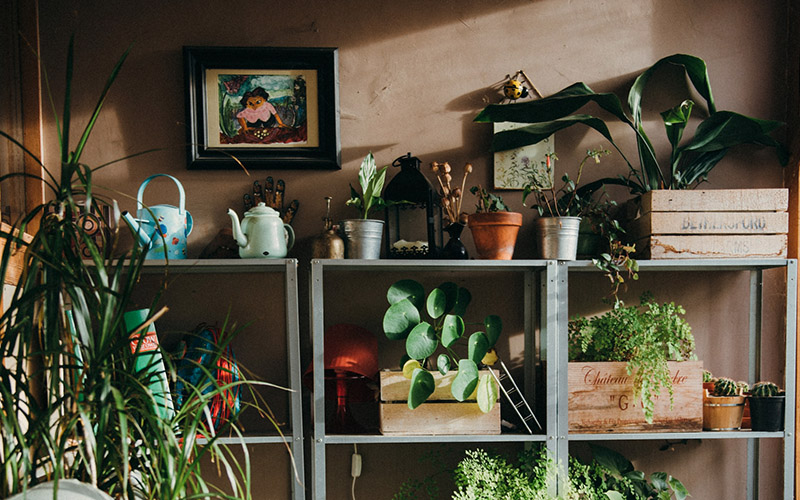 (image credit: Vital Sinkevich)
How to choose the best flooring for a conservatory
When it comes to choosing the type of flooring you want in your conservatory, there are numerous considerations you'll need to take into account to ensure you pick the right material for the job.
For example, think about how much sun your conservatory is likely to receive on a daily basis. If it's going to be exposed to bright sunlight all day, every day of the week, then you'll want to pick a material that won't rapidly fade in colour due to exposure.
Alongside this, you should also consider how much you'll be using your conservatory in the other months of the year. The last thing you want is to have freezing cold floors over the winter months that prevent you from being comfortable in the room.
And then, of course, there's foot traffic. Many people often treat their conservatory as the exit to their garden, as well as a space to leave boots and shoes. Therefore, you need to be sure you're picking a flooring material that won't wear down quickly and can handle the dirt and grime that comes with this sort of home environment.
Naturally, you'll want to carefully consider all your options before you commit to any flooring ideas for your conservatory.
The advantages of having a tiled conservatory
If you've been considering installing a conservatory for a while, you're no doubt aware of just how many material and style options there are available to you. From wood to vinyl, and everything in between, you have a lot of flooring options to choose from.
However, when it comes to the right flooring material for this sort of space, few options can offer you as many benefits as a shiny new set of indoor tiles.
- Durability: Whether they be made from traditional natural stone or more modern porcelain, this flooring type offers unmatched durability, easy maintenance, and a reduction in the risk of damage that often comes with the rapid temperature fluctuations found in conservatories.
- Easy cleaning: The low-maintenance threshold of stone and porcelain tiles, in particular, is one of the key reasons why they're so well-suited for use in a conservatory, requiring little more than a wipe or quick mop with warm soapy water to remove stains if particularly dirty, meaning you don't have to worry about your conservatory floor being permanently marked by blemishes.
- Cool underfoot: Of course, you might be concerned that your tiles will get cold in winter, and while this is of course easily avoided with underfloor heating, you'll also be glad for having them when summer rolls around and you're able to walk inside your conservatory and enjoy cool tiles underfoot.
- Resistant to temperature change: Add to this the ability of all tile types to resist the effects of rapid temperature changes, something that is fairly common in conservatories, and you'll find that your floor stays in tip-top condition for many years to come.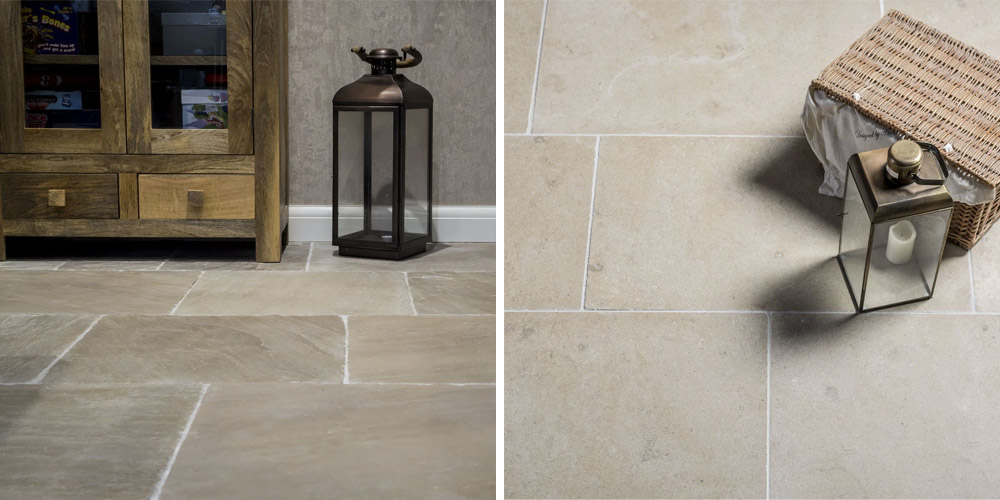 Left: Tudor Brushed Sandstone Tiles, Right: Versailles Tumbled Limestone Tiles
Conservatory floor tile ideas
So, now that you know why tiles are such a good option as a flooring material in your conservatory, let's now touch on some of our favourite conservatory floor tile ideas and the types of homes they're best suited for.
In general, there are three dominant themes you might want to consider when it comes to conservatory design:
- Classic country: This look is all about warm colours and textures. By opting for aged limestone or a cream marble, paired with traditional wicker furniture, throws, and shabby chic accessories, you can really nail that older farmhouse feeling, which will be enhanced by the worn and antiquated nature of the limestone underfoot.
- Outside inside: If you want your conservatory to become an extension of your garden, then why not try a set of tiles mixed with wrought iron furniture and plenty of luscious green plant life in large planters or hanging baskets? This will go a long way to capturing that garden essence, and if you match your conservatory tiles with those of your patio by making use of an indoor/outdoor porcelain tile combination, you can make the transition between your home and garden seamless.
- Contemporary style: Is your home more contemporary in style than traditional? To extend this aesthetic into your conservatory, we recommend going with a set of bright white porcelain tiles or a uniform grey, which will look great with sleek monochrome furniture and tropical plants.
Of course, these are just our three favourite style options, and if you spend some time researching, you'll find plenty more out there just waiting for you to try.
You should now have a better idea of why tiles are ideal as a conservatory flooring option, and a few key style options you might want to consider. Of course, if you have any more questions, get in touch with our team today, or browse the rest of our tile advice hub for more articles like this – including natural stone living room design ideas and traditional kitchen tile inspiration.
Share post