Gravel drives are one of the most popular types of driveway materials in the UK and there are many reasons why you might want to pick gravel to park your car on. However, while an aesthetically pleasing material, gravel driveways can prove problematic for our tile delivery drivers when trying to drop off your order.
Delivery issues with gravel drives
If you choose to order any outdoor tiles from Stone Superstore, we will always deliver them in a lorry using large wooden pallets. These pallets are needed to properly support the weight of the tiles and prevent damage during transit.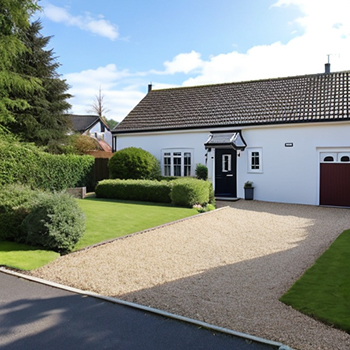 However, due to their size and weight, they can't be directly carried by hand from the lorry to your property.
Instead, once your driver reaches the point of delivery, your pallets will be removed from the delivery truck by means of a 'tail lift' platform that lowers them to the ground. They will then be manoeuvred by your delivery driver using a pallet truck to the nearest safe point of entry to your property. All pallet deliveries are made to the 'kerbside'.
Normally, our drivers will be happy to move your tiles as close to your home as needed, but this is only possible if the route from the road to your home is formed of level ground, as pallet trucks are unable to safely manoeuvre over uneven and shifting surfaces such as gravel.
As a result, if you do have a gravel drive, your pallets will have to be left at the end of your drive and need to be moved separately to where they're needed.
Receiving deliveries on gravel driveways
Before you confirm your order, we'll always ask you whether or not you have a gravel drive, so you can organise potential ways to move your tiles in advance once they've been delivered.
Of course, if your driveway is large enough for our driver to fit their vehicle on, then they may be able to reverse their vehicle to the end and drop the pallets onto the driveway itself. However, they will not be able to move these pallets once they've been removed from the lorry.
On top of this, it is always down to the discretion of the delivery driver on the day to decide if it is safe for them to reverse onto your drive, and they are not contractually obliged to do so. Therefore, you should not assume that our drivers will always be able to deliver in this way.
If you are planning on ordering from us but have concerns about where your tiles will be delivered, please get in touch with our sales team and they will be able to arrange any specific requirements you might need to make your delivery seamless. In the meantime, discover more useful guidance and tile advice from our team of experts.