When it comes to choosing the right flooring and wall décor for your home, there are few options better suited for a sparkling display than a quality set of porcelain tiles. But as any homeowner knows, your new set of tiles will only stay shiny so long as you give them the care and attention they deserve.
Fortunately, thanks to their low maintenance qualities, porcelain tiles are much easier to clean than other natural stone and ceramic options. Though if you've never had to clean your tiles before, you might not know where to start.
So, to help you get your tiles looking as fresh as possible, here are our top tips for cleaning porcelain tiles, as well as how to care for porcelain tiles so that you don't have to clean them as often.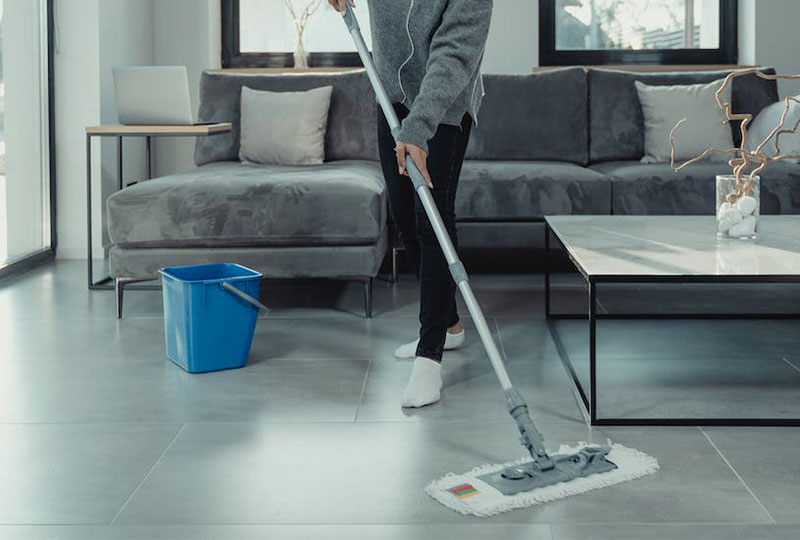 (image credit: Tima Miroschnichenko)
What is the best way to clean porcelain tiles?
Much like natural stone flooring, which is susceptible to damage from harsh cleaners and tools, you do need to be careful when cleaning porcelain tiles so that they maintain their protective seal.
However, this in no way means that porcelain tiles are hard to clean. In fact, the best way to clean porcelain floor tiles for a shimmering sheen involves little more than a mop, warm water, and elbow grease.
Ok, there's a little more to it than this, but by following the steps we've outlined below, you should have your porcelain floors clean in no time:
1. Sweep and vacuum
While you can leap straight into mopping your porcelain floor, for the best results, it's always a good idea to sweep and vacuum your floor beforehand. This will clear away any dirt and dust that could be spread over your floor when mopping, adding to stains already present.
2. Mop with warm soapy water
With your floor clean of excess dirt, your next cleaning step should be to prepare a bucket of warm and soapy water and mop the floor as you would normally. This will be more than enough to clear away standard grease and streaks, though you can use a specialised floor cleaner for more persistent stains, provided it is porcelain tile friendly.
3. Clean the grout lines
Grout lines are notoriously the dirtiest aspect of any tile floor and can quickly accumulate mould and grime if not cleaned regularly. So, if you find your grout lines aren't coming clean with a single mop, take a toothbrush and clean the dirt away by hand. This can be quite time-consuming the first time around, especially if you haven't cleaned your tiles in a while, but once done, you shouldn't need to give them more than a quick brush with your regular clean.
4. Tackle any stains
Alongside grout dirt, any stains that you fail to tackle immediately have the potential to stain your tile semi-permanently. If this is the case, then a more dedicated porcelain tile cleaner may be required to remove them, though by following the instructions on your chosen product, you should have no issue removing even the most persistent stains.
5. Rinse your floor
Once mopped, it's always a good idea to make sure any excess soap suds are washed away by rinsing your floor with fresh water. Doing this will minimise the risk of streaks being left behind when you dry your floor.
6. Dry with a microfibre cloth
While you can let your porcelain tiles dry normally, one of the best ways to avoid streaks is to dry it straight after with a microfibre cloth. This will pick up any remaining dirt while simultaneously buffing your floor for that shiny effect.
And that's it – it really is that simple to clean your porcelain tiles. Of course, this is provided you're regularly cleaning your porcelain tiles instead of letting dirt build up, and several repeats of this cleaning process might be required if you leave their cleaning longer than every few weeks.
What should I avoid when cleaning stains on porcelain tiles?
As with any quality set of tiles in your home, if you want to keep your porcelain tiles in the best condition possible, there are a few things you want to avoid doing during the cleaning process to prevent damaging them.
First and foremost, you want to avoid using any cleaning products that are heavily alkali or acidic. While effective at removing stains, these products also have the potential to permanently damage your tile's seal and structural integrity, making it harder to get stains out in the future while increasing the likelihood that they will crack.
On top of this, any abrasive scrubbers should be avoided for the same reasons, and we would not reccomend a polishing machine to achieve that sought-after porcelain shine. These polishing machines are designed for certain tile types and are not suitable for the average tiles installed in your home.
How to clean porcelain tiles after installation
Although cleaning your porcelain tiles directly is simple enough, one thing you must be sure to do to prevent permanent staining is to clean them of any debris and dirt immediately after installation.
It goes without saying that Installation creates a lot of dirt and dust, including excess adhesive and grout mixture that might get left behind on a tile. These can be particularly tricky to remove, so you should aim to clear marks like these away before they have time to dry.
Besides this, a hoover of your new space followed by an application of a cleaning product, such as LTP Grimex, will remove any impurities from your tiles, letting you treat them properly with a porcelain tile protector and protect them against any future dirt.
Now you know exactly how to clean porcelain floor tiles in your home, you should have no trouble getting them back to that showroom condition. However, should you not feel confident cleaning your own tiles, then there's no harm in hiring a professional cleaner instead.
Find out more about when to use a professional tile cleaning service, or explore the rest of our tile maintenance advice guides – such as how to clean natural stone tiles.