Are you considering installing natural stone tiles or porcelain floor tiles, and wondering whether it's safe to do so over your existing vinyl or linoleum (often shortened to lino)? The short answer is yes, it's absolutely safe to do so, as long as the flooring and substrate are sound and stable.
In this article, we've explained how to identify vinyl and lino flooring and assess its condition, how to prepare your floor for tiling, and how to remove your vinyl or lino if you decide you'd rather start afresh.
Identifying vinyl and linoleum flooring
Vinyl flooring comes in many guises and different formats. Top brands include Amtico, Kardean, and Polyflor, and are available in sheets, LVT (luxury vinyl tiles imitating natural stone tile finishes), and LVP (luxury vinyl planks imitating wood). The surface can be non-slip, have a PUR (polyurethane) coating, or a PU layer with a coating of varnish. Meanwhile, linoleum is linseed oil-based flooring, with the best-known brand being Marmoleum. These are a few ways to identify each type of flooring: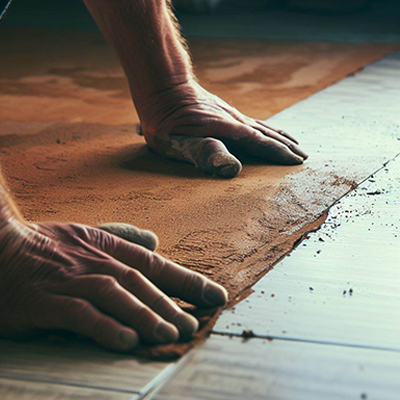 Durability: vinyl can last 10-20 years vs the 2-40 years you can expect from lino. However, even though vinyl may not last as long, it usually still looks glossy until the top layers wear through, compared to lino which is susceptible to moisture damage and can start ageing, yellowing, and wearing away sooner.
Environmental impact: vinyl uses toxic chemicals during manufacturing, so the often-recyclable lino is typically seen as the greener option.
Design: vinyl flooring has more options to choose from, due to having a printed design under a protective clear layer. This can give you a very realistic natural stone, wood, or tile finish. On the other hand, linoleum is less flexible, due to being made from natural materials and any colour or pattern being embedded throughout.
How to assess the condition of vinyl or lino flooring
Tiling over vinyl or lino requires your substrate to be in sound condition and be able to take the weight of the new floor tiles. Basically, is your substrate up to the job?
Natural stone tiles weigh approximately 35kg per square metre, and porcelain floor tiles 25kg. The weight of the tile adhesive typically adds another 5kg per square metre, so in total, the floor should be robust enough to a load bearing of up to 40kg per square metre.
Failing to assess or properly prepare your surface for tiling correctly may result in the floor tiles cracking or coming loose.
How to prepare vinyl and lino flooring before laying tiles
If you're happy with the condition of your substrate, your next question will likely be: 'can you tile over vinyl flooring?'. Fortunately, assuming there's no technical faults, there's no reason why new floor tiles can't be fixed on top of your vinyl or linoleum.
Vinyl and lino are non-porous, so tile adhesive cannot easily bond to the surface. In this case, you'll need to apply an adhesion enhancer, such as Kerakoll Keragrip, which enables floor tiles to better-bond to the existing flooring.
Easy to use, your adhesion enhancer is applied direct from the container with a sponge roller. Simply administer a fine, uniform film, spreading in the same direction. Then, apply a second coat perpendicular to the first until the floor is completely covered.
How to remove vinyl and linoleum flooring and install tiles
If you've decided that tiling on vinyl flooring or lino isn't the right option, either because you're having doubts over its condition or you'd just rather tile over concrete or lay tiles over wood, you'll have to take steps to remove it.
For either type of flooring, it's best to start by cutting the flooring into narrow strips with a utility knife.
You should then start to carefully pry and lift away each strip. If this isn't working for a certain section, you can try getting a hold of it and peeling by hand.
Scrape away at the leftover adhesive, getting rid of as much as possible. If the adhesive is a bit stubborn, you can carefully use a chemical solvent - just be careful not to damage the surface.
Whether you're tiling over linoleum floor or vinyl, or you've decided to go ahead and remove it all for a fresh start, our tile installation guides can teach you the proper techniques to make sure you achieve a professional look. In the meantime, for any other questions or assistance about tiling on vinyl flooring, our team will be more than happy to help.