When deciding on new tiles, there are lots of different factors to consider, including size. However, while there may be 'standard tile sizes' to choose from, there can still be variations present in the same batch.
Known in the industry as 'nominal sizing' stated sizes for both porcelain and natural stone tiles are subject to standard industry tolerances. The nominal size that is stated on the box or website is often actually an approximate size which can be affected by manufacturing and production processes. This means that there may be acceptable size variation within the batch of tiles you receive, and doesn't mean your tiles are in any way re-used or poor quality.
In this article, we've delved into reasons why your standard tile sizes may vary, and also offered advice around how to choose the right size tiles for your next project.
Why do porcelain tile sizes vary?
Before looking at why porcelain tiles sometimes vary in size, it's important to first understand how they're made. The manufacturer starts out with a combination of materials in granular form, before they're pressed into a mould under high pressure and fired in the kiln.
The finished product is a tile in the shape of the mould, which, like a batch of baked cakes, may not be perfectly the same. Examples of the common variations include:
Angled edge
Porcelain tiles sold straight from the mould have a slightly angled edge - known as a 'natural' or 'moulded' edge. The acceptable tolerance according to European standards is up to 3mm (though, they don't normally vary this much).
Rectified edge
Porcelain tiles can also come with a 'rectified' edge. This is where the tiles taken from the mould are processed through machines that trim the sides, leaving a sharp, square rectified edge.
The tolerance on the machines cutting these edges is very small, making each tile practically the exact same size. As with 'natural' edge tiles, there is always a tolerance, though it's a minimal 0.5mm. This rectifying process enables installation with a minimal 2mm grout line, giving a sharp finish.
Why do natural stone tile sizes vary?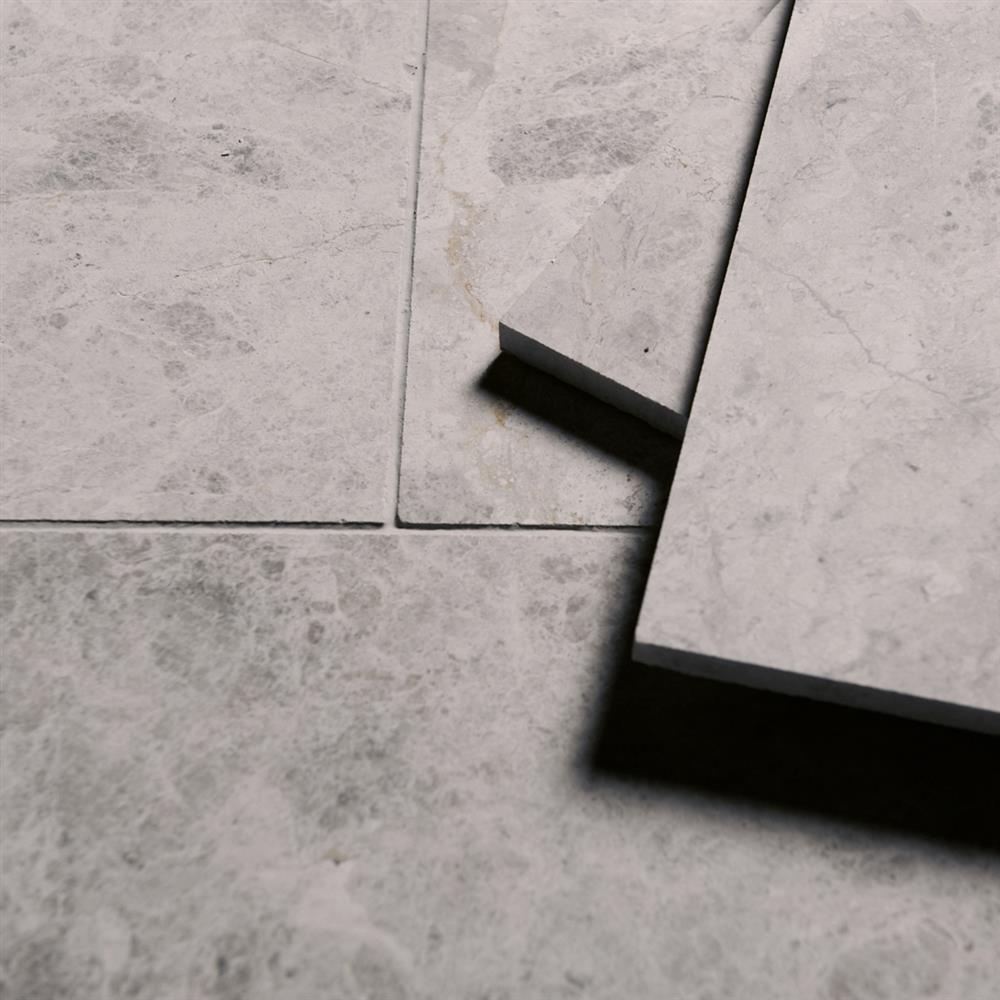 Natural stone tiles aren't subject to the same strict European standards as manufactured porcelain tiles, as variances in their geological makeup and differences in production techniques make it difficult to standardise regulations. However, this difficulty doesn't apply to all tile types.
Rectified edge
All of our polished and honed natural marble and limestone tiles have 'rectified edges', giving a square cut edge with a sharp corner. Due to advances in cutting machinery, and the fact that we only source first-grade products, you can expect all of our limestone and marble tiles to be accurate and square to within 1mm.
The tolerance on the dimensions of the tile means that it's unlikely for all the tiles to line up exactly on the corners, therefore we recommend using a 3mm grout line, and using spacers on the edges of the tiles rather than the corners.
Tumbled edge
To give an antiqued 'olde worlde' effect, our flagstone tiles have what is known as 'tumbled edges'. This means they undergo an additional process to round off the edges, giving them that aged look, which is typically desirable for older properties and barn-conversion projects.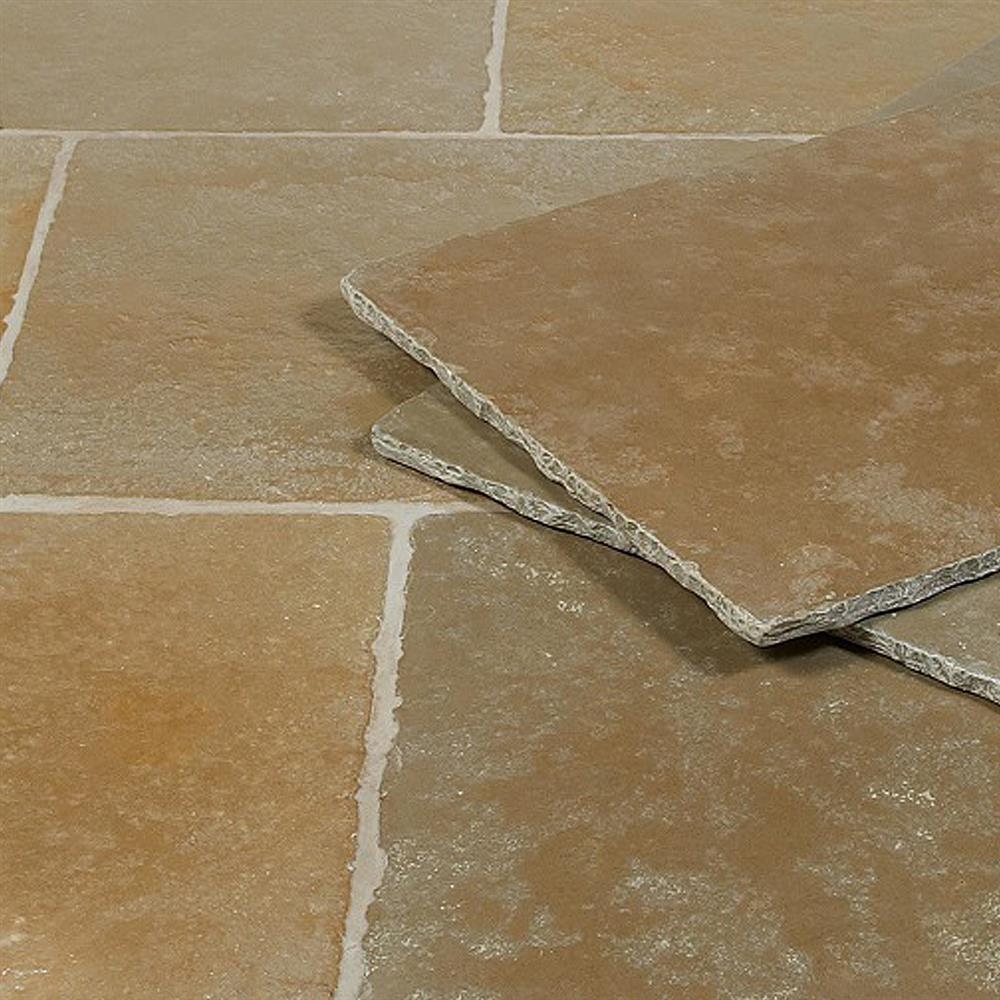 The regulatory difficulty that we highlighted earlier is particularly relevant to tumbled edged tiles, with tile thickness sometimes varying by +-2mm. So a tile stated as 15mm could be between 13-17mm. Any perceived installation issues can simply be overcome by using a thick bed of adhesive with a 10-12mm trowel.
How to decide which tile size you need
Now you know why tile batches often vary, it's time to choose which size you want for your home - which means picking between large tiles or small tiles. The factors you need to consider include:
1. Availability of tile sizes
Porcelain tiles are being manufactured in an ever-increasing variety of sizes, and our large-format porcelain tiles, available in sizes such as 800x800mm and 1200x600mm, are becoming ever more popular for both bathroom and kitchen projects.
Typically, natural stone tiles are widely available in a standard tile size of 600x400, with larger custom formats available subject to quarry possibilities.
2. Cost of different tile sizes
Generally speaking, the larger the tile, the higher the price, with the difference wider-still for marble. The disparity is due to the challenges of producing premium-grade large-format tiles without physical defects or aesthetic impurities.
By comparison, the consistencies of modern manufacturing techniques enable stone imitation porcelain tiles to be produced at tenable costs across formats. Natural stones are a limited resource compared to porcelain tiles, which is why they come with a larger price tag.
3. Tile appearance and aesthetic
Ultimately, the size of a floor tile directly impacts the aesthetic of your space, whether that's making it seem more spacious or compact. We'd always recommend going with the largest format tile available, even if it means stretching the budget, as this means fewer grout lines.
A popular design trend for large format tiles is 600x300mm, while larger square tiles are often 600x600mm and popular for kitchen floors. When it comes to natural stone, 600x300mm and 600x400mm sizes are the most popular. Although, with the continued development of large open plan living and dining spaces, larger format 900x600mm tiles are becoming increasingly common.
Whatever you decide, it's worth bearing in mind that opting for the 'standard size of floor tiles' might not fit with the aesthetic you're going for, so consider this when making your decision.
4. Room and tile layout
Your preferred layout will also impact the size of tile you choose. For instance, a square tile should typically be laid in a linear pattern that is arranged in lines, while a rectangular tile can be laid both linearly or overlapping in a 'brick bond' design.
If you'd like an overlapping layout, but a squarer design, consider a 900x600mm format, where the differential is smaller than that of a 600x300mm-sized tile.
5. The size of your room
Usually, larger tiles make a room feel more spacious, which is particularly relevant to bathroom tiling projects. For instance, we've known customers use 600x600mm format tiles in the shower area, on the floor, and with a half tile cut as a splashback behind the sink.
Choosing the right tile size can go a long way towards changing up your room for the better, so hopefully you now feel more confident in being able to make a more informed decision. If you'd like further guidance on sizing and tile installation, don't hesitate to get in touch with our team today.