As with any other trade, be it plumbing or garden renovation, the techniques and skills required to successfully tile an entire bathroom or kitchen floor are not something that everyone has.
Even if you are a dab hand at DIY, when it comes to tiling, it always pays to hire a professional tiler to get the job done properly. Not only are they trained for this exact job, but they have the tools and know-how to ensure that they can carry out the task at hand with minimal issues.
Of course, just because somebody advertises themselves as a tiler, that doesn't necessarily mean they're the most qualified person for the job. So, to help you find the best tiler for your home project, here's how to find a good tiler and how much money you can expect to spend on their services.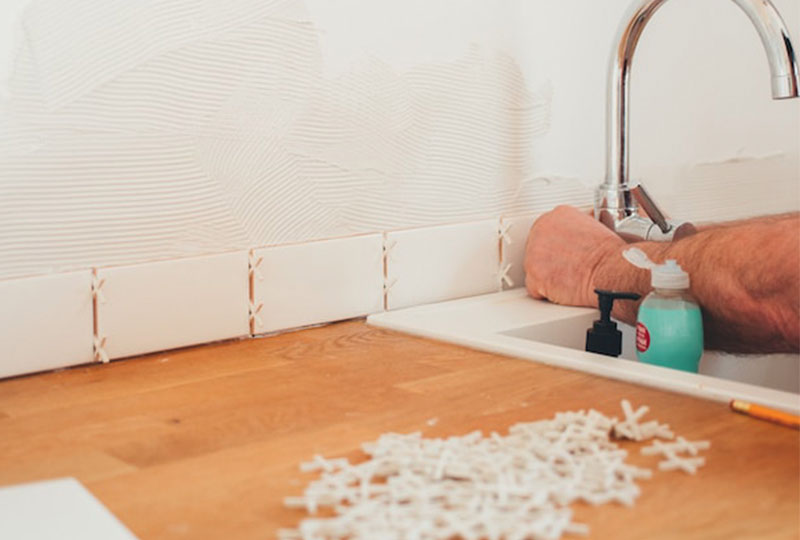 (Image credit: charlesdeluvio)
How to find a tiler
Despite how common tiled floors are in UK homes, finding a good tiler isn't as easy as it might seem. We've heard more than our fair share of horror stories about atrocious tile installations.
So, that begs the question, how do you separate the good tilers from the bad? Well, while we can't tell you exactly who to hire, we can provide you with eight golden rules to follow that should make it simple to find someone qualified to do the job properly:
1. Ask about a tiler's reputation: Ideally, the tilers you invite to give you a quote should be recommended by friends or family, or a via a builder or tradesman you've previously used. If they come highly regarded from multiple sources as doing a good job, then they're likely more than qualified for your needs.
2. Always obtain three quotes: Obtaining more than one quote will enable you to compare tiler prices and what you're going to get for your money. But more importantly than this, a good quote should detail exactly what the tiler will be doing, giving you an insight into their skills.
3. Get a detailed quote: Once you've settled on a quote, you'll want to make sure that it covers everything required for the job at hand. A detailed quote should include labour costs, materials costs, who will clear any rubbish at the end of the job, the timescales involved, the payment terms, anything you're expected to do (e.g. clear the room being tiled beforehand), and the details of the tiling needed (i.e. a tile tray to ceiling in a shower area and window height on all other walls). Remember, you want to make sure everything is covered so there are no additional financial surprises down the line.
4. See examples of previous work: A good tiler should present a portfolio of their work, in particular projects which are similar in design and layout to yours, when asked. If they can't, they're best avoided.
5. Check they're insured: Any tradesman that enters your house is obliged to have liability insurance which covers personal injury and damage to property. Always ask to see an up-to-date document of this to ensure you are not liable for any accident that could occur.
6. Ask for a dry run: A dry run is an essential step in any tiling process, one which a professional should always carry out. Take time to discuss and confirm with the tiler that they can achieve the design layout you expect and get them to set out the tiles beforehand to make sure it is feasible.
7. Pick a specialised tiler: Generally speaking, tilers often prefer to install a certain type and specialisation of tile, for example, ceramics. So, be sure to check your tiler has worked with your chosen tile type in the past.
8. Use price as an indicator: As a rule of thumb, the more expensive the quote, the better the tiler. This is by no means a guarantee, but the price they charge can be a useful indicator of the type of skill level your tiler has.
How much does a tiler cost?
Unfortunately, we can't give you an exact cost of a tiler, as this will be based on the work required and their own personal rate. However, we can provide you with an average, to give you some idea of the costs involved.
In most scenarios, the average UK tiler will charge either £10-£15 an hour, £150-£200 a day, or £25-£40 per square meter of room, from which you should be able to work out an average cost to expect for your specific tiling project.
Should I do my own tiling?
Although we sell plenty of tiles to people who are going to do take on a project themselves, we always recommend seeking the services of a professional where possible.
If you are determined to do your tiling by yourself, all we can say on this subject is to make sure you know what you are capable of before starting. Tiling a small area in a bathroom with ceramic tiles is one thing, but an entire bathroom in marble is another. For instance, among other steps, you'll typically need to:
- Order the right quantity of tiles and account for tile wastage
- Properly prepare your floor for tiling
- Seal your floor tiles with primer
Remember, professional installers have professional equipment. Nipping down to the nearest Screwfix to buy a cheap wet cutter certainly won't enable you to get the best results. Cutting marble tiles successfully, for example, requires precision equipment and a level of skill few non-tilers possess.
In other words, you should always consider using a professional first before you decide to take the job on yourself. Professional skills will almost always result in a higher quality finish, and usually in much less time.
So, you should now have all the information you need, if you're wondering how to find a tiler for your next home project. Of course, if you have any more questions on this subject, then don't hesitate to get in touch with our team of experts - or explore our tile installation advice guides, where you can find our easy DIY repairs to stone tiles.