Developments in high-definition printing and production technology, coupled with the design demands of customers, designers and architects for seamless contemporary tiled finishes with minimal grout lines has fuelled the explosion of large format tiles and they are proving to be popular in domestic and commercial installations alike.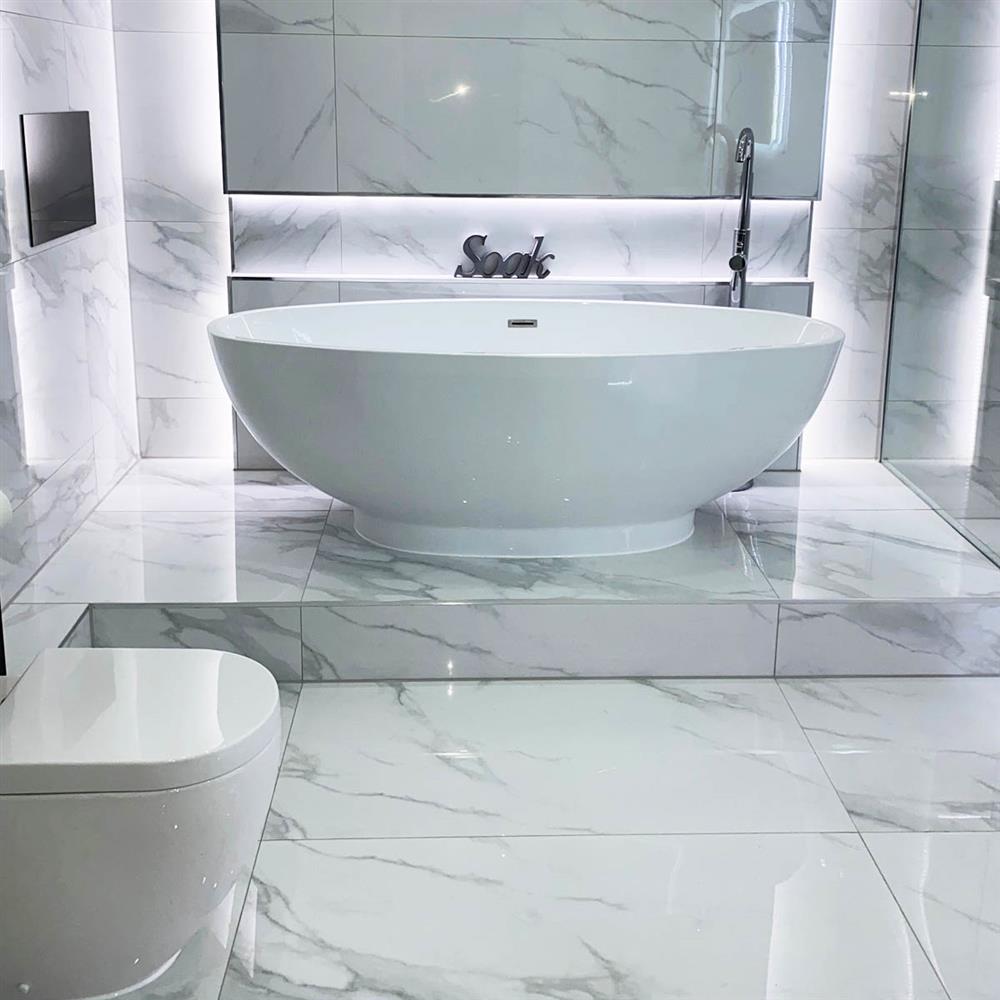 Historically, the size of a floor tile was 30cm x 30cm. Today Stone Superstore offer as standard a rectangular antique effect floor tile that authentically mimics natural stone in the finish at 600mm x 900mm, rising to 600mm x 1200mm for a marble effect polished tile. Square tiles start at 600mm by 600m with concrete and stone effect available in 800mm x 800mm size from stock and some tiles as large as 1200mm x 1200mm available as a special order. Our external paving slabs max out at 900mm x 600mm, as being 20mm thick anything larger would make them too heavy to comfortably manoeuvre and fix.
Large-format tiles are a fantastic design feature however, they can bring with them a number of installation considerations that need addressing prior to commencement of a job.
Picture: Timeless White Large Format Porcelain Floor Tiles in Bathroom

Key questions and answers relating to BS5385 Part 3 - Design and Installation of Internal and External Ceramic and Mosaic Floor Tiling in Normal Conditions - Applicable to Laying Large Format Tiles.

What is the definition of a large tile?
Detailed in BS5385-1 a large tile is 'a tile which has an edge that exceeds 60cm', the information and advice in this article are pertinent to tiles that have an edge with a 'working size', that is the actual size of a tile, as described on our website product descriptions or printed on the tile packaging. One example of such a large format tile is our Timeless White Carrera Polished Porcelain Tiles.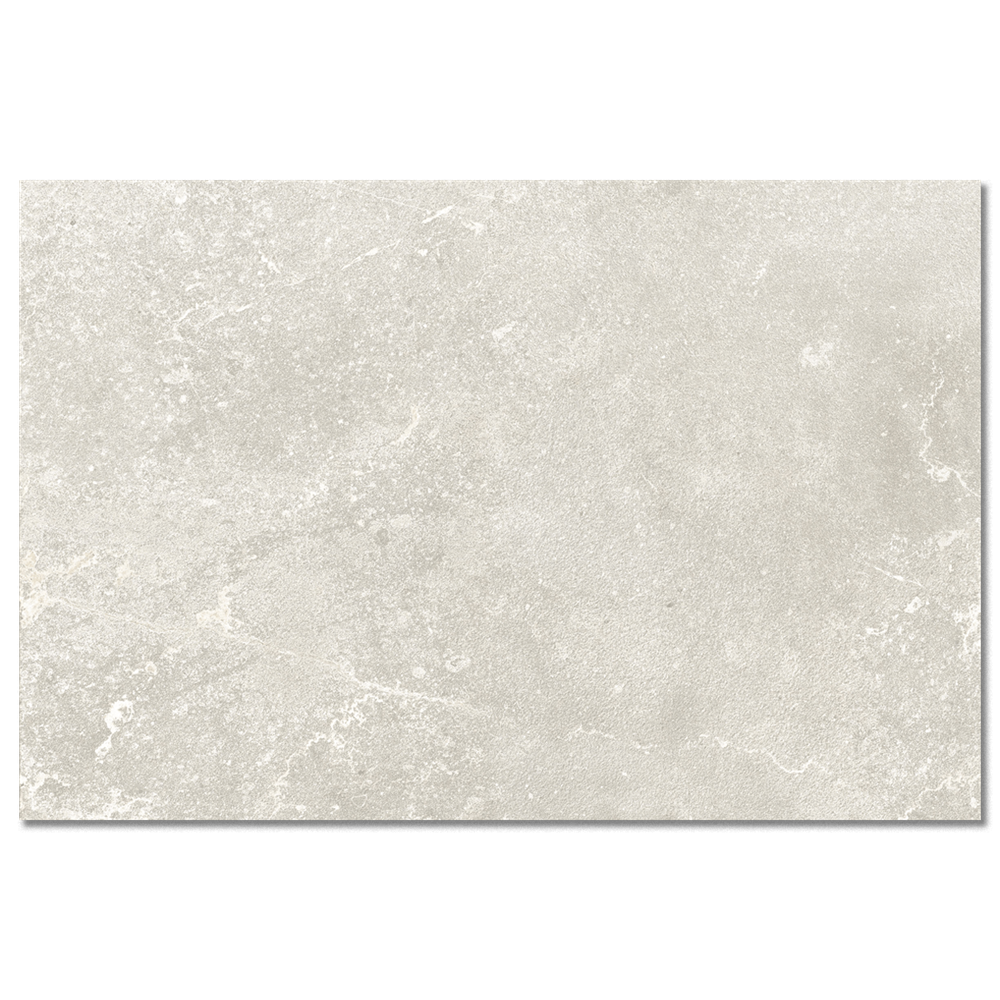 Pic above: Alston Grigio Large Format Limestone-Effect Porcelain Tile
Are the details in the publication deemed contractual and legally binding?

No, the contents are not intended to form part of a contract as the 'publication does not purport to include all the necessary provisions of a contract'. The standard is a code of practice and users are responsible for the interpretation and application of its contents, although it provides guidance on best practices that can be sited when assessing good workmanship.


How long should a new (concrete) floor be allowed to dry before fixing tiles onto it?

The standard mentions 'At least six weeks should be allowed under good drying conditions for the structural floor to undergo initial drying shrinkage.' It's fair to suggest that if the concrete substrate isn't dry before tiles are fixed then there is a good chance that the tiles will crack or 'delaminate', which is separate from the adhesive and /or substrate and work loose.


What is an acceptable finished floor level?

Floor surfaces are rightly expected to be flat. The standard suggests that 'a nominally flat floor should be such that, when checked with a 2m straightedge with 3 mm thick feet at each end, the straight edge should not be obstructed by the tiles and no gap should be greater than 6 mm', interpreted, this means that across any 2m length of the floor the acceptable tolerance in flatness is 3mm.

Pic above; Mondo Grey Concrete-Effect Porcelain Tiles in Living Room

Width of joints, what is recommended?

For porcelain floor tiles or paving the gap between tiles known as the 'grout line' should not be less than 3 mm. Wider joints, for example, 10 mm wide, might be required to accommodate dimensional irregularities in the tiles, to maintain modular discipline or to provide a decorative effect.

Dimensional irregularities occur during the manufacturing process and are accepted as the norm, as long as they fall within standard tolerances as set out in EN14411.


Is it a good idea to align floor and wall joints?

The standard acknowledges that 'the practical difficulties involved in achieving alignment should not be underestimated' and due to the extra time it takes and materials which are wasted 'allowance should be made for the greater costs which are likely to be incurred'. It should also be noted that it is practically impossible to align wall and floor tiles purchased from two different ranges/factories as the finished sizes will invariably be different.


What does the standard say about floors which have two differing substrates?

Simply put, the standard mentions to be aware that if you are tiling across two different substrates, say you have an existing wooden floor and are building a new extension with a concrete floor, then you should take appropriate action to make sure the substrates are sound and level. Ideally, this matter should be taken care of at the building stage rather than the fabrication stage of the project. The best practice is to lay an anti-fracture matt across the entire floor surface to help prevent differential shrinkage and movement in the substrates affecting the finished floor.


Does the standard mention laitance on new concrete floors?

Laitance is the name given to the impurity comprising water and particles that forms on the surface of newly laid concrete and 'should be removed by mechanical means' to ensure adhesive or levelling screed bonds with the concrete.


What does the standard say regarding new timber bases?

'New timber bases should be constructed with noggings between the joists', the overlay should be 'exterior grade plywood of 15 mm minimum thickness' and 'should be screwed to both joists and noggings at 300 mm maximum intervals'. Further, the plywood sheets should be laid broken-bonded with the long edges running at right angles to the joints between the existing boards.'


How to prevent 'failure arising from variable stresses' upon the installation?

In particular, to prevent tiles from coming loose or cracking the standard advises 'isolating the tile bed from the base by a separating layer that prevents the two elements from adhering to each other and thus allows each to move independently.' We recommend Kerakill Idrobuild Anti-fracture Tex Mat as a solution. The matting forms a layer between the substrate and the fixing product/tile with the aim of minimizing any lateral movement between the two. Note that an anti-fracture mat does not cure 'bounce' which is vertical movement. If you have any 'bounce' in your floor then alternative corrective action is required otherwise tiles may crack post-installation.


'Setting out', what is it and what does the standard say about it?

'Setting out' is the term used to describe laying out of tiles to determine the best design before fixing them, for example laying tiles in a format where 'whole tiles should be used to the greatest possible extent.'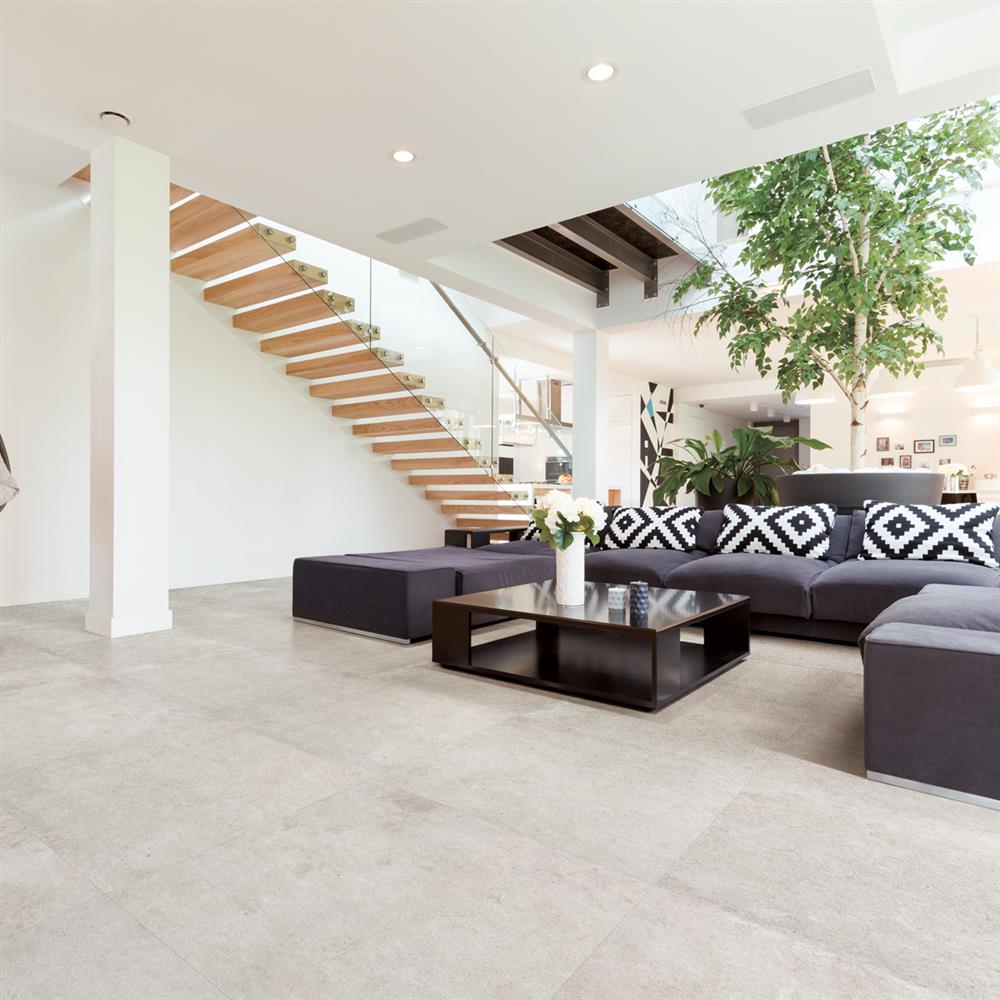 When laying tiles in a 'brick bond' design manufacturers recommend that adjacent tiles should overlap by a maximum of between 25%-33% maximum. Laying with a greater overlap is likely to result in 'lippage'. 'Lippage' is the industry term for laid tiles that have some edges and corners higher or lower than others, creating an uneven surface.
The best way to avoid lippage at all is to use a tile levelling system as this will 'level out' out any differences in adjacent tiles.

Picture: Piazza Grigio Stone-Effect 80x80cm Tiles


What does the standard say about the flatness of the substrate?

Laying large format tiles on an uneven floor is problematical and will result in 'lippage', it is incumbent upon the tiler to ensure the surface upon which they are about to tile, in conjunction with any naturally occurring bow of the tiles, will give a finished floor level as defined in the standard so 'that when checked with a 2 m straightedge with 3 mm thick feet at each end, the straightedge should not be obstructed by the tiles and no gap should be greater than 6 mm'.

The standard acknowledges that large floor areas may be higher in central areas than the edges and deems a level of flatness across any two points should be no more than 15mm. It's incumbent upon the tiler to make sure the surface they are about to fix tiles onto conforms to the standard. Should the substrate be out of tolerance then a levelling compound should be used to rectify the situation.

Pic: Onyx Pearl 120x60cm Marble-Effect Porcelain Tiles

What about bedding of tiles with a cementitious adhesive?

The standard suggests 'when floor tiles are fixed using normal cementitious adhesives the adhesive should be applied to the sub-floor as well as to the back of the tile to ensure solid bed fixing.' This is particularly relevant to tiles that have a ribbed back in order to achieve the recommended 100% coverage of adhesive. The adhesive should be applied to the substrate with a notched trowel which will give a total bed thickness of 3mm – 4mm once the tile is secured into place. Trowelling should be done so ribs are in straight lines rather than in swirls to allow air to escape and good compression of the tile.


The detail of the standard proves there are many considerations to be mindful of before and during installation to achieve a satisfactory finish of the floor. Prevention is better than cure so it's prudent for everyone to discuss and resolve any potential issues before installation as rectifying the situation afterwards can be stressful, time-consuming, and expensive for all concerned.


Consumers should expect tilers to adhere to codes of practice and workmanship laid down in several other BS documents. In addition, we'd always advise consumers to satisfy themselves that the workmen you hire is up to the job and will work with the best endeavour to do a good job. Taking references, seeing examples of previous work, and viewing insurance documents are three of the best ways to mitigate any risk.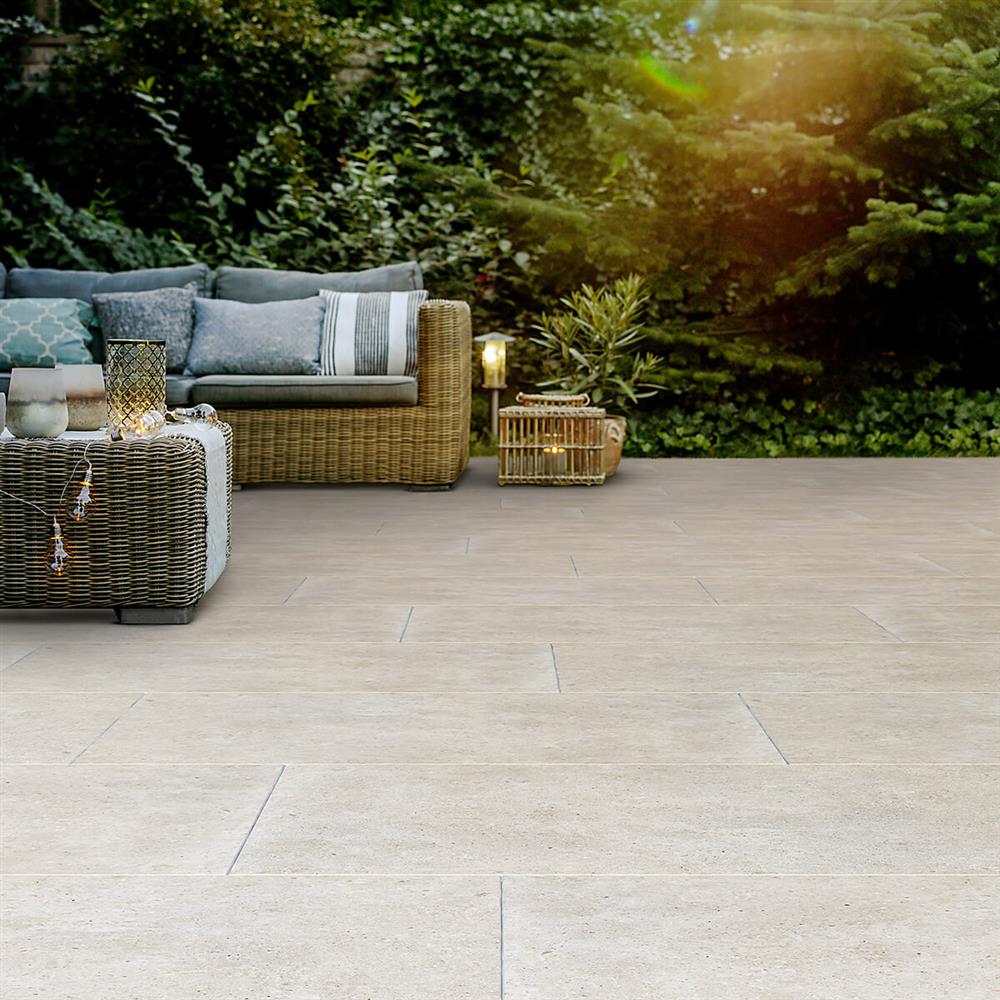 Pic: Limestone Pearla 90x60cm Porcelain Paving Slabs

Should you be unhappy as a consumer with the quality of workmanship, the recognised UK industry trade body The Tile Association offer an inspection service that will give you a full technical appraisal of your installation and advise whether the appropriate best working practices have been adopted and relevant British Standard have been adhered to.