Whether you're new to tiling or a seasoned DIY-er, picking out the right grout colour is an essential step when tiling your floors and wall – after all, your grout lines can accentuate, complement, and even offer stylish contrast against your tiles! But choosing the right tile grout colours can sometimes be tricky.
In this article, we've explained whether grout and tiles need to be the same colour, suggested what to consider when choosing grout shades, and provided some of the most popular tile and grout colour combinations.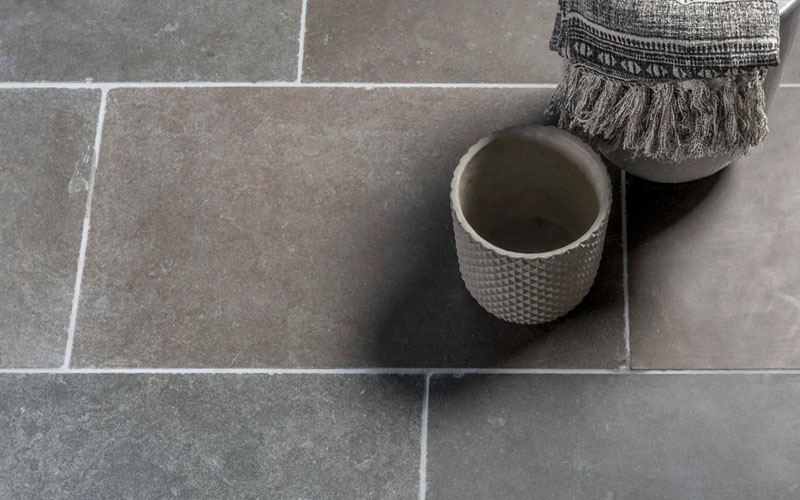 Highgrove Tumbled Limestone Tiles
Should my grout and tiles be the same colour?
You'd perhaps assume that your grout should match the colour of your tiles. However, this doesn't have to be the case – and many people opt for something entirely different as a conscious design choice. In fact, it's actually quite difficult to find an exact match.
If you do want to closely match the two, though, we'd suggest comparing your tiles against grout samples (i.e., a floor or sample section that's already been grouted) rather than the dry product. This is because the final grout colour can differ ever so slightly to what you see in the packaging, once you've added water and accounted for curing time.
What tile grout colours are available?
You'll be pleased to hear that there's a full spectrum of grout colours, so you're almost certain to find a shade that complements your home aesthetic and floor/wall tile design. To discover our selection of shades, including greys, browns, and stoney neutrals, explore our available fixing products.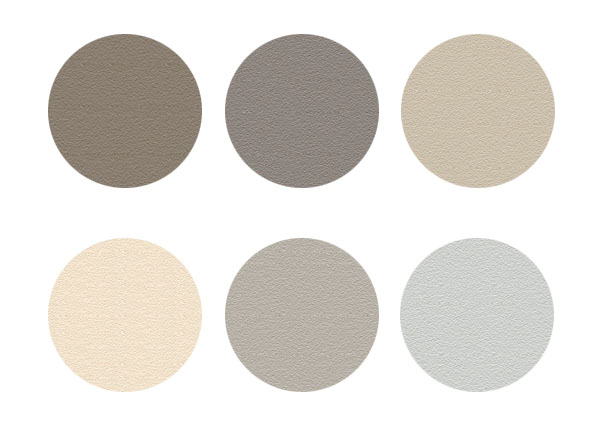 What to consider when choosing grout colours?
Choosing wall and floor tile grout colours is about more than just identifying a shade you like – you should also take your tile style, size, location and more into account! To help you make the right call, we've explored the key considerations you should make when choosing home and patio grout colours.
What colour are your tiles?
As we've highlighted above, your grout colour doesn't need to match your tiles. It depends entirely on your personal preference and design scheme. That said, you may still be wondering 'what colour grout for white tiles?' or 'what colour grout for grey tiles?'. After all, it's a big decision!
Typically, as a rule of thumb, if you want a bold, statement finish, opt for a contrasting grout colour (i.e., dark grout against white tiles), and a closely-matched shade for a subtle appearance.
How big are your tiles?
The size of your tiles will have some bearing on the colour grout you choose. If you're using large format tiles, you'll likely get away with a bolder contrast, but smaller tiles may benefit from a closer match to deliver a more seamless-looking surface (though, metro tiles are typically grouted using a contrasting colour, to deliver the intended effect). Similarly, if you're tiling a smaller room, you might find that too much of a contrast can become overwhelming.
What is your tile layout?
Grout colour will have an impact on the tile design, with matching shades complementing a minimalist finish. In contrast, different shades offer a striking, dynamic look that draws attention to your design.
Do you have patterned tiles?
If you have patterned tiles, you'll want to think about the colour grout you choose. Typically, you can complement patterned tiles with thin, neutral grout lines, so as not to draw the focus away from your statement flooring.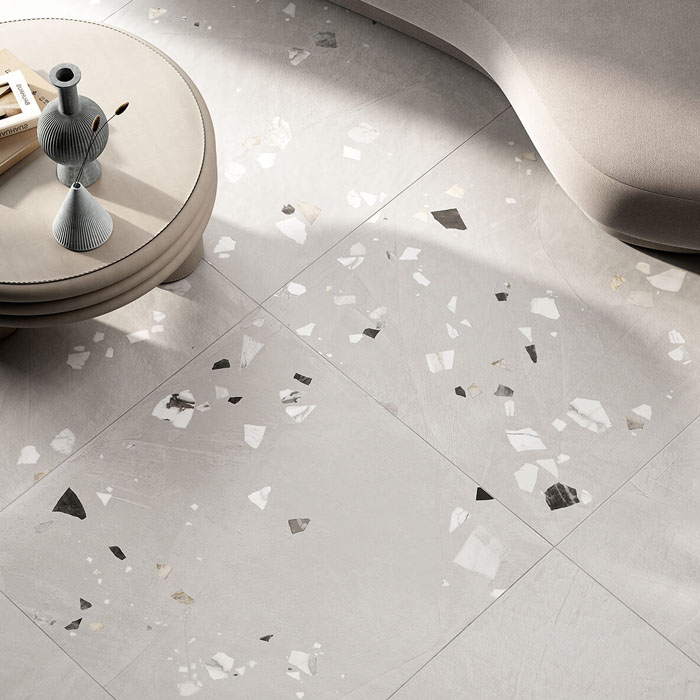 Lisbon Grey Terrazzo Porcelain Tiles
The best grout colours for metro tiles
Metro tiles are traditionally white, while the classic, complementary grout colour is dark grey or black, for a bold finish that delivers a stylish brick effect.
However, at Stone Superstore, we have an array of metro tile colours beyond the subway-style white, from neutrals and greys to blues, greens, yellows, and pastels. With this in mind, you might want to consider grout lines beyond the classic charcoal grey, especially if your tiles are bright and colourful.
Home inspiration: tile and grout colour combinations
If you're looking for a little creative inspiration when choosing tile and grout colour combinations, we've got you covered! Below, we've identified five different tile grout colour schemes to elevate your home and floor or wall design.
1. White tiles with coloured grout
For a twist on a classic look, use coloured grout to offer distinctive contrast against your fresh, white tiles. This can be a great, easy way to implement a little colour in a smaller space, where you might not want big, bold statement pieces, and can be more appealing than plain black or grey.
Often, your tiles will be the statement piece in your room, but choosing bright and vibrant coloured grout is an effective way of drawing focus.
2. Matching tiles and grout
Pairing matching, or similarly shaded, tile and grout colours can look absolutely stunning in any room, creating a statement floor or wall that's sleek and subtle. While you might immediately conjure images of white tiles and light, neutral grout, this applies to bold and dark shades too!
For example, why not combine dark, green bathroom tiles with black or grey grout, for an effective finish in a large space. Or go one step further and match black tiles and grout for a stunning single-shade design.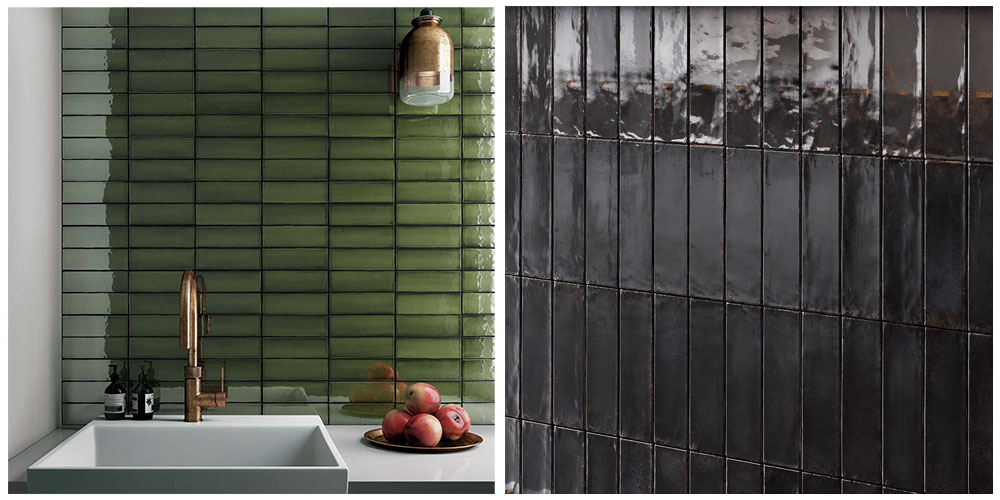 Babylon Olive Metro Tiles (left), Camden Charcoal Metro Tiles (right)
3. Off white, neutral for a rustic finish
For a rustic finish that complements a traditional home or country cottage aesthetic, why not consider off white or neutral-coloured grout for your tiled rooms?
Instead of crisp white, that's great for delivering striking contrast, opt for something a little softer and subtler for a more homely finish. This is especially effective if you've chosen tiles with a tumbled edge.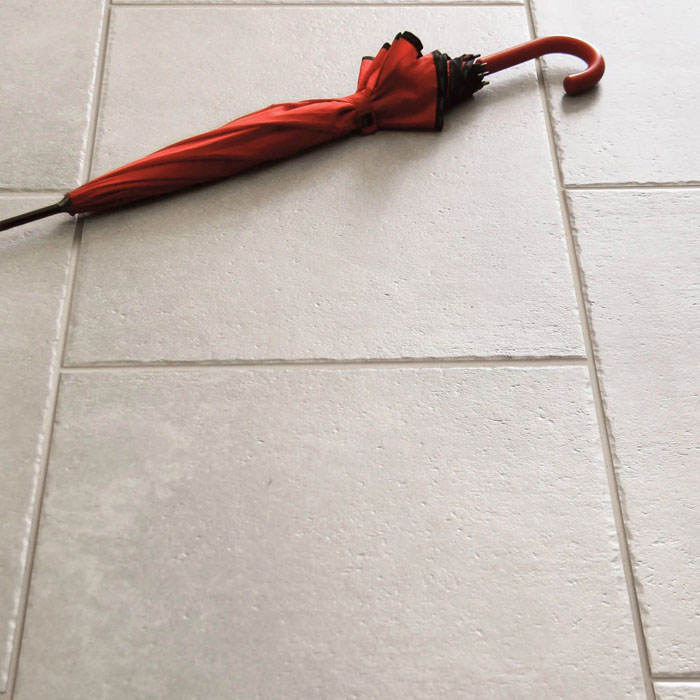 Charterhouse Bianco Antique-Effect Porcelain
4. Two tone tile and grout colour combinations
If you're using two different tile colours in a room, consider choosing the same colours for your grout – but in reverse. In short, if you're using pastel green and white tiles, add white grout lines to your green tiles, and vice versa.
This can offer a charming, contemporary finish, and works in just about any environment. What's more; your two tile types don't even need to be the same size – you may want large format tiles for your floor, and metro tiles for your walls.
5. Match your fixtures and fittings
If you have colourful fixtures, fittings, and appliances, why not match your grouting? For instance, if you have a rustic, industrial-style home with bold metallic features, you might want to opt for copper-hued grout for a statement wall or striking floor finish. Or alternatively, consider weaving black accents throughout your space, from handles and tap finishes through to the grout colour, for a cohesive look.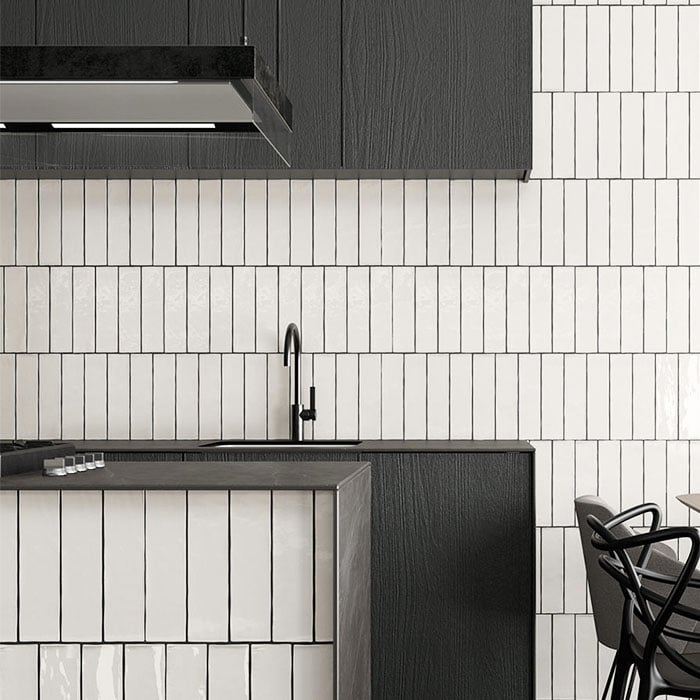 Choosing the right wall and floor tile grout colour combinations for your home and patio can really complete your chosen aesthetic – no matter the size of your space and tiles. If you're feeling inspired, explore our range of natural stone tiles and paving slabs, or discover even more tile installation advice, including how to clean tiles before grouting.