Your patio garden should be your own private oasis, a place to enjoy the sun, socialise with friends, and play with the kids – even if space is on the small side.
In this article, we've explored some of the most practical and popular ideas for small patio gardens that you can quickly adopt to improve your layout. From statement style to design inspiration, discover our small garden patio ideas and learn how to make the most of your outside space.
1. Garden wall and hanging baskets
If garden and patio space is slightly limited, but you still want to enjoy a floral display, why not adorn your walls with your favourite plants and colourful flowers instead? This way, you can enjoy all the benefits of garden greenery without using up all your patio floor space, leaving room for practical dining, evening socialising, or summer BBQing.
Alternatively - or perhaps additionally - consider hanging flower baskets around your patio perimeter, fencing, or walls for vibrant pops of colour that offer chic contrast against stylish paving.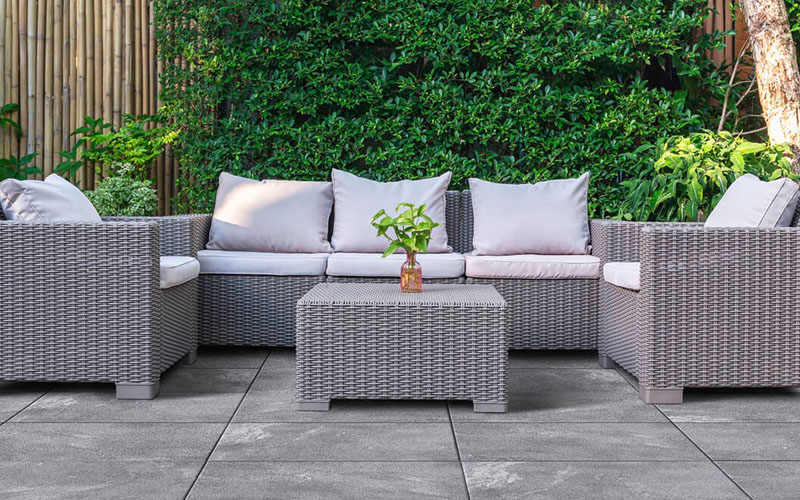 Yosemite Grey Paving Porcelain
2. Create a feature wall
There's more than one way to add a splash of colour to your small patio, and if you're not particularly green fingered you might be looking to express your personality in other ways. One approach is creating a dynamic feature wall that acts as a focal point, grabbing attention and complementing your paving.
Ways to achieve a patio feature wall include choosing a vibrant paint hue, such as Mediterranean red or rustic tan, applying bold and patterned wall tiles, or stripping things back and opting for industrial-style exposed brick.
3. Striking paving
Of course, no patio is complete without the perfect paving, so it's important to choose slabs that suit your home and aesthetic. Take the time to consider your options, when it comes to size, style, and colour, and find a standout design that complements your smaller outdoor space.
Fortunately, you've got plenty of choice when you shop with Stone Superstore, with everything from concrete effect paving to marble-style slabs and traditional stone-effect outdoor tiles, so you're sure to find the look you're after.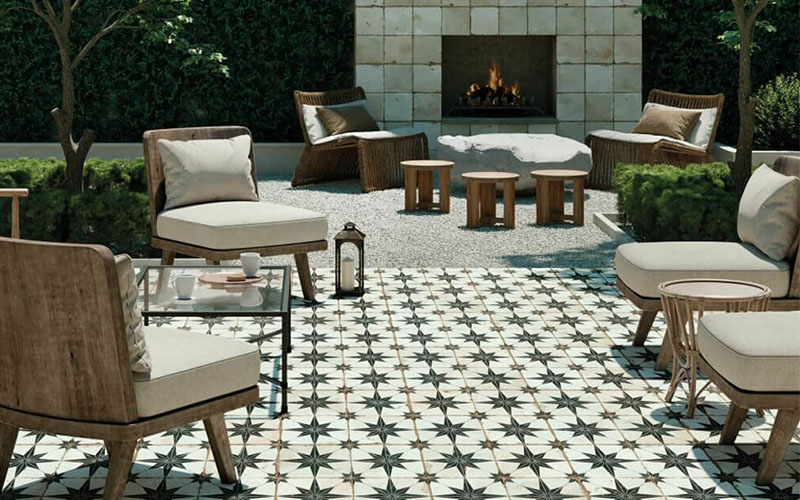 4. Slimline furniture
When patio space is a little limited, it's important to consider the size and amount of outdoor furniture you keep. Otherwise, you'll quickly notice a significant lack of space for anything else; while a broad, chunky table and chairs can be an attractive addition, it might not be the most practical.
Instead, think about introducing narrow and slimline furniture to leave room for hosting, entertaining, and playing with the kids. Where available, it can even be useful to consider lightweight and versatile foldaway furniture that lets you enjoy your patio paving choices when not in use.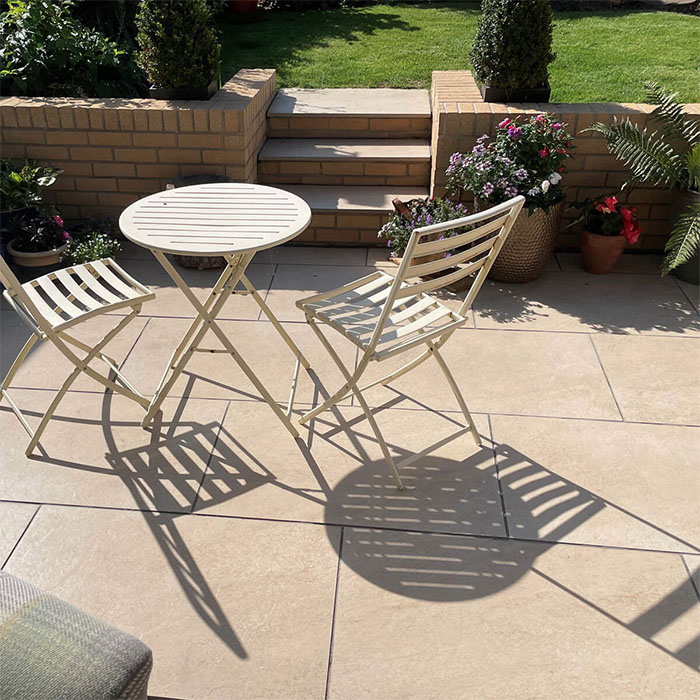 Martello Beige Porcelain Slabs
5. Keep things simple
It can sometimes be hard to put a cap on your creativity, but when patio space is in short supply, it's important not to overwhelm your layout with too many colours or textures!
Instead, aim to stick to subtle furniture pieces, low-maintenance features, and single focus points that don't complicate your patio. Incidentally, as well as a clean aesthetic, with a more stripped back approach, you'll also have much more space to enjoy your patio design and paving design.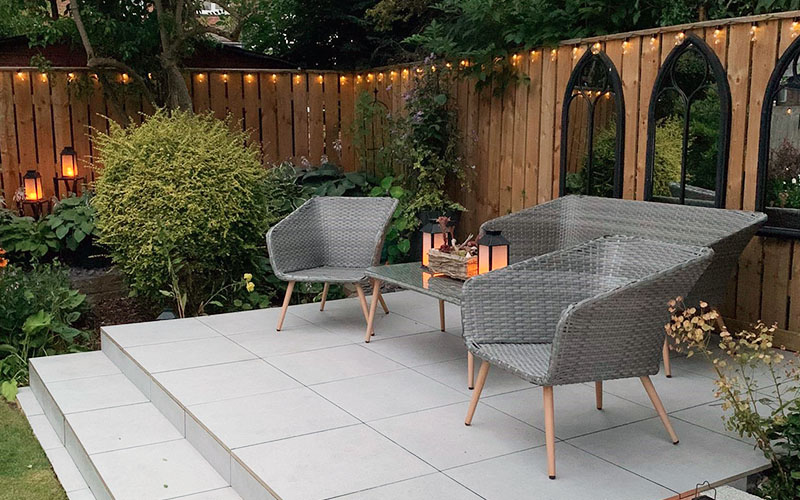 How to make a small garden look bigger?
We've looked at the style and design choices you can make to improve your garden, but what are the simple small patio garden ideas to make your space appear bigger?
Large format paving
When dealing with a small patio, lay large format paving slabs to elongate your floorplan and give the illusion of extra space. For instance, rectangle 1200x600 paving slabs can add the perfect finishing touch to your patio, whether installed on their own or combined with smaller 600x900 slabs or square 600x600 paving.
In contrast, while large format tiles deliver a smooth and consistent finish, smaller tiles require a lot more joints and grout lines, which can overcomplicate your patio and make your floor look a lot busier.
Light, neutral shades
When tackling a small patio, the colours you choose can have a huge impact on the way your space is perceived – especially when it comes to your paving and outdoor tiling.
While dark colours often make a big area feel cosier, light, neutral shades go a long way towards making your patio appear more spacious and open, with whites, creams, and subtle grey paving all popular picks. To complete the look, keep grout lines to a minimum, and opt for similar coloured grout and paving for a seamless, uncompromising finish.
A seamless transition
Finally, one of the best patio small garden ideas is to simply match your inside tiling with your outdoor pavers to deliver a seamless finish that flows between your home and garden. You can either look for similar textures and colours, or explore our selection of indoor/outdoor porcelain tiles that offer effortless transition and make your patio an extension of your home (and vice versa!).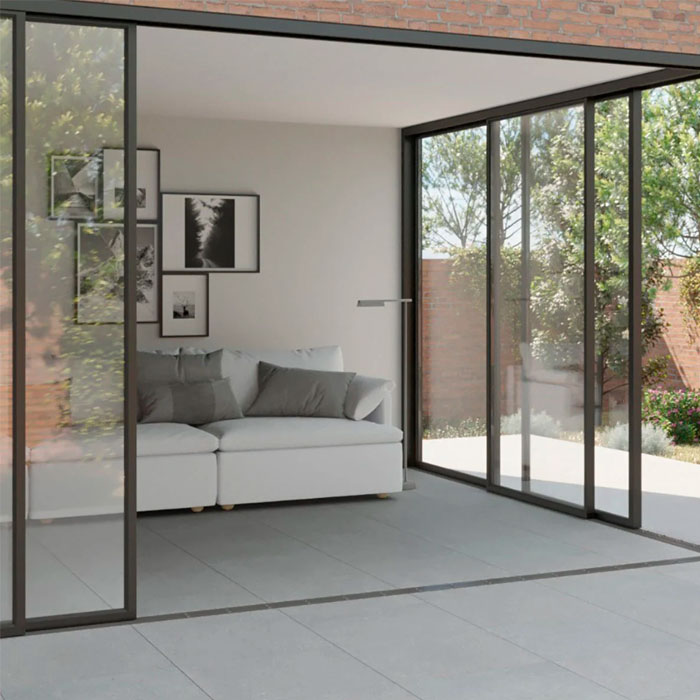 So, there you have it – simple small patio ideas to make your outdoor space feel bigger, from classic design choices to practical additions! If you're feeling inspired, why not discover even more paving inspiration from our experts, including how to improve your garden with natural stone slabs and how to incorporate porcelain paving into your garden.