If you've ever done a full home renovation project, you probably know just how tricky it can be to find a tiling option that looks great both inside and outside of your home, especially when working with porcelain tiles.
However, with the right knowledge and ingenuity, it's actually relatively simple to combine your standard indoor porcelain tile choice with a matching style of outdoor porcelain paving slabs, giving you a harmonious and orderly flow between your kitchen-dining area and your patio when done right.
So, to find out how you can make use of indoor/outdoor porcelain in your home, here's what you need to know about matching the same tiles inside and outside your home, and whether or not you can use indoor porcelain tiles outside to begin with.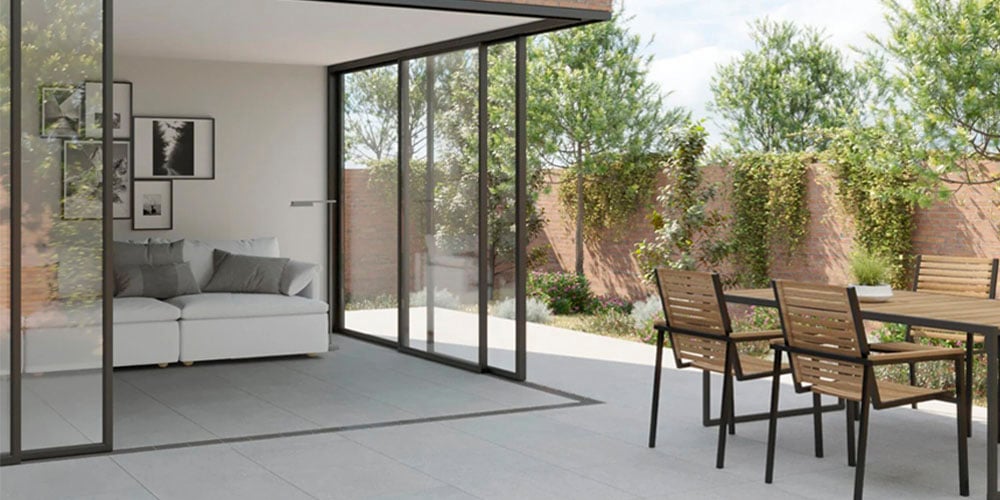 Pair your indoor porcelain tiles with the matching paving slabs for a clean, modern look, such as our indoor Ashton Grey tiles with our outdoor Ashton Grey Paving Slabs shown above
Can porcelain tiles be used outside?
While technically designed for installation in different environments, it is actually possible to use certain indoor porcelain tiles outside, provided they have the right density and build quality.
For example, all indoor/outdoor porcelain tiles are frost resistant, making it possible for you to use indoor tiles externally. However, indoor-only tiles are also thinner and provide reduced grip, meaning they might prove slippery in wet weather and are likely to crack in winter.
And it's this difference in thickness that's really the main deciding factor when it comes to determining whether or not you can use indoor porcelain tiles externally. Indoor porcelain tiles are generally 9mm thick, while outdoor slabs are usually a chunky 20mm thick. This added thickness protects them from damage and ensures they won't break underfoot.
As a result, it's not typically recommended that you use any indoor porcelain tiles outside, lest you run the risk of replacing them not long after their installation. Instead, we'd suggest finding matching indoor and outdoor floor tiles that you can lay parallel with one another, inside and out, for a smooth external transition.
However, with that in mind, that's not to say that you can't ever use indoor porcelain in your garden, just that you'll need to be careful where you decide to use it. These tiles will be far better suited under a covered patio, for example, than as the main tile for the pathway up to your home.
Can you use outdoor tiles inside?
Unlike using indoor porcelain tiles outside, it's certainly possible to use outdoor porcelain pavers in your home, though you may very well find that this is a compromise that you're not particularly fond of.
While the added thickness of these tiles will give you a highly durable floor, you may also find them much rougher underfoot, which may not be what you want in your kitchen. On top of this, while not hard to clean, outdoor pavers are certainly harder to clean than indoor-specific tiles, which could prove to be frustrating if you can't clean them regularly.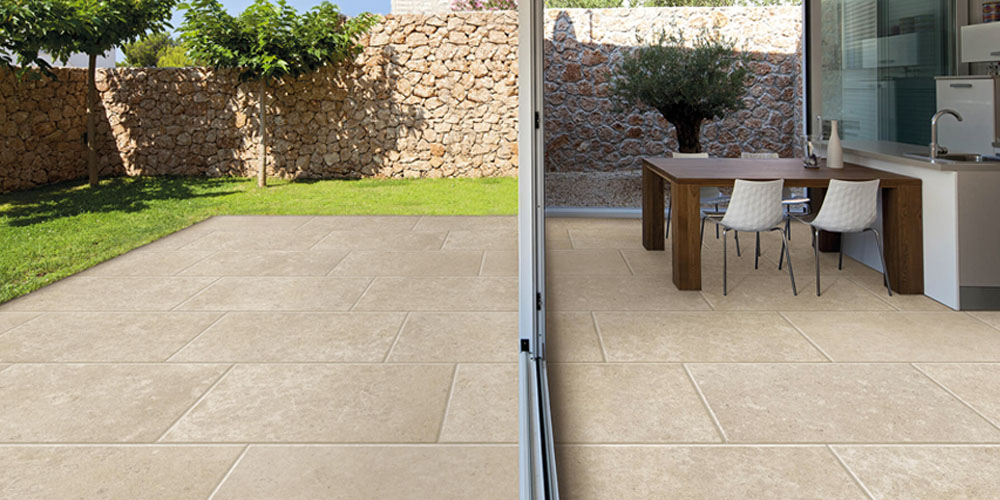 Our indoor Dijon Beige Antique-effect tiles can be paired with the matching Dijon Beige Antiqued Paving Slabs for a cohesive indoor/outdoor flooring
Why match your indoor and outdoor porcelain tiles?
In a word; consistency. Porcelain tiles have been widely used inside the home for decades now, and as developments in the production process have continued to improve, colours have become sharper and textures more prominent.
And now this same tiling technology is being utilized for porcelain paving as well, offering you the same benefits when tiling outside and letting you really nail down a fluent and cohesive home aesthetic.
In other words, by matching your indoor porcelain tiles with an identical set of outdoor pavers, you'll create a seamless transition between the tiled rooms in your home and your patio and drive outside.
The benefits of matching indoor and outdoor floor tiles
So, now that we've answered the question 'can indoor tiles be used outside?', let's now look at what the benefits of using an indoor and outdoor tile combination can bring to your home:
1. Resilience: Porcelain outdoor slabs and internal tiles of any type are very resilient against cracks and staining, which is why these tiles adorn many commercial premises with high footfall areas, like airports and shopping centres.
2. Maintenance-free: Thanks to their resilience, porcelain tiles of all sorts are also virtually maintenance-free, and there is no added expense of purchasing aftercare treatments or hiring specialist cleaners to maintain their appearance and integrity once laid.
3. Non-porous: All outdoor and indoor porcelain are essentially non-porous, which means they're practically immune to damp and mildew. Therefore, you don't need to seal your porcelain tiles once they've been laid.
4. Consistent patterns: Being more uniform in their style and patterns than natural stone, it's very easy to find a set of indoor porcelain tile and outdoor porcelain pavers that match for an unbroken interior/exterior floor pattern.
You should now have enough information to decide whether or not you want to use an indoor/outdoor tile combination in your home, so you can start laying your porcelain tiles and slabs.
If you have any more questions, don't hesitate to get in touch with our team of experts, or browse the rest of our outdoor paving advice guides for more articles like this one.