In this article, we answer key questions relating to combining the standard indoor porcelain tile with an outdoor porcelain paving slab to give a harmonious orderly flow between a kitchen-dining area and an external patio area.
We take a look at design options, reasons why porcelain makes the ideal flooring for both internal and external use, and the difference between internal porcelain tiles and outdoor porcelain pavers.
What are my indoor/outdoor porcelain design options?
The trend towards large format flooring is no exception when it comes to Stonesuperstores indoor/outdoor range.  Ashton Mink slabs and tiles with straight edges come in a 60cm x 60cm size to be laid in a conventional linear design creating contemporary styling.  Whereas the rectangular Charterhouse Bianco Antique effect combines antiqued edges with a textured surface, designed to mimic tumbled natural stone giving an 'olde worlde' aged appearance, that are laid in a traditional 'brick bond design.  See our range HERE.
Can any porcelain tiles be used outdoors?
Six reasons why choosing porcelain indoor tiles and outdoor paving combine to make the perfect flooring solution.
Both internal porcelain tiles and porcelain outdoor slabs are frost resistant which means they can be used externally.   Although we'd always recommend 20mm outdoor porcelain tiles for outdoor patio use as they are grippier, in an external area, such as a covered porch that isn't prone to regular wetness, then internal porcelain tiles will be fine.
Porcelain outdoor slabs and internal tiles of any type are very resilient in terms of staining, which is why porcelain slabs and tiles adorn many commercial premises with high footfall areas, like airports and shopping centres.  Bear in mind that whilst that dropped glass of red wine won't stain the flooring, it's likely to stain the grout, so using a grout protector on installation, or arming yourself with a grout cleaner is advisable.
Virtually maintenance-free – with porcelain paving and slabs there is no added expense of purchasing aftercare treatments or hiring specialist cleaners to maintain the appearance and integrity of the paving, laid with the appropriate fixing materials porcelain flooring provides years of virtually maintenance-free flooring euphoria. 
For both internal tiles and external paving, LTP Grimex can be used to remove baked-on dirt and grime.  Steam cleaners are fine for internal tiles and jet washing external paving is fine too.
Do outdoor porcelain tiles need sealing? Both outdoor porcelain pavers and internal tiles are essentially non-porous which mean that microspores cannot penetrate the surface and grow into nasty moulds or mildew, so therefore do not require sealing with an impregnating sealer on installation.
If your patio or driveway is exposed over winter to flora and fauna debris any markings will be surface deep and can readily be removed. In this article we discuss how to clean outdoor porcelain paving.
Consistency in form - being a manufactured product produced to strict industry standards, porcelain flooring is uniform in terms of surface finish.  This means that the face and depth of the tile or slab are consistent.
Resistant to damage caused by UV rays.  This means your porcelain paving or tiles will remain vibrant and won't discolour or go dull.
Are outdoor porcelain tiles slippery?
Two key differences between indoor tiles and outdoor paving.
Indoor porcelain tiles are generally 9mm thick and outdoor slabs are usually a chunky 20mm thick.  Being 20mm thick means paving slabs can be laid as stepping stones without the need for permanent fixing with adhesive and are sturdy enough to be used with a purposeful outdoor porcelain pedestal system.  Slimmer 9mm tiles aren't designed for these uses and will break.
Generally, internal tiles have a slip rating of R9/R10 which makes them ideal for both domestic and commercial installations.  However, external paving is manufactured to R11 slip rating, making them more suitable for outside areas such as patios, driveways and pathways.
Stonesuperstore porcelain tiles and slabs are described as 'square cut' rectified.  What does this mean?
One of the marvels of manufactured flooring solutions is the ability to produce a product that is consistent in size which means that tiles and paving can be laid with a minimal gap between them portraying a flowing contemporary finish.
Rectified edged porcelain paving and tiles, unlike non-rectified products, undergo an additional manufacturing process after firing to trim the edges and make them perfectly square to within industry tolerances.
What gap should there be between tiles/paving
Known in the trade as 'grout lines' or 'joints', keeping the gap between your indoor tiles and external paving the same size will add to the consistent coherent look of your installation.
Something to note though, is that more often than not indoor and outdoor porcelain made at the same factory and in the same "range" won't necessarily be exactly the same size and aligning joints with internal tiles and external paving is nigh on impossible.
So what is the ideal gap fro a joint?  The minimum space between tiles should be 2mm, there is no maximum gap size but as a contemporary design feature, anything greater than 5mm is considered less aesthetically pleasing and could be considered a dirt trap.  Also if you are using a 'brush in joint compound then a minimum of 3mm is the norm.
How to lay outdoor porcelain tiles?
Should you choose to install your outdoor paving porcelain patio yourself, this guide on how to install porcelain paving outdoors offers includes advice on how to cut porcelain outdoor tiles, where to start laying, and installation options.

If you're planning to appoint a professional for your porcelain patio paving project here are six golden rules of hiring a tiler to lay your porcelain paving and tiles.
The Six Golden Rules of hiring a tiler to lay your porcelain paving and tiles.
Ask to see examples of previous projects.  Check your installer has laid both internal ties and/or external paving, don't be afraid to ask to see a portfolio of their work - they should be keen to show you.
Insurance cover.  Any tradesman doing work on your property is obligated to have liability insurance which covers personal injury to others and property damage – ensure any documents you see are in date.
Obtain more than one quote.  Ideally, the installers you invite to quote should be recommendations from friends or family, or through a tradesman you've previously used.  Gathering more than one quote is prudent. You can also find numerous online resources that will give you an idea of how much you can expect to pay for various aspects of your project.
Don't pay a large deposit.  It's acceptable for a tradesman to ask for the cost of materials upfront especially if the materials are on special order and cannot be returned to the supplier for a refund should you change your mind.  Maybe paying a small refundable deposit to secure the installation timeslot is acceptable too.  If you have a large project then staged payments may be asked for, but only part with money on satisfactory completion of agreed works.
Get a detailed quote.  This should include: labour costs; materials costs; who clears any rubbish; timescale (including any time rooms will be out of action); payment terms; anything you're expected to do (e.g. clear the room); details of the tiling/paving to be laid (e.g tile floor area including under appliances).
Agree on the design and layout. Take time to discuss and confirm with your installer that they can achieve the design layout you have in mind.  It's prudent to 'Set out' tiles prior to installation to achieve the most aesthetically pleasing layout whilst minimising waste.  For example - for kitchen floor projects, tiles should be positioned so that where possible full tiles are in doorways, but adjustments on layout may be needed to ensure tiles fit neatly under plinths.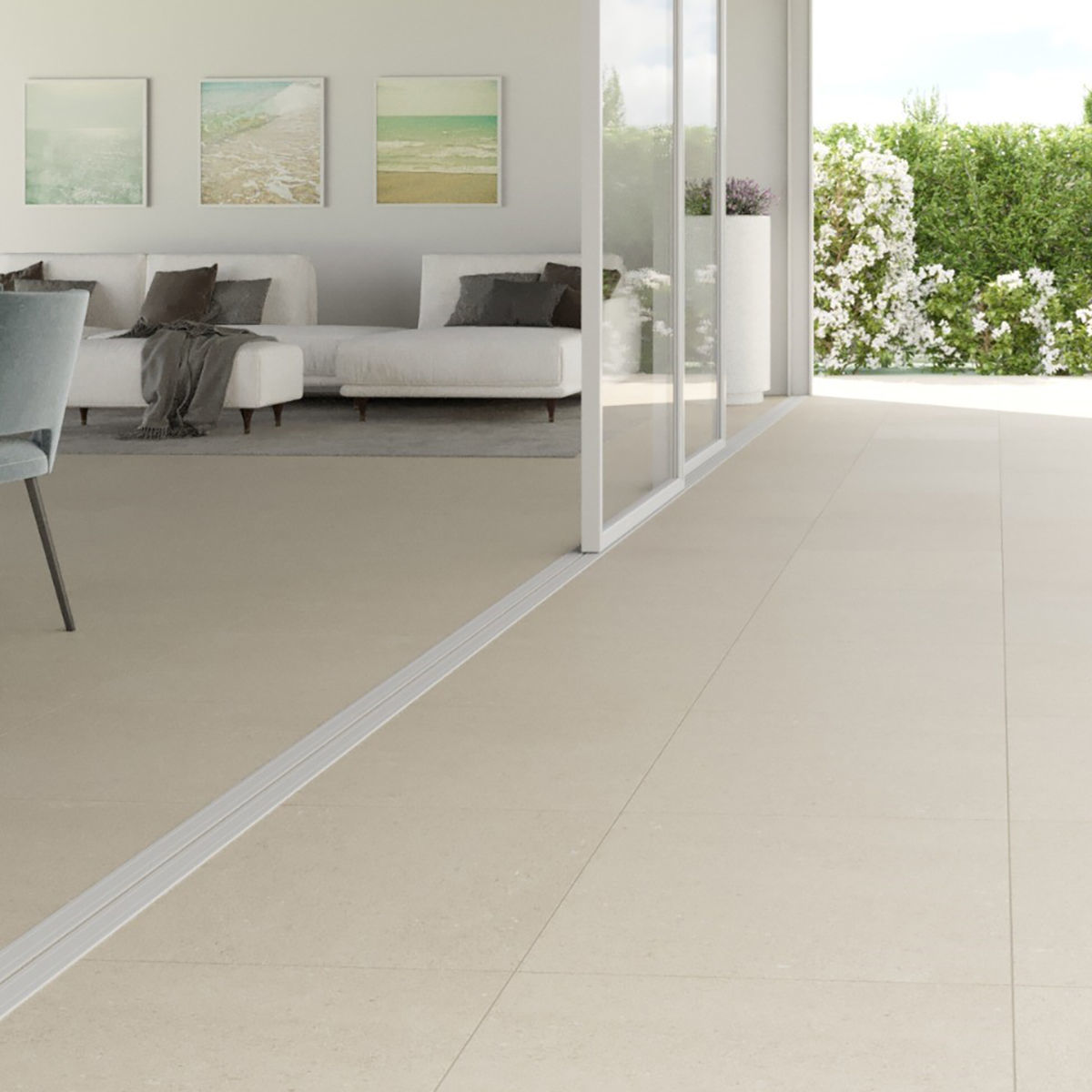 Porcelain tiles have been widely used inside the home for more than a decade now. As developments in production processes continue to improve, colours are sharper, stand the test of time and manufacturers are finding ways to add texture and depth to tile surfaces.  This same technology is being utilized for porcelain paving too offering the discerning homeowner the same benefits for their external flooring projects.
Taking this one step further - having a matching internal floor tile and external paving slab simply wasn't on the agenda until recently.  However as we spend more time working, resting and playing at home, floor tile ranges with matching paving slabs offering a smooth transition inside to outside are set to become the norm.
To see the full range of Indoor/Outdoor porcelain tiles and paving click – INDOOR OUTDOOR PORCELAIN.