As anyone interested in starting a new tiling process knows porcelain tiles tend to be the go-to material for internal use in the home, adorning bathrooms and kitchens throughout the country with their plethora of designs, sizes, and surface finishes.
However, what you might not know is that porcelain tiles can be used to decorate your home's garden as well. Thanks to advances in high-definition printing and improvements in production technology, porcelain is now one of the most hardwearing tiling materials available, and that makes them uniquely suited for use outside.
Tough enough to take the weight of a car and immune to most adverse weather conditions, there are many reasons why you might want to choose outdoor porcelain tiles for use in your next garden project. Read on to find out more about porcelain paving pros and cons, as well as a few of our favourite porcelain tile garden ideas.
What are the advantages of porcelain paving?
First things first, let's look at the numerous advantages that porcelain paving has to offer:
1. Frost resistance: Made from white clay, sand, and feldspar, porcelain pavers are very dense which means that, when used externally, they don't absorb water. As a result, they are naturally frost resistant and won't crack due to cold temperatures.
2. Stain-resistance: Porcelain paving isn't generally susceptible to the type of staining commonly caused by fallen leaves, berries, or lichen thanks to its low porosity.
3. Slip resistance: All of Stone Superstores' external porcelain paving comes with a textured surface and are slip resistant, making them safe to use for external applications.
4. Scratch resistance: Unlike some softer ceramic material or wooden decking solutions, porcelain slabs are less likely to scratch with everyday use, meaning your pristine show garden look will last for many years to come.
5. Low maintenance: With porcelain paving, there is no added expense of purchasing aftercare treatments to maintain the appearance and integrity of the paving. If laid with the appropriate fixing materials, porcelain paving offers years of virtually maintenance-free patio joy. All that's needed is the occasional jet wash to rid the surface of the general dirt and grime that comes with sitting outside.
6. Uniformity: Being manufactured to industry standards, porcelain paving is consistent in surface finish. This means that the face of the tile is more or less flat. Being uniform in thickness reduces the hazard of tripping too.
7. Moss and mould resistance: Due to their entirely sealed nature, microspores cannot penetrate the surface of the dense porcelain, which means that the nuisance of moss and mould growing on the surface of your tiles is unlikely.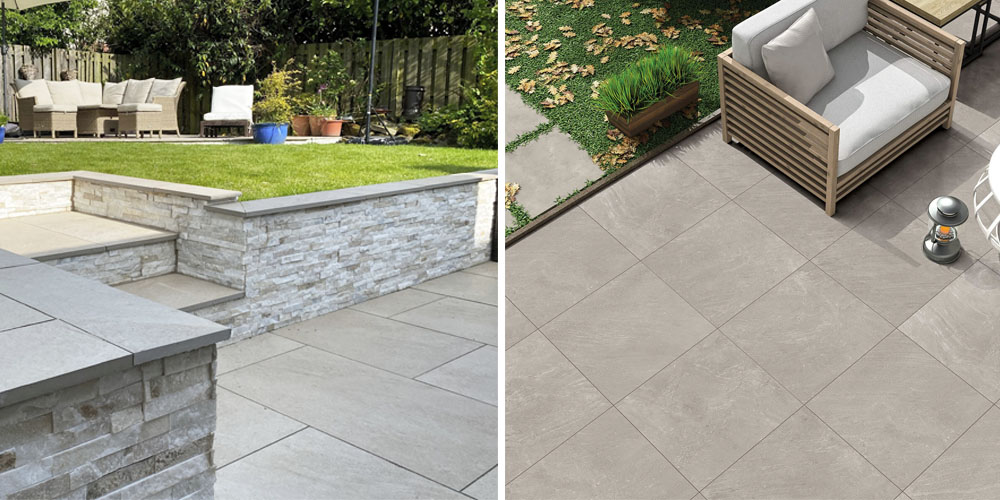 Left: Martello Beige Porcelain Paving, Right: Matterhorn Grey Porcelain Paving Slabs
What are the problems with porcelain paving?
Of course, as with any sort of construction material, porcelain paving does come with a few downsides, some of which might make it more favourable for you to use natural stone paving in your garden instead:
1. Weight: While the thick and hard-wearing nature of porcelain tiles has its advantages; one big downside is that this also makes them fairly heavy. This added weight can make installation more difficult, and if not supported properly underneath, you might find that they sink over time, leading to a mismatched surface.
2. Brittleness: Although porcelain pavers are resistant to the wear and tear that comes with outside exposure, when it comes to knock resistance, porcelain pavers can be subject to damage. If you're not careful, you may find that unforeseen big hits and dropped items might cause your tiles to be irreparably damaged with cracks or missing chunks.
3. Faux effects: Thanks to modern advances in technology, it's now easier than ever to create porcelain pavers that look near-identical to more natural stone tiling, but it's not indistinguishable. Therefore, if you prefer a truly natural look, then a set of natural stone pavers is probably a better option. You can read more about natural stone in our article on using natural stone paving in your garden.
Porcelain tile garden ideas
With our porcelain paving pros and cons weighed up, it's time to look at a few suggestions as to how porcelain paving can enhance your garden by going over some of our preferred porcelain tile garden ideas.
Create a seamless home-patio transition
First things first, it's not uncommon for many of us to want to treat our outdoor spaces as an extension of our home interior, and porcelain paving is perfectly suited for accomplishing this. By choosing indoor/outdoor tiles that match, for example, you can turn your brand-new patio into an external dining area accessible from your kitchen.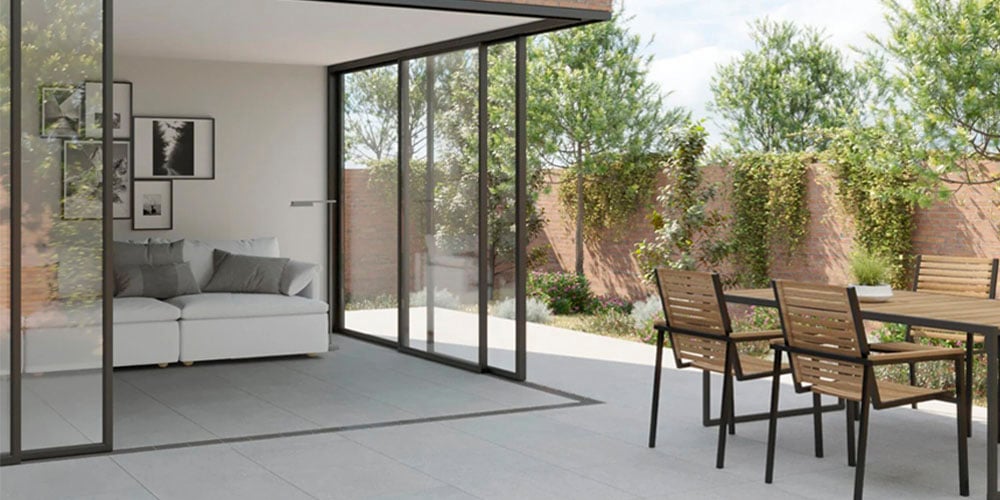 Use our indoor Ashton Grey Tiles with our matching Ashton Grey Paving Slabs for a seamless indoor-outdoor look
Match your patio and external doors
Selecting darker shades of grey paving for your patio means they can be seamlessly complemented with a set of anthracite bi-fold doorframes. These elements also contrast well with stainless steel furniture and glass tabletops, as well as planting schemes which feature bold architectural plants in metal containers.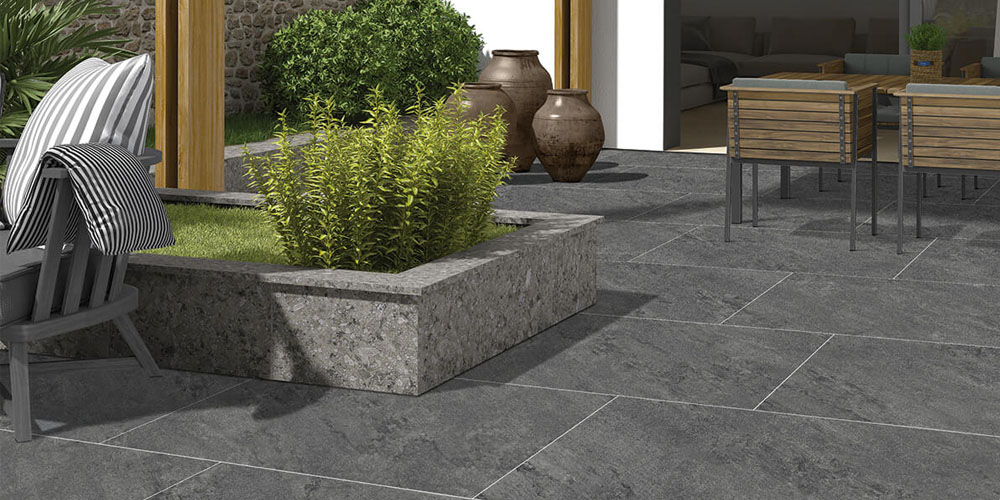 Our Lithos Black Paving Slabs offer a darker tone for more of a sleek, modern look
Choosing earthy tones
If your home is made of yellow stone or brick, then we recommend choosing earthy tones of paving to complement their colour, as well as any timber building features. Add wooden furniture and colourful floral borders into the mix and you can create the perfect solution for traditional settings.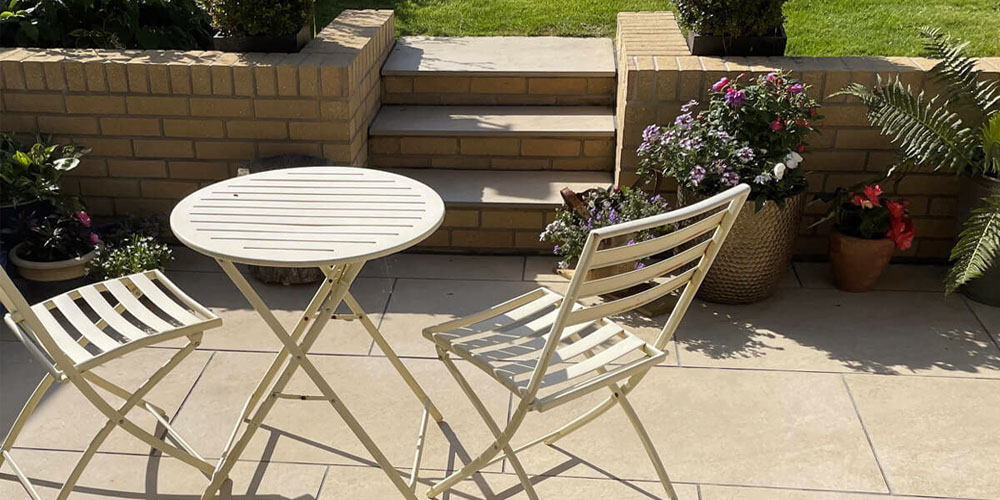 Our Martello Beige Paving Slabs feature a beautiful warm, neutral colour that complements a variety of external materials
Can I use indoor porcelain tiles outside?
While it is possible to match your indoor and outdoor tiles, we wouldn't recommend using interior tiles for your patio, as you'll likely find that, over a short period of time, they swiftly deteriorate. Instead, opt for an indoor tile that has a matching version for exterior use.
These were just a few ideas on how to use porcelain pavers outside of your home, though there are plenty more suggestions out there that you can use as inspiration!
For more information on our outdoor porcelain, you can get in touch with our team directly, or browse the rest of our outdoor paving advice guides for more informative articles like this one.