Porcelain tiles are commonplace inside the home, with a plethora of designs, sizes, and surface finishes to choose from, porcelain tiles are the go-to material for internal use adorning bathrooms and kitchens the length and breadth of the country.
High definition printing and improvements in production technology make porcelain tiles very hardwearing making them suitable for the most demanding commercial and domestic installations. Created from denser clay and fired at higher temperatures for longer than ceramic tiles, porcelain tiles are incredibly durable, making them ideal for flooring projects.
For these reasons porcelain has evolved into paving for external use, tough enough to take the weight of a car, porcelain paving is ideal for driveways so long as it is laid over a suitable substrate, and as more manufacturers get on board the range of designs and styles grows enabling porcelain paving slabs to be incorporated into any traditional or contemporary garden design.
What are the main benefits of porcelain paving?
Frost resistant – made with white clay, sand, and feldspar (a mineral that improves strength and durability of the mix), porcelain pavers are very dense which means that when used externally they don't absorb water making them naturally frost resistant and won't crack or delaminate from the substrate in cold temperatures.
Stain-resistant –porcelain paving isn't generally susceptible to staining caused by fallen leaves, berries or lichen due to it being of very low porosity. These natural nuisances can cause unsightly markings on stone paving products which are a challenge to remove. It's worth noting that whilst porcelain paving slabs are stain-resistant, if a cement based grout is used to fill the gaps between the tiles it's prudent to use an external stone sealer (on the grout joints only) to help protect the grout from staining due to spills from things such as wine, or pollen from trees and flowers. We recommend sealing the grout with LTP External Stone Sealer, which will also help prevent moss and mould from forming in the micropores of the grout.
Slip resistance – all of Stone Superstores external porcelain paving is manufactured to have a slip resistance of R12 making them graded as safe to use for external applications, including around swimming pools During manufacturer paving undergoes an additional process giving it a textured finish which makes it more grippy than internal porcelain tiles which have a smoother finish.
To overcome the issue of grout or jointing compound staining or sticking to the textured surface of paving it's worth considering applying a coat of pre-grout treatment such as LTP Porcelain Tile Protector, which is an invisible non-film forming solution to protect against staining. A further application after grouting will help with the removal of all sorts of organic material.
Scratch resistance – another advantage of porcelain paving is that unlike softer ceramic material or wooden decking solutions, the slabs are less likely to scratch with everyday use, so the pristine show garden look will last indefinitely.
Virtually maintenance-free – with porcelain paving there is no added expense of purchasing aftercare treatments to maintain the appearance and integrity of the paving, laid with the appropriate fixing materials porcelain paving offers years of virtually maintenance-free patio euphoria. An occasional jet wash to rid the surface of general dirt and grime that the elements chuck at it is all that is required to keep the paving in pristine condition.
Uniformity – being manufactured to industry standards porcelain paving is consistent in surface finish. This means that the face of the tile is flat without undulations which gives a contemporary seamless look. Being uniform in thickness reduces the hazard of tripping too.
Moss and mould resistance – microspores cannot penetrate the surface of the dense porcelain which means that the nuisance of moss and mould growing on the surface, and making the patio or path looking unsightly is eradicated.
Porcelain paving design choices.
Manufactured to be homogeneous the consumer can readily choose their prefered design and style, safe in the knowledge that there will be minimal variation in colour and tone from slab to slab.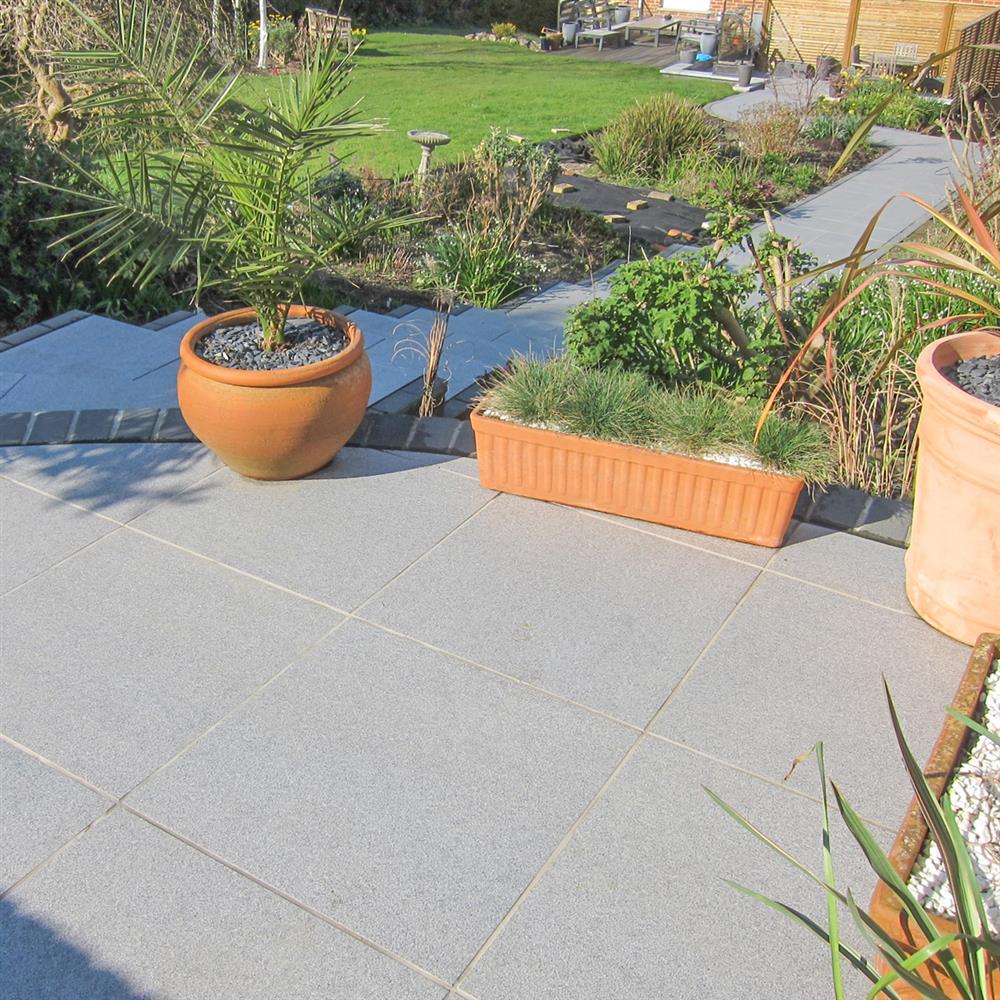 Mimicking natural stone in appearance porcelain paving is an ideal option for customers who want the organic traits and characteristics of natural stone, without the hassles of maintenance. Our Granito Grey Paving Slabs are the perfect example of an outdoor porcelain tile, offering the 'salt and pepper' feature of natural grey granite paving slabs.
Martello Beige is a splendid specimen of a limestone style imitation with subtle detailing, available in two sizes the square 60cm x 60cm and the large rectangular 90cm x 60 cm slab, lending itself to both contemporary and older traditional garden designs.
The square slab is generally laid in straight rows with grout lines in a straight line, whereas the larger rectangle slab is laid in an offset overlapping 'brick effect', which has the effect of making an area seem larger and wider. Using the rectangle slab is an especially good option if the area being paved is of irregular size or shape as the offsetting of the slabs disguises the issue.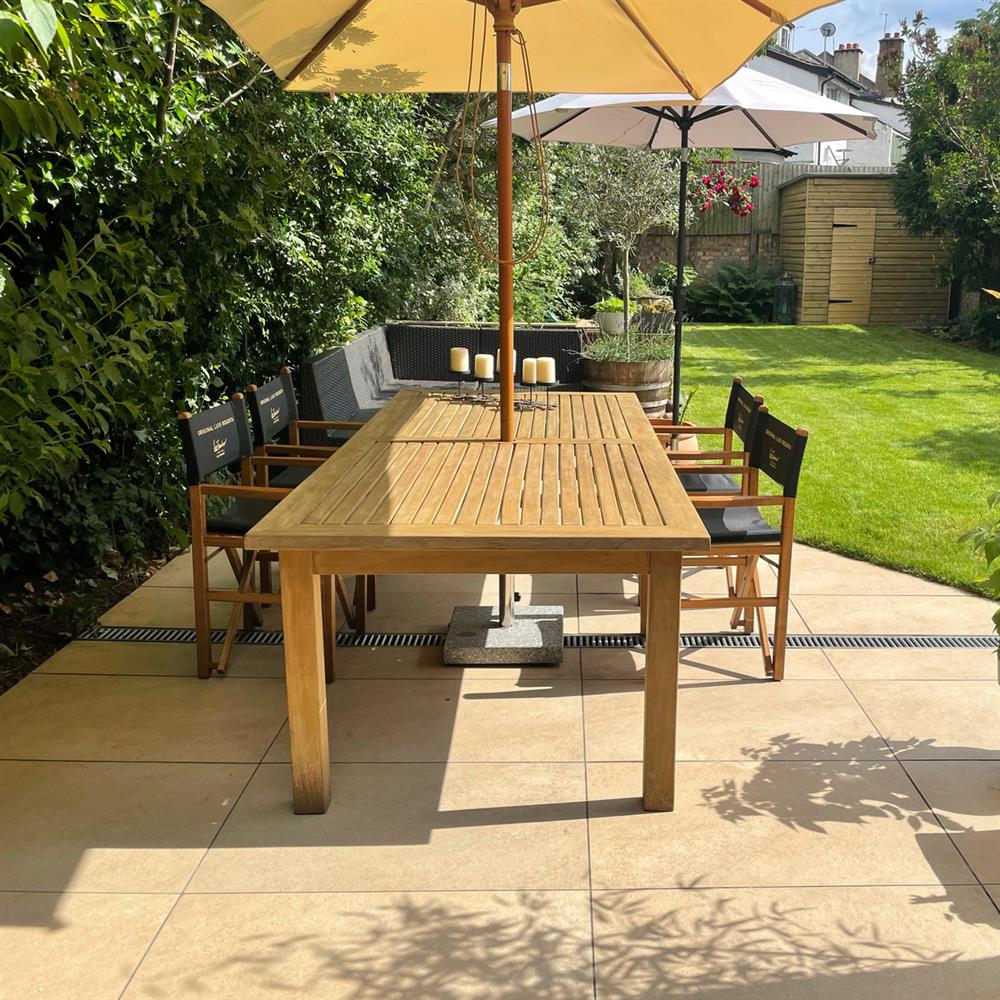 We're often asked whether two sizes of paving can be used together in the same area. We don't recommend this as generally, the different sizes will be different batches, and much like wallpaper, paving batches often vary from shade to shade. Sometimes batches are very similar in tone, nonetheless, we still don't recommend mixing and matching as the difference in shade is often only noticeable in different lights such as artificial light. So the installation may look impressive in daylight, but when enjoying the view from your kitchen-diner with unnatural light shining down on your patio the contrast may be stark.
Another desirable virtue of outdoor porcelain is that it can be laid with a minimal gap between the tiles. All of our porcelain paving is rectified, which means that in production the sides of the tiles are trimmed to be exactly the same size. As well as the project benefiting from a seamless unified look, you'll save time and money by having a minimum grout line. Depending on the product used to fill the gaps you can achieve a 2-4mm grout line. Despite the slabs being square and true, we do not recommend butting the tiles up against each other. This is because over a period of time there may be a slight movement in the substrate which may lead to the tiles rubbing against each other and chipping.
A variety of installation options – 20mm thick (2cm), outdoor porcelain paving is super strong and can be fixed using a number of applications. A quick solution is setting tiles down onto grass or gravel as 'stepping-stones' without grouting in between slabs. The ideal surface to fix paving onto is a concrete slab as this will be flat and even, making the perfect substrate to tile onto. A more permanent and steadfast option is a 'wet' solution, such as fixing onto a screed or fixing with purposeful tiling adhesive. A raised pedestal system is the ideal option if the surface is uneven, sloping, or the substrate would require a substantial amount of preparation if a 'wet' installation was to be used. See our article 'How to install 20mm porcelain paving' for further details on fixing options.
Why standard internal porcelain isn't recommended for external use?
From a hardness perspective, standard 9/10mm tiles can be used for external use if properly fixed to a suitable substrate with an appropriate adhesive. However, over a period of time, aesthetically the surface of a tile meant for internal use might deteriorate with heavy use and exposure to the elements. Also, internal tiles typically have a lower slip rating than purposeful external paving which usually has a slip rating of R12 and above and classed as anti-slip.
Combining aesthetic appeal with practicality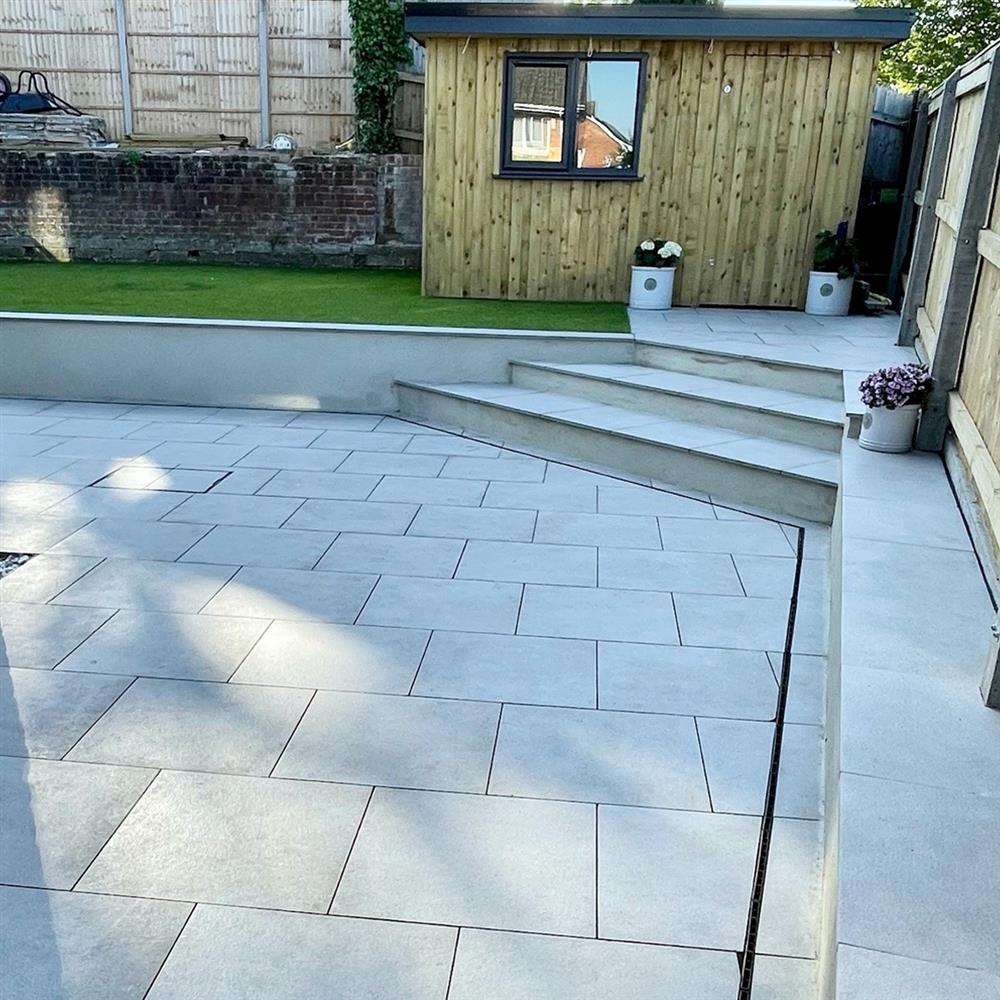 As our outdoor spaces continue to be an extension of our home, and the boundaries of outdoor and indoor living merge, porcelain paving is the go-to solution for driveways, patios, and pathways. Offering a contemporary visage with sharp crisp lines the robust and hardy porcelain paving is sure to feature in both modern and traditional home environments for many years to come.
Laid as a patio in a contemporary environment, select darker shades of grey paving which compliment in vogue Anthracite bi-fold doorframes. These elements contrast well beside stainless steel furniture with glass tabletops, and planting schemes featuring bold architectural plants in metal containers complete the package.
For yellow stone or brick buildings, choose earthy tones of paving that compliment timber building features. Add wooden furniture and colourful floral borders to create the perfect solution for traditional settings.
Loved by designers, landscapers, and discerning homeowners alike, the ever-increasing depth and breadth of porcelain pavers will adorn our external areas in all forms, be it a driveway to take the new car, a courtyard for outdoor entertaining, or a pathway to a garden office for those working from home, porcelain paving is the affordable and practical solution to every design challenge.
See our full range of Porcelain Paving HERE.