As the trend towards the open-plan kitchen diner with a sweeping curtain of frameless patio doors continues, attention to outdoor paving grows as homeowners pursue a seamless connection to their garden and seek to connect with nature.
Whether the outdoor area is used for play, work, entertaining, or to simply relax, natural stone patio paving is replacing mundane concrete slabs in favour of more desirable sandstone and limestone paving.
In this article, we take a look at how natural stone paving is being used to improve and add value to the home, explore what options are available, and what you need to consider before embarking on a natural stone paving project.
What is natural stone paving?
The two most common type of stone used for outdoor paving are Limestone, such as our Classic Silver Grey calibrated paving slab, and Sandstone paving such as our Classic Raj Imperial. Both are sedimentary rocks formed from compacted and compressed organisms over hundreds of millions of years, Limestone can be characterised by its fossil detail and Sandstone is smaller grained with blended colours.
Large stone blocks are transported from the quarry to a manufacturing plant where they are inspected for cracks and flaws, and tested for hardness and density before being cut into paving slabs.  The slabs are then securely packed into crates and shipped to our warehouse by the container load.
Where is natural stone paving used?
With the desire to eat al fresco all year round made more enticing with the advent of garden heaters to keep warm and canopies protecting from wind and rain, a patio formed from natural stone paving slabs is the desirable extension of the kitchen/diner.
Patios can be laid to join seamlessly with grassed areas or designed with walled raised beds utilised for growing herbs, fruit and vegetables.  Where the house is on a different level to the garden natural stone paving is the ideal solution for creating steps, our Mandalay Blue Limestone Slabs are the ideal size for steps measuring 900mm wide by 600mm deep.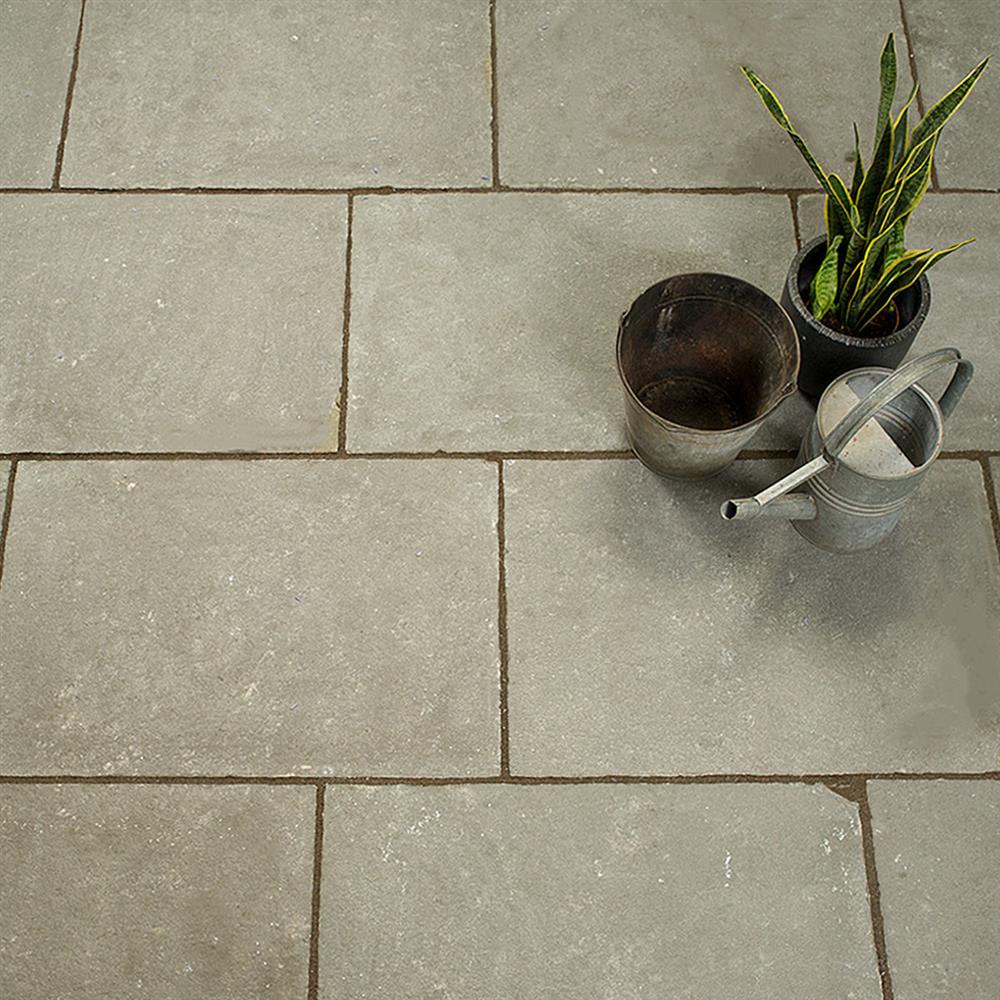 The same-sized slab is used as a standard when creating paths around the side of a property, or when being used to form a path from one area of the garden.
Slabs can be laid as a continuous path with spaces between tiles filled with purposeful patio grout, or as free-standing stepping stones.
As the movement towards working from home and the building of home offices or studios continues, being led up the garden path to another paved area is commonplace with the buildings having adjoining terraced areas laid with natural stone paving.
Natural stone paving is the ideal solution for driveways too.  A great alternative to pebbles which over a period of time require attention as vehicles make grooves through constant use, paving irradicates this problem.  Laid correctly with the suitable substrate and materials paving slabs will readily take the weight of cars.
Selecting natural stone paving
Natural stone paving is purchased in patio slab packs or single size slabs.  Patio Slab packs such as Classic Silver Grey Sandstone come in a crated pack which once laid with a 10/15mm grout line will cover 18.8 square meters.  Each pack contains 60 slabs made up of the following sizes: 600x900mm 16 slabs, 600x600mm 16 slabs, 600x290mm 16 slabs, 290x290mm 12 slabs.  The packs come in these specific quantities so they can be laid a predetermined repeating modular design.
Single slabs measure 600x900mm such as Steel Grey Limestone paving. These set size slabs are generally laid in a layered overlapping 'brick bond' design.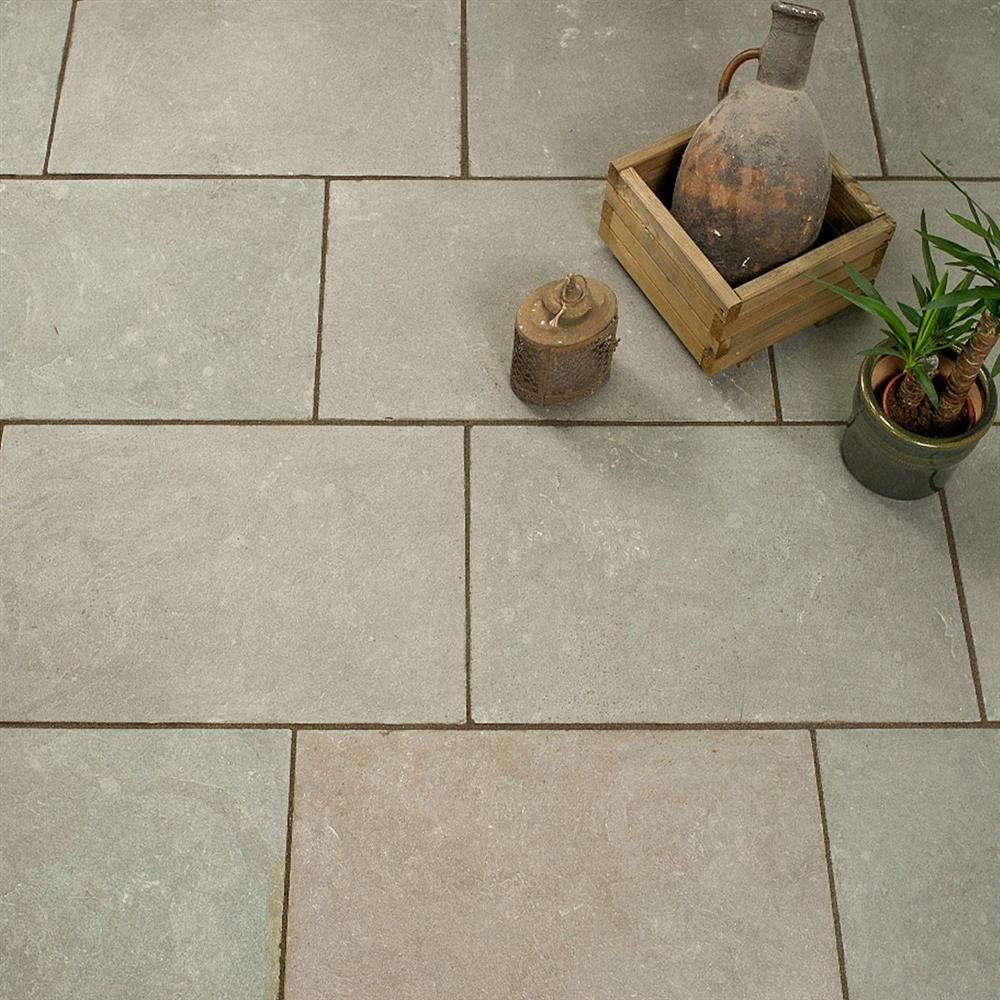 Our natural stone patio paving is termed riven which means it has a textured surface.  The edges are 'hand cut' which means they undulate giving them an 'antiqued' look like they've been in situ for a generation.
Both Limestone and Sandstone come in shades of grey and 'earthy' tones from lighter beige to darker tones of brown.  Generally, limestones have a more consistent colour pallet and sandstones vary more in tone with softer shades that blend together.
Our Midnight Black limestone is the darkest colour of our paving range an ideal selection to compliment on-trend anthracite-coloured frames of doors and windows.   Along with black, grey and grey/blue options offer a modern look, often coupled with metal and glass patio furniture and augmented with a structural planting scheme and metal planters. Finding a satisfying match for older brick buildings can be a challenge, although the warm tones of Mandalay Buff is a good option if you have beige brickwork.  These warmer toned slabs lend themselves to cottages and older properties set in traditional and historical environments, where wooden garden furniture and flowered planting schemes prevail.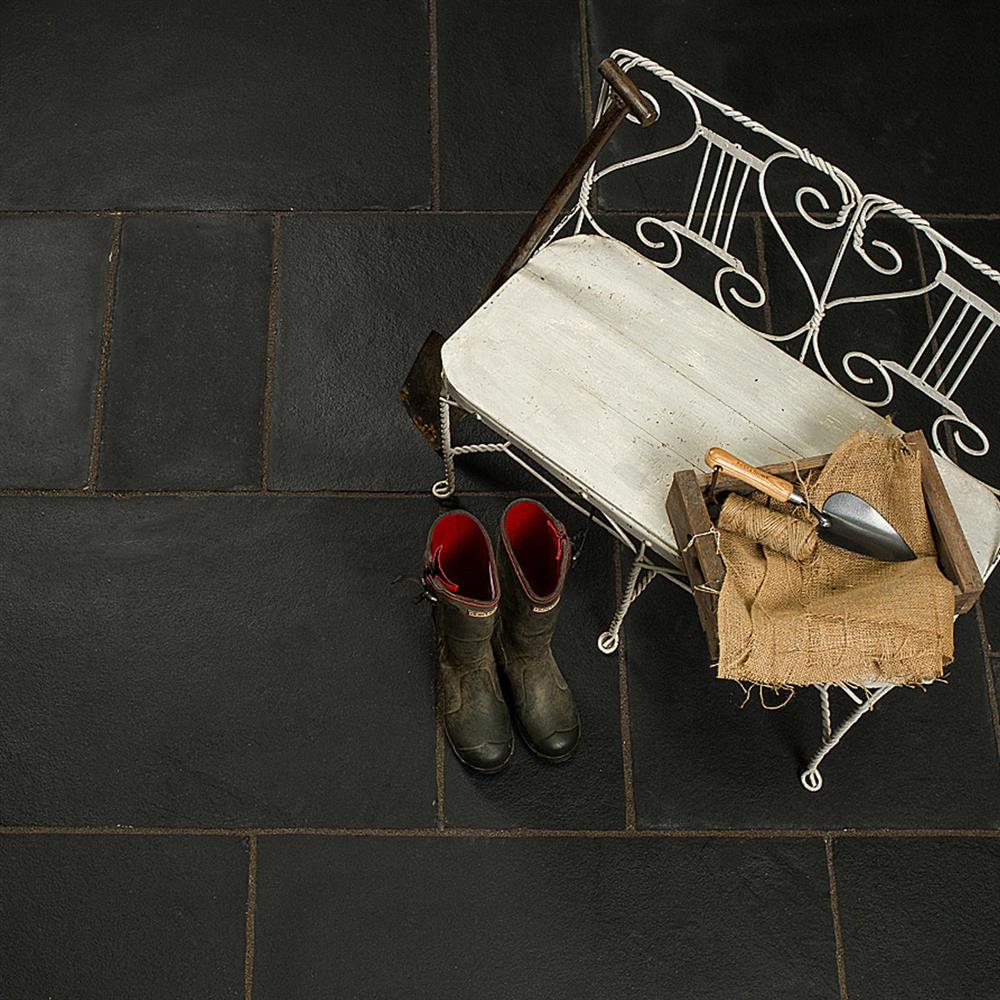 What's the difference between calibrated and uncalibrated paving?
The term calibration refers to the consistency of the thickness of the patio slab. All of Stonesuperstores paving is calibrated which means they are cut to a thickness of 22mm, with an acceptable tolerance of +-2mm.  Uncalibrated paving isn't cut to a specific size, therefore can vary drastically in the thickness of 10mm or more.
Calibrated paving is seen as the essential option as uncalibrated paving, although maybe cheaper, is not the best choice for two reasons.
Buying uncalibrated garden paving is a false economy as often many slabs cannot be used as the variation in thickness if laid will make them a trip hazard.
Your fitter will not appreciate having to lay uncalibrated slabs as it's time-consuming and more materials may have to be used adding to installation costs, and possibly delaying completion of the project.
Whether you have a small space to pave, or plan to create an extensive patio area for entertaining, you'll need to order extra paving as a 'cut allowance'.  The 'cut allowance' is a quantity of paving ordered in excess of the area you are planning to pave.  Within every installation, your fixer will have to cut slabs to fit around the perimeter of the area being paved, such as where the patio joins a wall.  The quantity of extras ordered depends on the complexity of the installation, as a minimum you're advised to order an extra 10%, so if the area being paved is 20sqm then ordering anextra 2sqm, 22sqm in total would be prudent.
As we enter the BBQ season and natural stone paving projects get underway you now have an understanding of the options available, and the characteristics of traditional natural stone paving to help you select the best option to transform your outdoor area.
See our full selection of Natural Stone Paving HERE.