When it comes to outdoor tiles, it's hard to argue with just how good the right set of natural stone paving can look. And with the trend towards open-plan kitchens linked to your garden via frameless patio doors on the rise, there's never been a better time than now to embrace the flexibility that comes with outdoor pavers.
Whether your outdoor area is used for play, work, entertaining, or simply relaxing and connecting with nature, a natural stone patio or path paving is the perfect choice for replacing dull concrete slabs. But where exactly should you start if you're planning on a garden redesign?
Well, to help you get started, we're going to lay out our top paving stone landscape ideas, demonstrating how they can be used to improve the look of your home while also adding value to your property.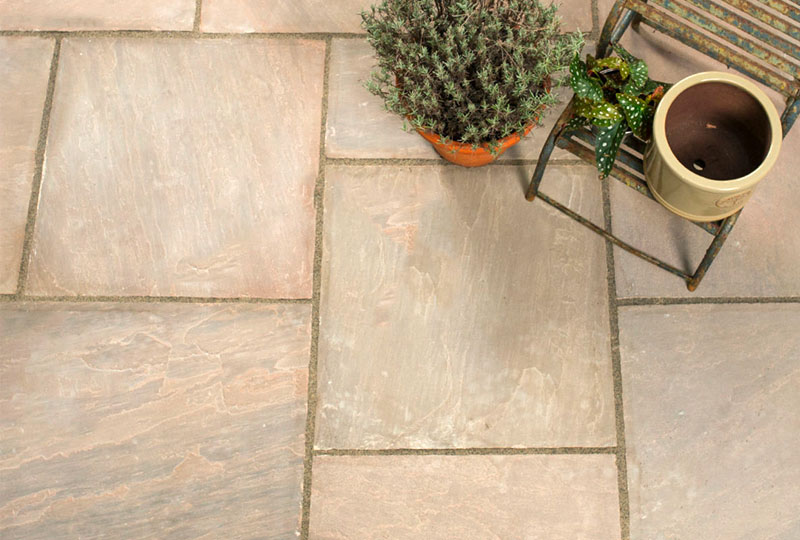 Classic Autumn Umber Sandstone Paving
What is natural stone paving?
Before we delve into our top paving stone ideas for gardens, let's first clarify what natural stone paving actually is.
Well, when it comes to this sort of tiling material, what you're actually deciding between is two common material types – limestone and sandstone. Both are sedimentary rocks formed from compacted and compressed organisms over hundreds of millions of years, hence the weathered and aged look that makes this sort of material so appealing.
These large stone blocks are transported from their quarry to a manufacturing plant where they are inspected for cracks and flaws, and tested for hardness and density before being cut into paving slabs. These slabs are then securely packed into crates and shipped to our warehouse by the container load so we can meet our customers' needs.
As a result, we offer numerous natural stone options in our product line, all of which are perfectly styled for meeting the paving stone design ideas that we've listed out below.
Paving stone landscape ideas
With the desire to be outside having increased over the last few years, the number one external upgrade you can make your home is a brand-new stone patio.
Stone paver patio ideas are numerous and depend a lot on your garden type. However, here are some key suggestions on how you can use stone paving in your outdoor space:
- A seamless transition: As we mentioned earlier, using your patio as an extension of your kitchen is on trend at the moment – allowing you to turn your new outdoor space into a seamless continuation of your home; especially if you use indoor/outdoor tiles to run throughout the 2 spaces.
- Connect your grass and patio: Of course, patios can also be laid to join neatly with grassy areas or designed with walled raised beds that can be utilised for growing flower beds, herbs, vegetables. And if your house is on a different level to your garden, natural stone paving is the ideal solution for creating steps.
- Create a garden path: Natural stone pavers are also a great choice for any garden path as well – whether that's creating paths around the side of your property or forming a route from one area of your garden to the other via steppingstones or properly joined pavers.
There's no denying that new paving can quickly enhance the style and aesthetic of your garden, but it's important to know how to maintain your new slabs. Fortunately, we've compiled our experts' top tips in one place: how to care for natural stone paving.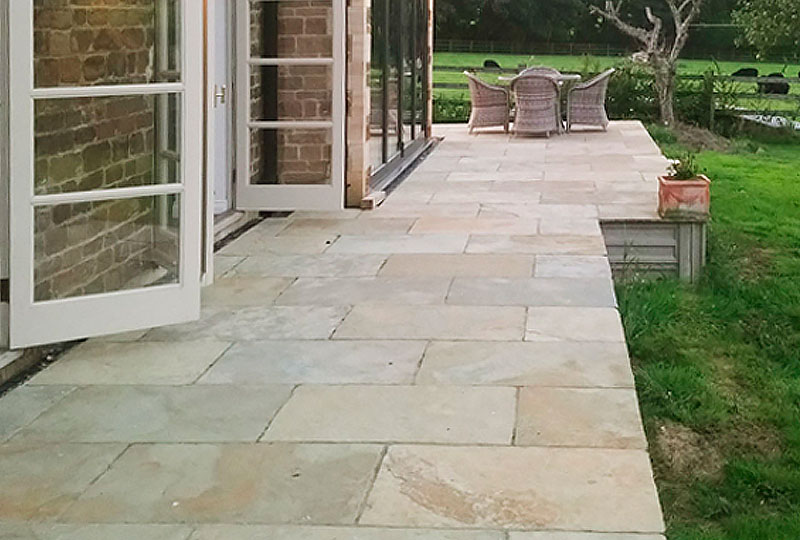 Mandalay Buff Limestone Paving
How to select natural stone paving
When looking at the available options for your paving stone design ideas, natural stone tends to be best bought as either patio slab packs or single-size slabs at the amount that you need for your project.
Our patio slab packs specifically will come in a crated pack which, once laid, will cover an area of roughly 18.8 square meters. These packs come in these quantities to allow you to lay down a predetermined and repeating modular design, though, for more personalised patterns, it's likely that our single slab purchase options will be better suited for your needs.
What's the difference between calibrated and uncalibrated paving?
The term calibration refers to the consistency of the thickness of a patio slab. For example, all of Stone Superstore's paving is calibrated to a thickness of 22mm - with an acceptable tolerance of +-2mm either way.
Calibrated paving is seen as the essential option when conducting any tiling project, as uncalibrated paving, although often cheaper, is not the best choice for two reasons:
- Buying uncalibrated garden paving is a false economy as many slabs you receive cannot be used together due to the variation in thickness, making them a trip hazard when laid.
- Your fitter likely won't appreciate having to lay uncalibrated slabs as it's time-consuming, requiring more materials, which adds to the overall installation costs and may possibly delay the completion of your project.
Regardless of whether you have a small space to pave, or plan to create an extensive patio area for entertaining, there is a lot you can do with outdoor stone paving. We encourage you to get in touch to discuss your project with our team, or find even more tiling tips over on our outdoor paving advice hub - such as how to improve your garden with porcelain pavers.