So you're planning to buy or have purchased porcelain paving for your outdoor paving project and want to explore installation options? In this article, we'll take a look at what choices are open to you, the pros and cons of each option, and guidance on how to make your installation a success.
One thing is for sure, whichever option proves most suitable for your project, laid correctly porcelain paving slabs will give you years of virtually maintenance-free use, whether you're laying the paving as a path, patio, or driveway.
DIY or DFY (Done For You) what to consider.
Although laying porcelain paving isn't rocket science, as with all home improvement projects, generally, the best option is to hire a professional installer. I say this for two reasons with regards to laying porcelain paving:
1. Having the correct tools is essential. Tradesmen build up their toolkit over many years and spent hundreds, if not thousands of pounds doing so, and may have tried many options before settling on a set of tools that make a given job easier, quicker, and give the best finish. For example, a purposeful tile cutter is required to cut the slabs as porcelain is one of the hardest materials on the market and can't be cut with a £20 DIY tool.
2. Timescale – you need to consider how important finishing the installation on a given day is to the completion of your overall project. As a novice, it could take you two or three times longer than an experienced installer, which may not bode well if other tradesmen are relying on you to complete your part of the project so they can do their job, maybe you have an electrician booked to wire uplighting or a landscaper to plant up borders that would be affected should you run over your allotted time.
If you're planning to lay porcelain paving yourself purely to save money, it may be best to offer your services as a labourer to the installer rather than complete the whole project yourself. This way you can pick up installation tips too, should you decide to complete another paving project at a later date.
Cutting Porcelain Paving
Whichever laying option you decide to go with it's likely a number, often up to ten per cent of slabs, will require cutting. As you'd expect 20mm external paving like our Ashton Grey porcelain paving is very dense and it's not advisable to try and cut slabs with a 'dry' angle grinder which is often used by installers to cut natural stone paving which is softer and cuts more readily with a hand tool.
A purposeful electric diamond 'wet' wheel cutter is the way to go. As the name suggests the machine uses water which cools the blade enabling it to cut through the slab. Also, the water helps keep dust to a minimum capturing it and collecting it in a reservoir below the bed.
If you are going to invest in a machine, we recommend buying one with all possible safety features to prevent cut debris from hitting the operator in the face and other potential accidents.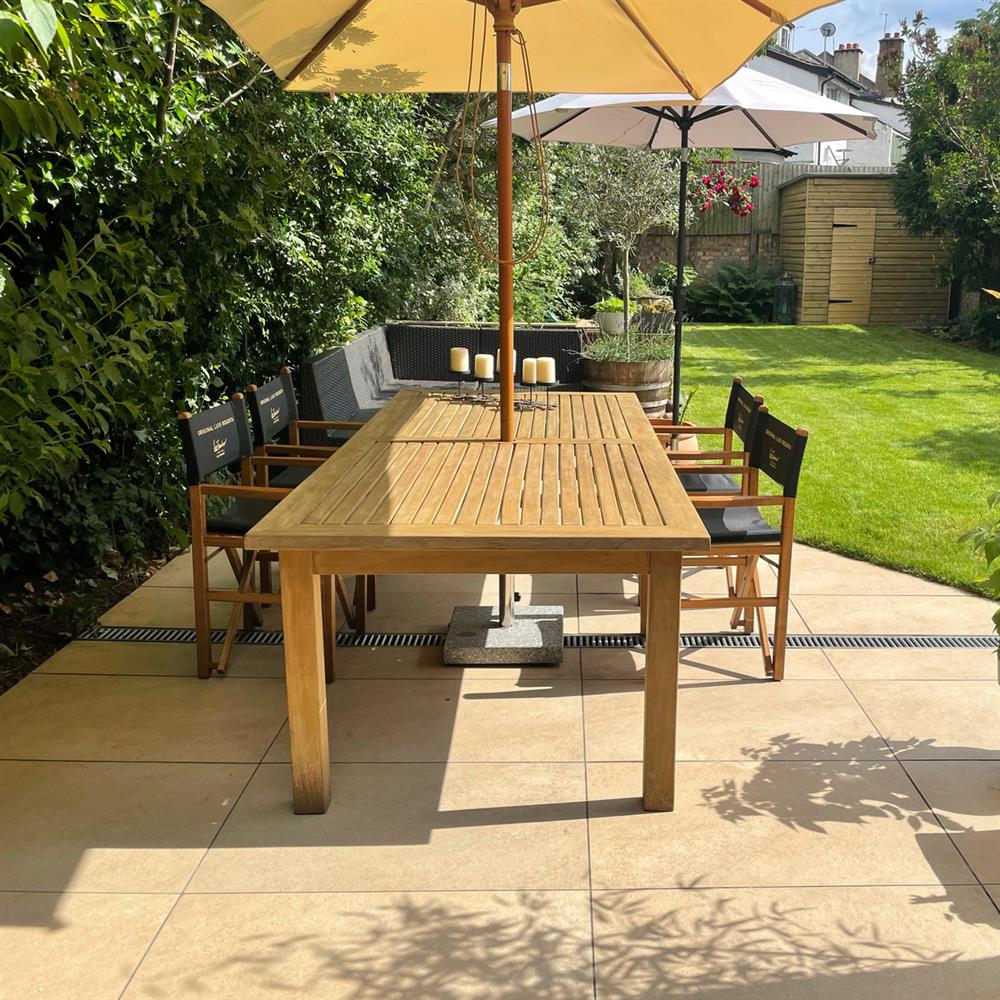 Many options come on a stand taking the backache out kneeling to cut slabs. Buy one with ample bed size, if you're working with a large 900x600cm slab then you need to manoeuvre the slab comfortably and safely so the larger the bed the better.
The key with any cutting machine is the blade. Buy the best blade you can afford, this may not be the one that comes with the machine. Do your research, read reviews and blogs, as investing time and money now in a great blade will save you time and money later.
Where to start laying porcelain paving?
It's a must to do a 'dry run', layout your paving slabs before you start fixing them, as once fixed lifting tiles to reposition them is problematic, and you run the risk of damaging slabs as you lift them.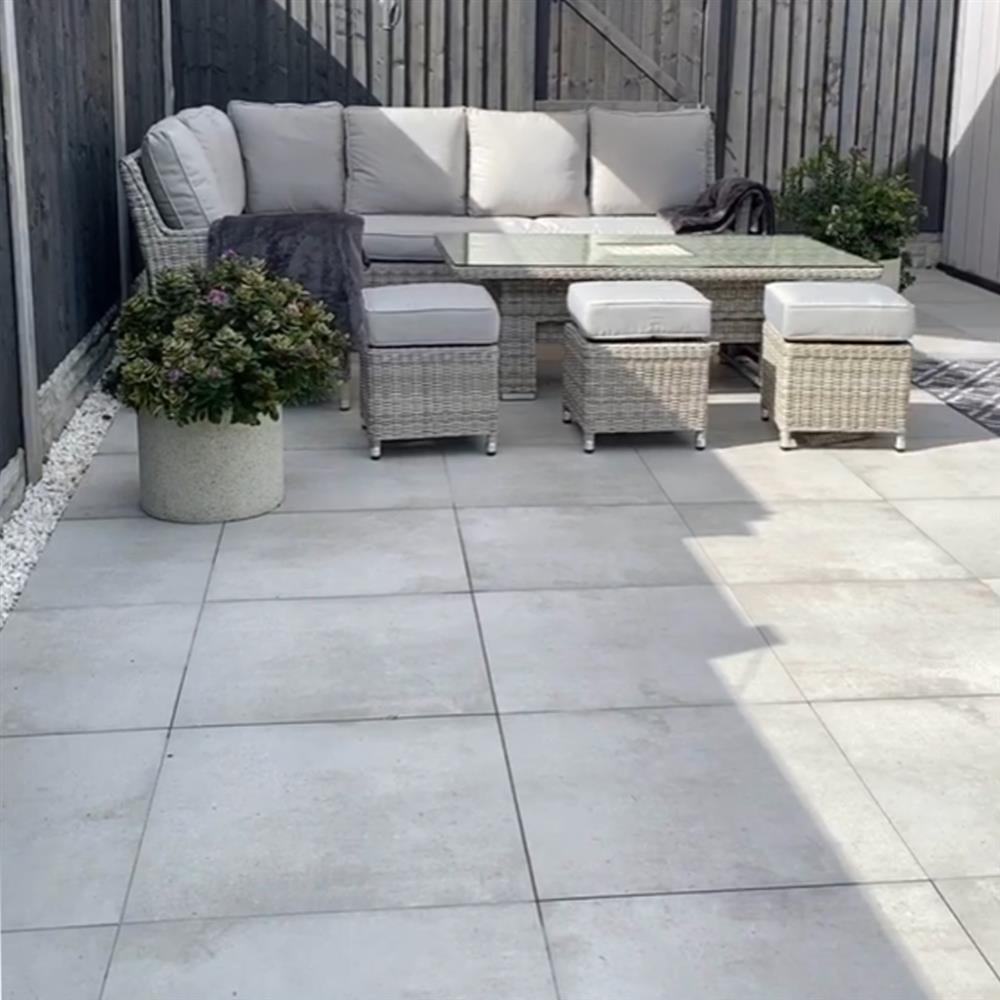 The idea of a 'dry run' is for both practical and aesthetic reasons. Setting out tiles beforehand may show that by moving a tile across a few centimetres will reduce the number of cuts you have to make.
You may discover that starting at a certain point is more pleasing to the eye. For example, if you have a driveway project, laying the first full-size slab at the entrance to your property leaving any cuts hidden around the perimeter, is more aesthetically pleasing as you don't see cut tiles when you look out of your window.
Fixing full-size slabs rather than having cut slabs in high footfall areas, such as when you step out onto a patio is both aesthetically pleasing as you see a complete tile, and practical as it's always best to step onto a full tile rather than grout lines.
Pre-installation checks
By law, it's incumbent upon whoever is fixing the tiles to make sure they have the correct product(s) to being with ie: the one(s) actually ordered and to check the quality and if there is sufficient quantity to complete the job before they start fixing.
To avoid any delays, which may cost you time and money, it's prudent to ask your installer to calculate the square meterage of the area being flagged and add a minimum of 10% for cuts and waste.
We recommend having tiles delivered three to five working days before the installation is due to start as, so that in the unlikely event that the wrong tiles have been sent or you have excessive tiles which are damaged, you can receive replacements without hampering the installation.
Types of installation
Using a raised pedestal system
Pedestal systems have been specifically created for fixing porcelain paving in outdoor environments where the surface to be laid onto is uneven or requires a significant amount of preparation work which is time-consuming and costly. P
edestals have plastic bases that are placed below the slabs to hold them in place, the pedestals are height adjustable which enables a level and even surface to be created across the installation.
Using a pedestal system is ideal where pipework or wiring is required as part of the project as systems can be hidden underneath the space created by the height of the pedestals, and individual slabs can readily be lifted for inspection and maintenance purposes. There is no requirement for adhesives or grouts which saves on time and money, and with no grout between slabs, you have natural drainage.
Note that 10cm porcelain tiles are not suitable for use with pedestal systems as they are not thick enough and will break, only 20mm thick tiles have sufficient load-bearing.
Each pedestal system is principally the same however, you should follow any recommended manufacturers instructions to not invalidate the product warranties
Laying onto screed/cement base
Laying onto a purposeful solid screed or cement base is a must if your paving project is for a driveway as the substrate needs to be able to take the weight of vehicles as they cross the paved area.
Many materials on the market will give you a solid base onto which the tiles can be laid.
Preparing the substrate below the tiles correctly is key if your project is to stand the test of time so using the correct combination of materials to the correct depth is essential. Refer to product manufacturers for specific usage of their materials.
Once you have your solid base and it's had sufficient time to dry out, use a propriety porcelain paving fixing adhesive such as Kerakoll Biofast along with Kerakoll Primer A if your screed/cement requires priming to aid adhesion.
A minimal 3mm grout line can be used with rectified porcelain paving as it's completely square cut and can be laid with a narrow gap between tiles.
Laying onto Grass
One of the beauties of porcelain paving being 20mm thick and extremely robust is that it can simply be laid among a grassed area without the need for permanent fixing. This is a quick and easy method ideal for a DIYer, particularly suited to 'stepping stone' type paths. Simply make sure the layout doesn't require any of the slabs to be cut, which negates the need for any expensive cutting equipment. Also, this type of fixing is ideal should you anticipate wanting to move the pathway and reuse the tiles.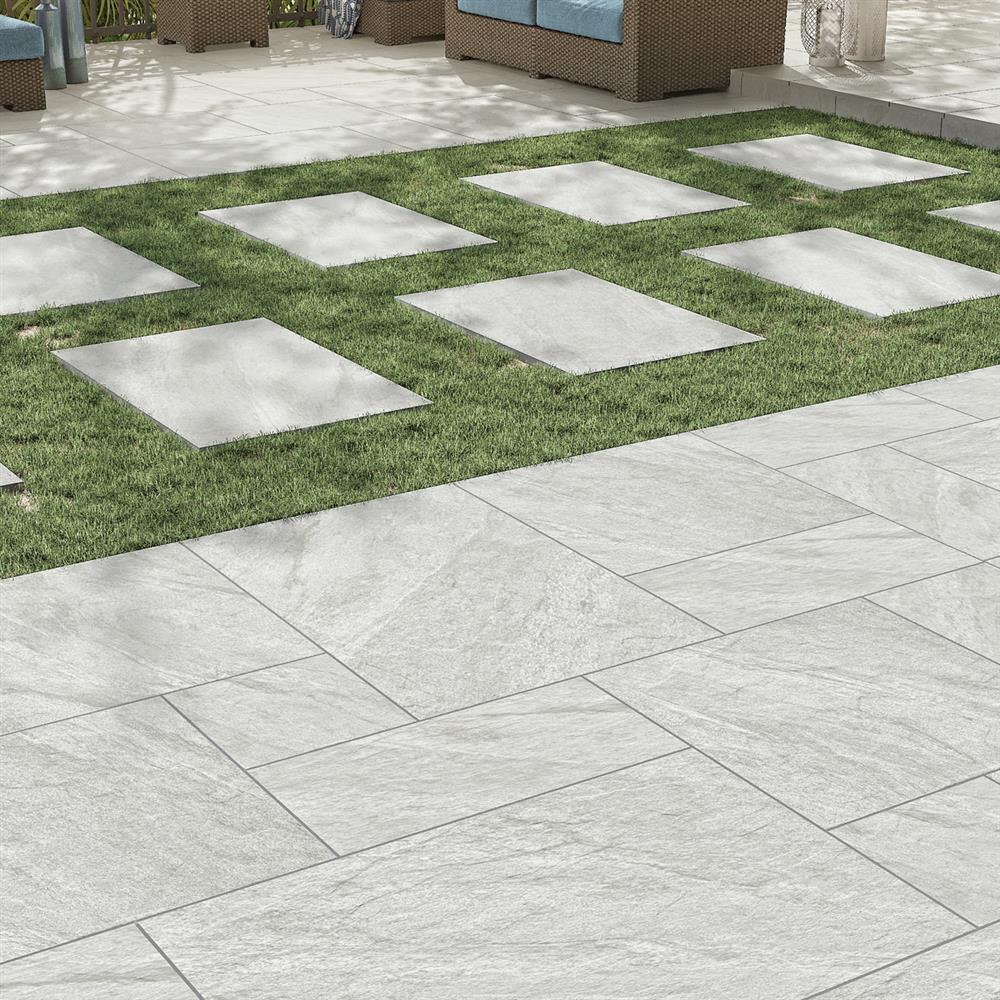 Follow these steps:
1. Position the slabs onto the grassed area in your desired pattern.
2. Whist in position mark around the edges of each slab using a flat garden tool such as a spade or lawn edge cutter, being careful not to chip the corners or edges of the slab.
3. Set the slabs to one side, and remove turf and soil down to a depth of 7 - 10 cm.
4. To make the tiles stable and to minimalise subsidence, fill the area dug with fine gravel to a depth of 5 - 8 cm, and compact it down evenly.
5. Place the slabs into position, obtain an even surface by gently tapping with a rubber mallet and measuring with a spirit level.
6. To avoid damaging the lawnmower when cutting the grass sit the slab just below the level of the adjoining soil.
7. Fill any gaps around the slab with soil.
8. Slabs can be walked on immediately
Whichever installation solution is chosen you can be confident that laid correctly, porcelain paving with its many desirable characteristics such as frost resistance, stain resistance and slip resistance, your patio, paving, or driveway project will be an asset to your property well into the future.
See our full selection of Porcelain Paving HERE.