As the growth in homeowners choosing external porcelain for their patios, driveways and pathway projects continues, there have been several products developed by manufacturers to help take care of porcelain paving pre and post installation. In this article we look at the correct cleaning, protection and aftercare products to keep your porcelain paving in showroom condition for many years to come.

Made from denser clay and fired at higher temperatures for longer than ceramic, porcelain is the ideal material for external use as it's extremely durable under normal use. External porcelain paving at 20mm is thicker than internal porcelain tiles, therefore fitted correctly will withstand the test of time in the most demanding areas of the garden. Porcelain paving slabs are resistant to being tainted by the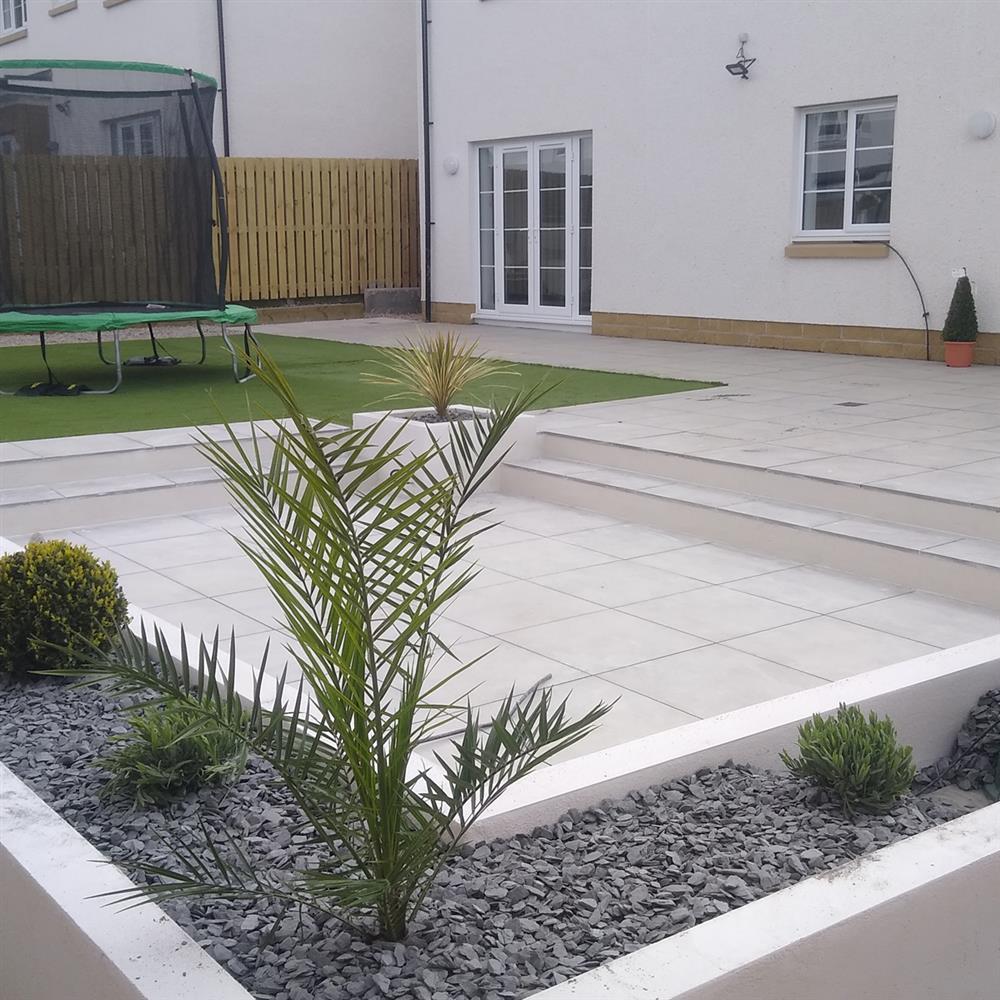 weather or natural elements and generally won't stain from spills or easily scratch.

However, although it's the hardiest of materials, porcelain paving does require a little TLC now and again to keep it looking good and to maintain its slip-resistant qualities. Whether you've purchased stone effect paving such as Granito Bianco 60x60 paving slabs or contemporary cement style Eaton Gris paving slabs, all external porcelain paving will benefit from seasonal cleaning.

Why you use 20mm porcelain slabs for your paving project.

It may be tempting to use 10mm porcelain tiles for your external paving project either because you like a particular design or colour or the tiles are a lot lighter and easier to handle than purposeful 20mm outdoor porcelain paving.

In short – we don't recommend using 10mm tiles for your external paving project.

External porcelain is manufactured to 20mm thickness so that it can withstand heavier loads, such as cars on driveways, so long as laid on a suitable substrate. If you plan to use a pedestal system for installation, 10mm tiles simply aren't sufficiently load-bearing. Also, external porcelain tiles are manufactured to have a slip rating of R12 (or more) which means they are grippier and slip-resistant. Internal porcelain tiles aren't by default manufactured to such a slip-resistant standard.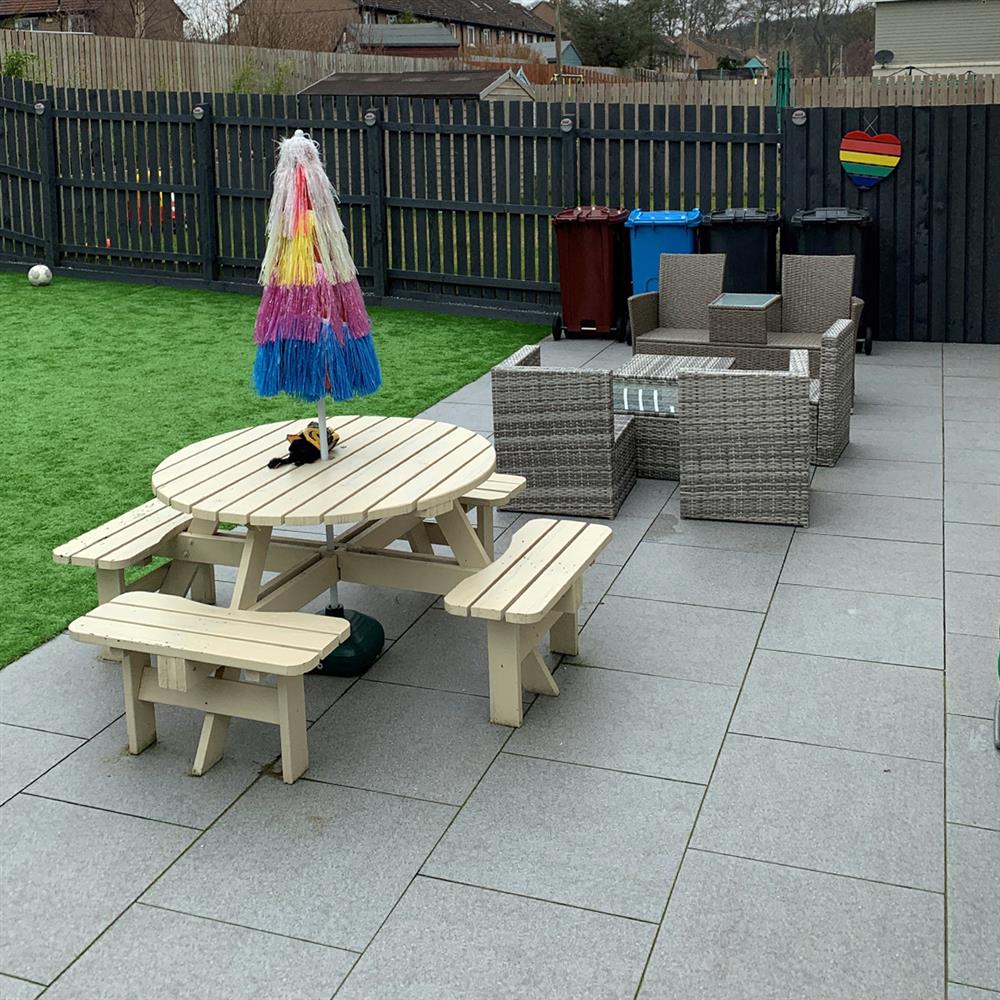 Storing porcelain paving on-site before installation.

Often slabs are delivered to site days or weeks prior to installation. Pallets should remain covered and protected to prevent spillages onto the slabs and marking them. It's also worth noting that if you have adhesive and grout on your delivery this should be removed from the pallet and stored in a dry place to prevent moisture from impregnating the packaging which will turn the contents into a solid block and render the goods unfit for use.

Cleaning slabs before grouting

With external paving installations dust from cutting slabs and general grime and dirt caused by the elements are likely to be present on the surface of your newly laid patio or driveway. If you have a large patio or driveway, fitting will take several days and it's common, either as a family needing to use facilities or tradesman completing another part of the project, to need to walk on laid slabs – this inevitably dirties the slabs.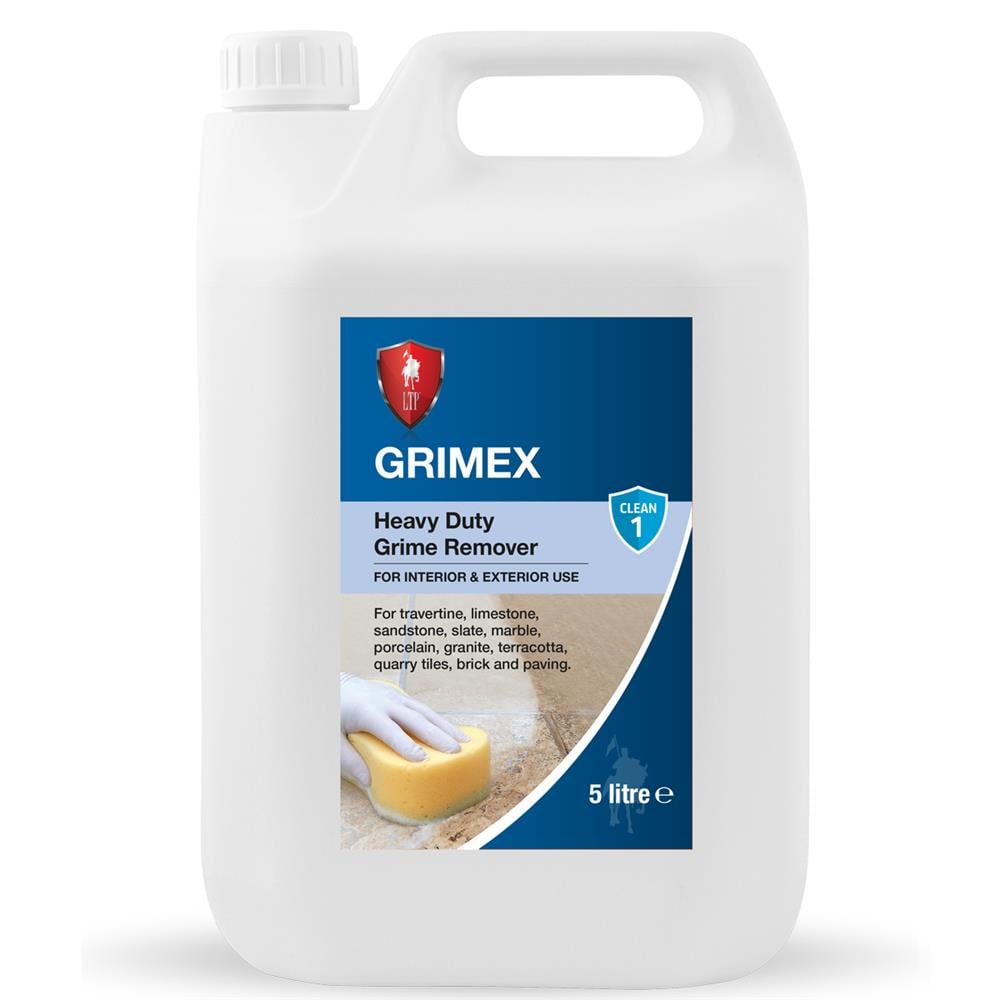 Although porcelain paving isn't considered porous, any surface dirt will mix with grout resulting in your paving looking dull and dirty.

To clean slabs before grouting we recommend LTP Grimex to remove any surface dirt. For a pre-grouting clean simply dilute one part LTP Grimex in 10 parts warm water, apply liberally over the entire surface of the slabs with a soft brush agitating any particularly stubborn marks with a stiff brush. Leave to react for 5-10 minutes, keeping wet with the additional solution if it's a particularly hot day, and rinse off thoroughly with clean water.

Why using a pre-grout treatment is a good idea.

As previously mentioned, 20mm porcelain paving is manufactured to have texture to aid slip resistance. Grout, be it cement or sand-based, or a resin based sweep in joining compound can stick to the textured surface and once set can be a challenge to remove.

Often it's difficult to notice the residues from grout or jointing compound until the installation is completely dry which may be after the installation team has left the premises. Therefore we suggest a pre-grout treatment to protect the surface.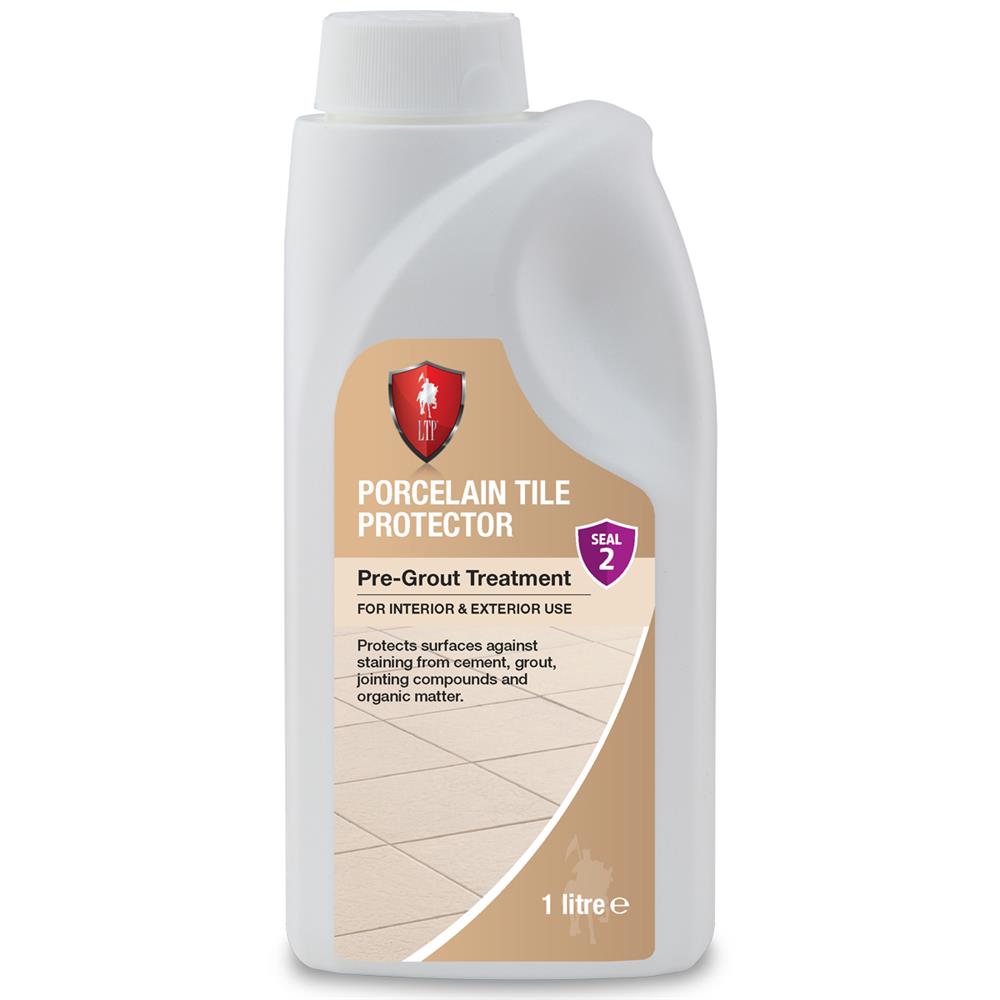 We recommend LTP Porcelain Protector. The water-based pre-grout treatment for use on all types of textured porcelain tile surfaces, does not alter the appearance of the slab and can mitigate the following issues: residues from brush-in jointing compounds; marking from decaying leaves and other garden foliage; residual grout staining and general weathering.

The protector works by releasing dried on grout and jointing compound, is invisible and non film-forming, environmentally friendly and allows the surface to breathe.

Before grouting/pointing follow these 5 steps:

1. Ensure the surface is as dry as possible before applying the sealer.
2. Spread out evenly using a roller, sealer applicator, paintbrush or sprayer. Allow to dry for 30 minutes. Apply a second coat leave to cure for a minimum of 1 hour before grouting.
3. Grout in the joints or brush in the jointing compound and clean off residues. Always follow manufacturers instructions.
4. When dry and free of residues apply a final coat of sealer making sure to cover the joints as well.
5. Keep off the surface while it is drying and keep as dry as possible for the first 24 hours.
.
Removing excess grout and grout stain.
Should pre-grout protection not be applied and unsightly grout residue has dried hard onto your newly laid paving and settled in every nook and cranny – fear not, as although removing the residue is not a five minute job, there is a solution that won't damage your slabs or harm the grout in between the slabs. LTP Cement Grout & Salt Residue Remover will save the day.

Ideal for porcelain paving, the product is a rapid action cleaning agent for removing cement residues, grout stain, salts, efflorescence and other similar deposits. Always test/practice on an inconspicuous area before proceeding to ensure that the finished result is satisfactory.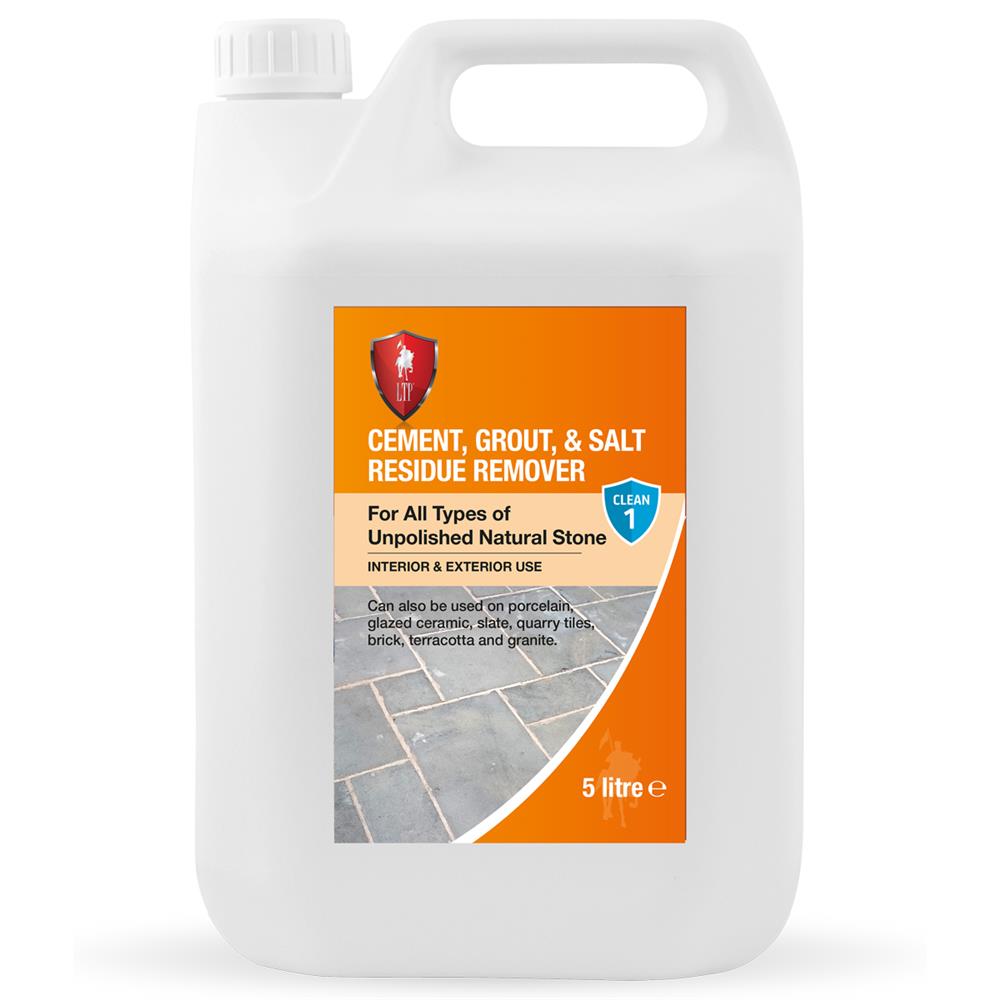 Follow these instructions:

1. Dilute the soloution1:1 with cool water. Mask and protect areas not to be cleaned.
2. Apply to the surface working in manageable areas at a time.
3. Add a little water and gently scrub surfaces with a black pad to release the residues from the surface.
4. Sponge up and extract released residues. Repeat steps 2, 3, and 4 until surfaces are clean.
5. Rinse well with water. Allow surfaces to dry before allowing traffic.

Removing residues from brush-in jointing compound.

Jointing compound is made from different ingredients to cement or sand base trowel-in grouts, and therefore removal of any residues requires an alternative solution to remedy the situation. LTP Solvex is the correct product for the job. This is a high-performance non-caustic remover that softens polymers making them easy to remove.
To restore your paving use the following process: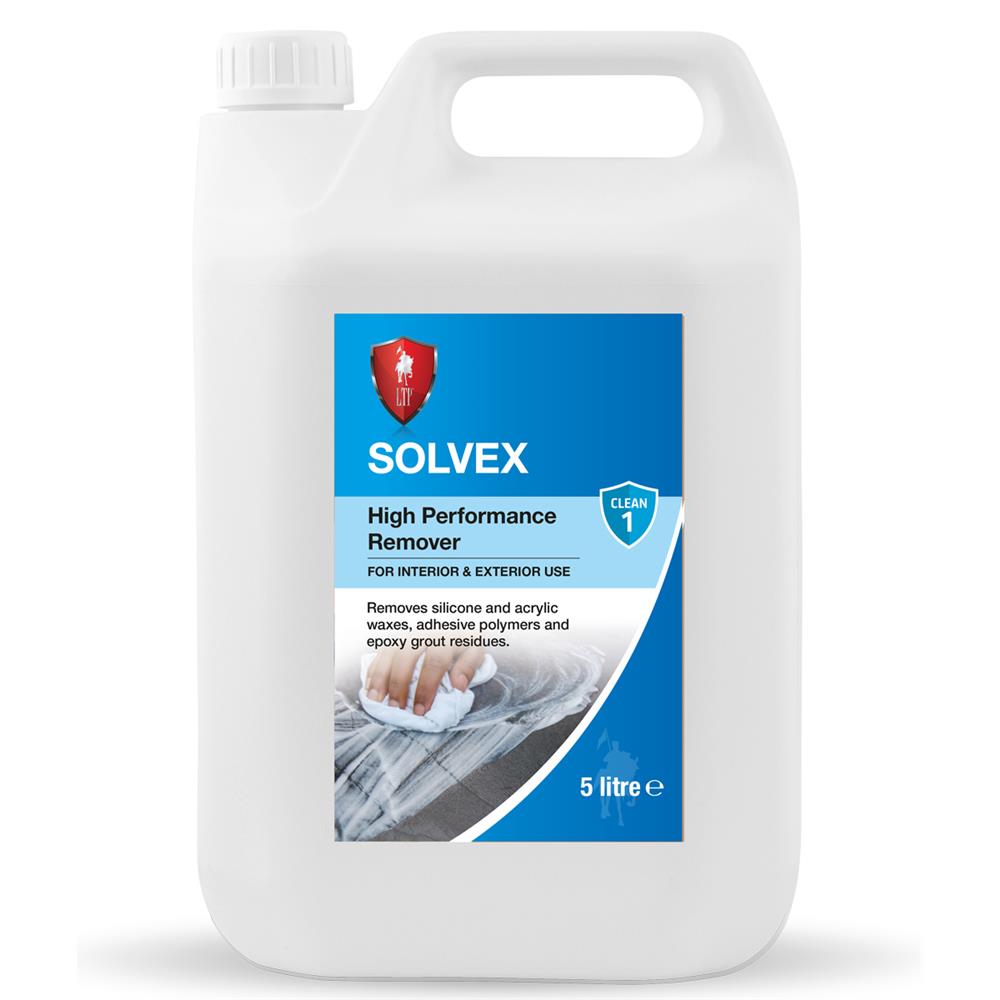 1. Apply the solution directly onto the surface. Do not dilute.
2. Brush out thickly and evenly and leave on the surface for a minimum of 30 minutes. Do not allow to dry. Add more solution to keep the surface wet.
3. Scrub using a short haired stiff bristled brush. Rub the surface with a clean lint free dry cloth to remove the softened films.
4. Rinse immediately with a sponge and water. Change rinsing water every 5m2.
5. Allow surfaces to dry. If small amounts of residue remain repeat the process.

Removing black spot and algae from your porcelain paving.

Although porcelain pavers are very hard wearing and isn't porous therefore doesn't require sealing, porcelain paving, like all outdoor surfaces is vulnerable to algae. Use LTP Black Spot and Algae Remover to rid your patio, driveway or path of this menace using the following instructions:

1. Fill a light pressure sprayer with the solution. Do not dilute.
2. Set the pressure to between 0.5 and 1 bar. Apply an even layer to the surface.
3. Leave the solution to penetrate the surface. Leave for 1-5 hours depending on the level of soiling.
4. Keep off the surfaces while the solution is active. Keep pets and children away.
5. Rinse well with plenty of water. Allow surfaces to dry before allowing traffic.

Regular cleaning

Washing down your patio or driveway with hot soapy water should be sufficient to maintain the appearance of your paving however should you wish to use a non-rinse option the specially formulated LTP Porcelain Floor Tile Cleaner is the recommended option.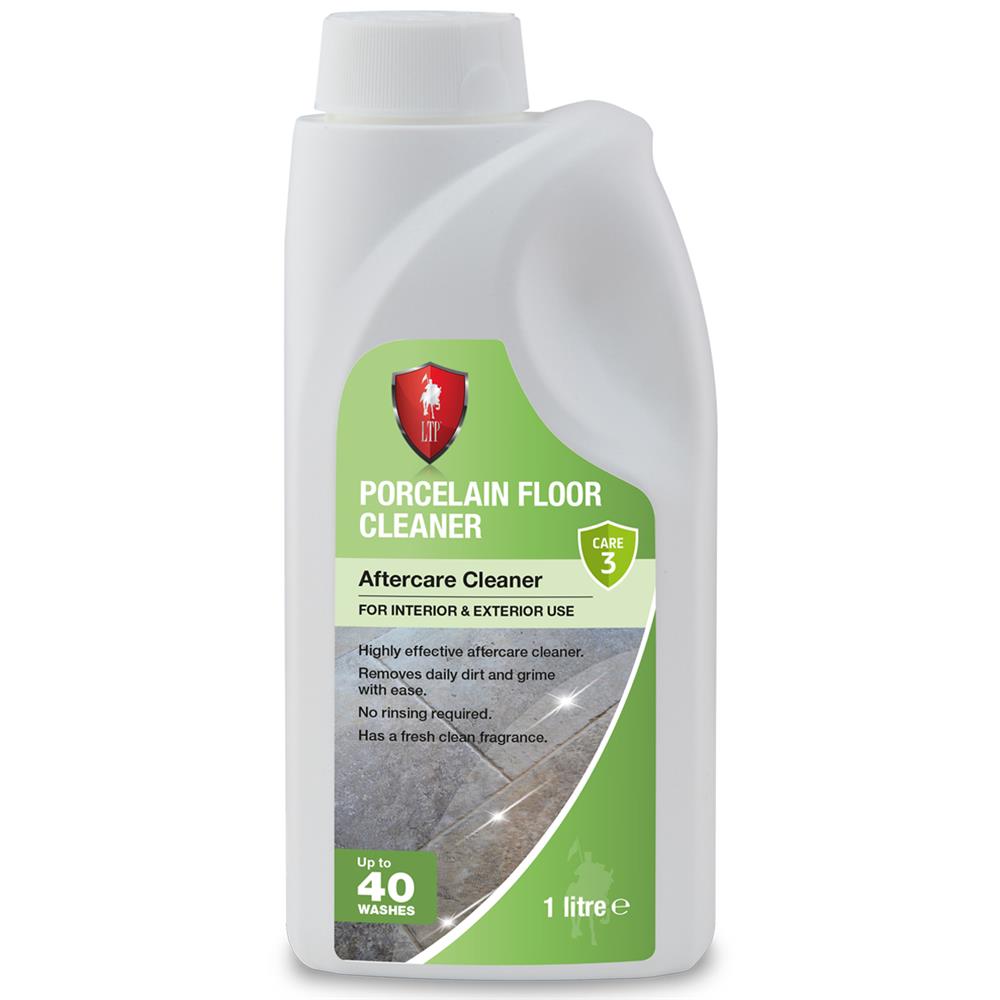 A gentle cleaner created to clean the surface without damaging the tile or grout using the following steps:

1. Dilute 1 capful of cleaner per litre of warm or cool water.
2. Mop surfaces. Microfibre or string mops are fine.
3. No need to rinse - leave surface to dry naturally.
4. Keep off surfaces until they are completely dry.
Should you wish to spring clean your patio after a winter where leaves and debris have marked the surface, using diluted LTP Grimex to remove any stubborn stains is the thing to do.
When cleaning, a powerful jet washer is not recommended for treated surfaces as this can reduce the effectiveness of the treatment. It's best to use a low setting or just a hose and agitate the surface rather than trying to blast the dirt away.

In conclusion, following the advice for "clean, protect and care" above will ensure your porcelain paving patio, driveway or pathway looks great for many years to come.
See our full selection of Porcelain Paving HERE.