When it comes to caring for natural stone paving, preventing issues from arising is far better than finding a cure. In this article we'll take a look at both preventive measures during and after installation and cures for problems post-installation.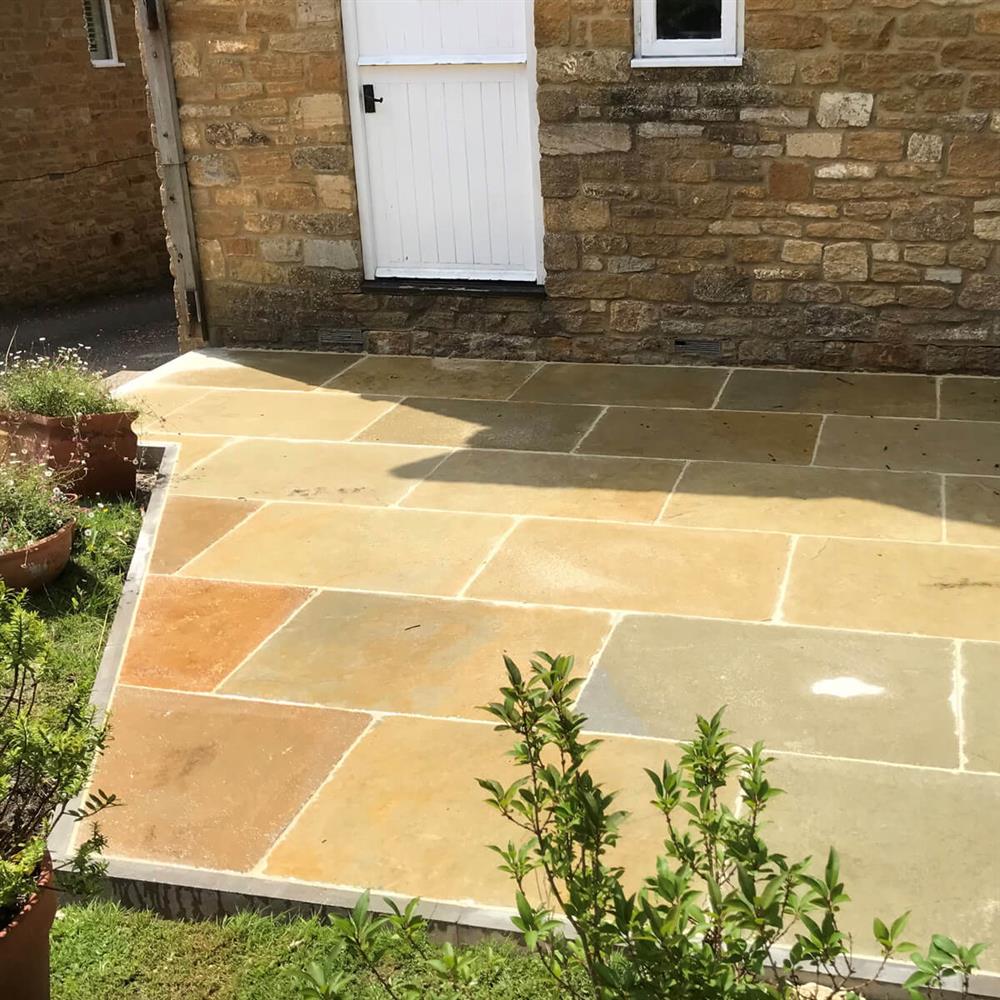 9 Tips to Caring for Your Natural Stone Paving

1. Check slabs for imperfections before installation
2. Keep slabs clean before and during the installation process
3. Clean slabs before grouting
4. Seal natural stone paving after installation and before being walked
5. Clean your natural stone with hot soapy water and a hose or low setting on a jet washer
6. Restore colour to black natural stone using a water based impregnating sealer
7. Remove blackspot, mildew, and algae from your paving patio or driveway using ready to use deep cleaning solutions
8. Removing rust stain caused by fixtures and fittings using a non-acidic rust stain remover
9. Removing excess grout and grout stain using a residue remover
Checking slabs for imperfections before installation.

Your natural stone paving is thousands of years old and formed from minerals and fossilised creatures which give the stone its form, colour, and texture. The beauty of natural stone is the variety and fusion of colour. Sometimes iron coloured elements which can be deemed unsightly may be present on a selection of your slabs. If you prefer not to have these naturally occurring imperfections on display it's key that you inform your installer before installation begins so that slabs displaying these characteristics can be put to one side and used where a cut slab is required.

Keeping slabs clean before and during the installation process

All natural stone is porous therefore is vulnerable to staining before it is treated with a sealer. For this reason it's essential to keep slabs as clean as possible during the installation process. Should fixing material, adhesive or mortar mix spill onto the slabs, wipe it away with clean water before it sets hard as it's likely to stain the stone.

Often slabs are stored on-site before installation. Pallets should remain covered and protected from the elements to prevent foreign bodies from getting onto the slabs and marking them. It's also worth noting that if you have adhesive and grout on your delivery this should be removed from the pallet and stored in a dry place to prevent moisture from impregnating the packaging which turns the contents into a solid block, rendering the goods unfit for use.

Cleaning slabs before grouting

With external paving installations dust from cutting slabs and general grime and dirt caused by the elements are likely to be present on the surface of your newly laid patio or driveway. If you have a large patio or driveway, fitting will take several days and it's common either as a family needing to use facilities or tradesman completing another part of the project, to need to walk on laid slabs – this inevitably dirties the slabs.

If the surface is not cleaned before slabs are sealed, both visible to the eye and microscopic particles will be locked in when the sealer is applied resulting in your natural stone paving looking dull and dirty.

To clean slabs before grouting we recommend LTP Grimex to remove these residues and impurities. This is suitable for all stone natural types including travertine, limestone, sandstone, slate, marble, granite, terracotta, quarry tiles & brick whether fitted externally or undercover.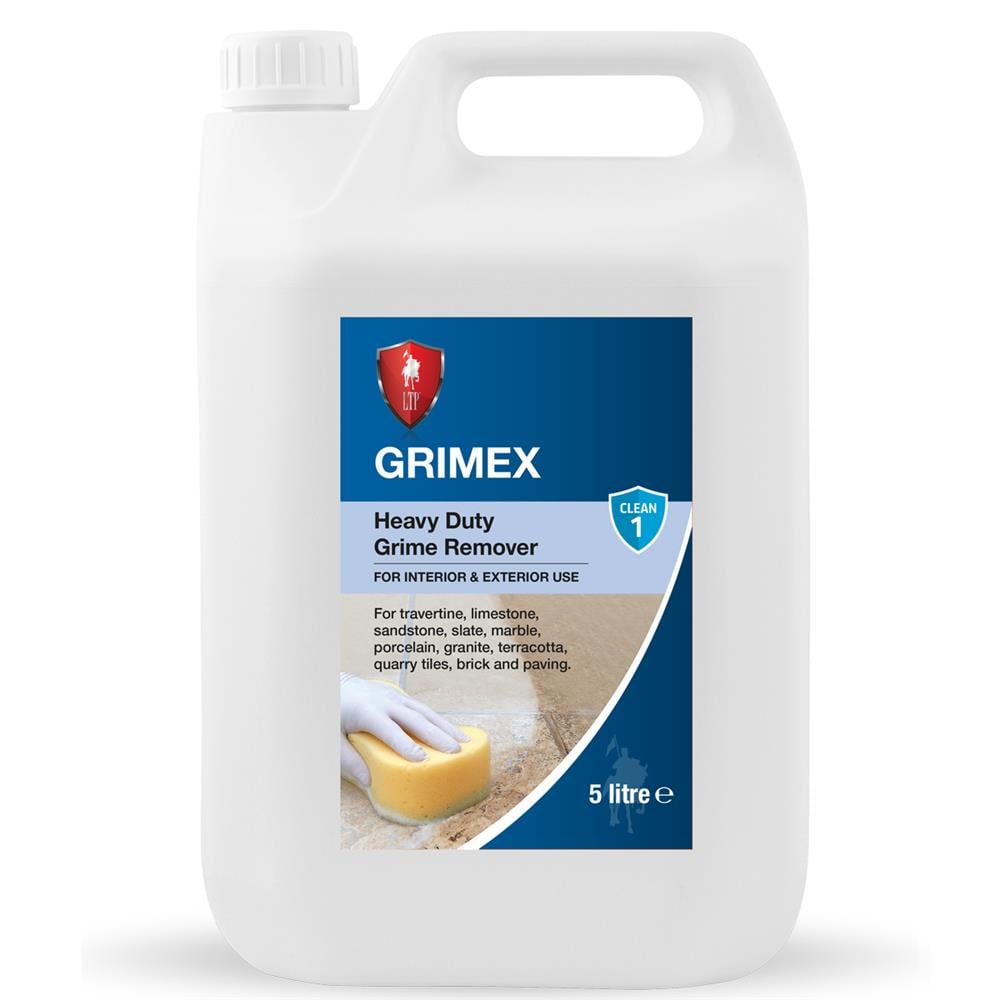 For a pre-grouting clean, simply dilute one part LTP Grimex in 10 parts warm water and apply liberally over the entire surface of the slabs with a soft brush, agitating any particularly stubborn marks with a stiff brush. Leave to react for 5-10 minutes, keeping wet with additional solution if it's a particularly hot day, and rinse off thoroughly with clean water.

Sealing natural stone paving.

All natural stone paving whether honed or tumbled is porous therefore sealing after installation and before being walked on it is essential to fill the micropores of the stone with sealer to help prevent the slabs from staining from both the natural elements such as plant pollen and human accident from spills.

We recommend LTP External Stone Sealer, an impregnating sealer suitable for all types of stone which is moisture-repellent and stain-resistant. The sealer will delicately enhance the appearance of the slabs and helps prevent moss and mould formation too.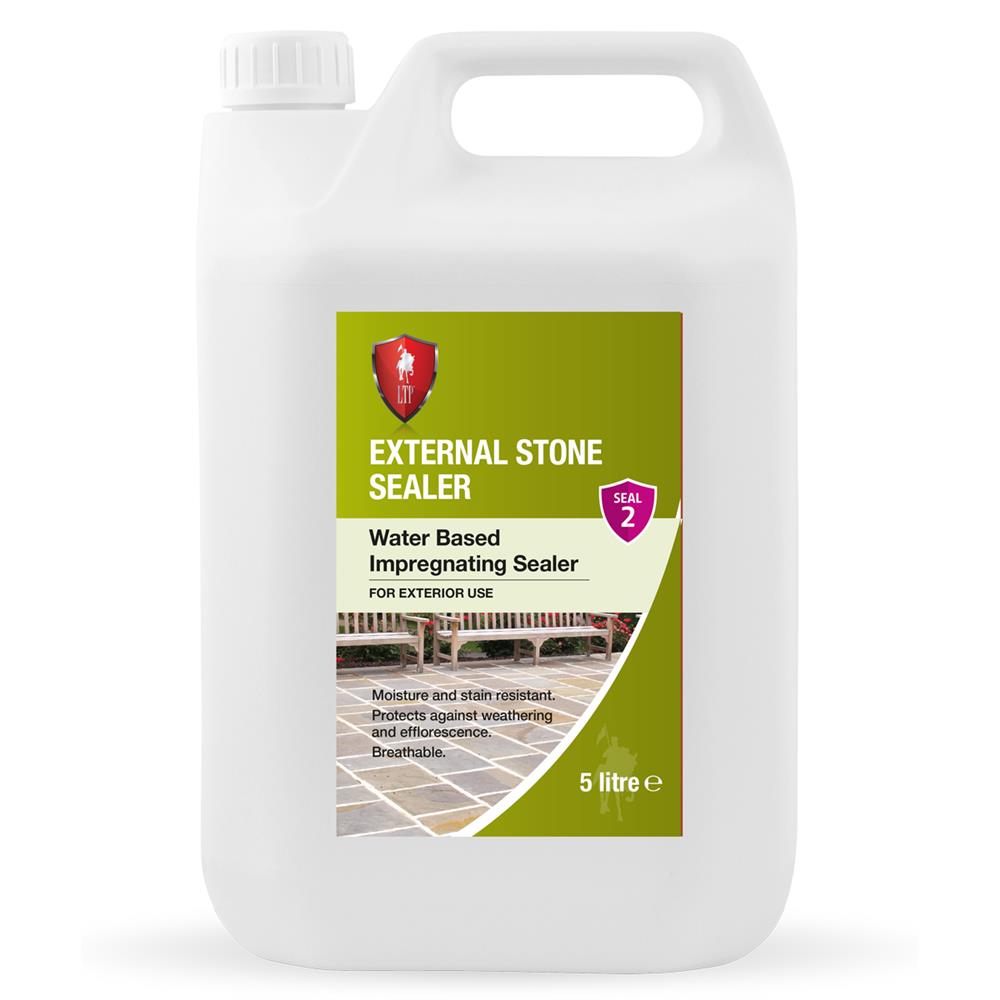 Being water-based the sealer is breathable and should be used in preference to a solvent-based sealer which may leave a milky surface residue. Active ingredients are water-soluble and inert once cured so therefore not harmful to the environment and are ecologically sound.

Application is straightforward - apply evenly to the surface using a foam roller. On more absorbent surfaces apply further coats at hourly intervals until the surface is completely saturated. Remove any visible residual sealer from he surface after one hour.

On higher porosity surfaces, sufficient coats of sealer should be applied until treated surfaces are fully saturated. Applying to saturation point will add to the effectiveness of the sealer preventing stains, will aid cleaning and simplifies the removal of surface stains.

Dried on over applied sealer can be removed with soap and water by gently scrubing with a nylon brush then rinsing and leaving to dry.

Cleaning and maintenance

Regular cleaning

Washing down your patio or driveway with hot soapy water should be sufficient to maintain the appearance of your paving.

Should you wish to spring clean your patio after a winter where leaves and debris have marked the surface, using diluted LTP Grimex to remove any stubborn stains is the thing to do.

When cleaning, a powerful jet washer is not recommended for sealed surfaces as this can reduce the effectiveness of the sealer. It's best to use a low setting or hose and agitate the surface rather than trying to blast the dirt away.

Restoring colour to black natural stone

It's common for black natural stone paving, such as Midnight Black Limestone, to fade over a period of time. To restore the appearance of faded black natural stone we recommend LTP Blackstone Sealer, a waterbased impregnating sealer formulated to restore faded stone.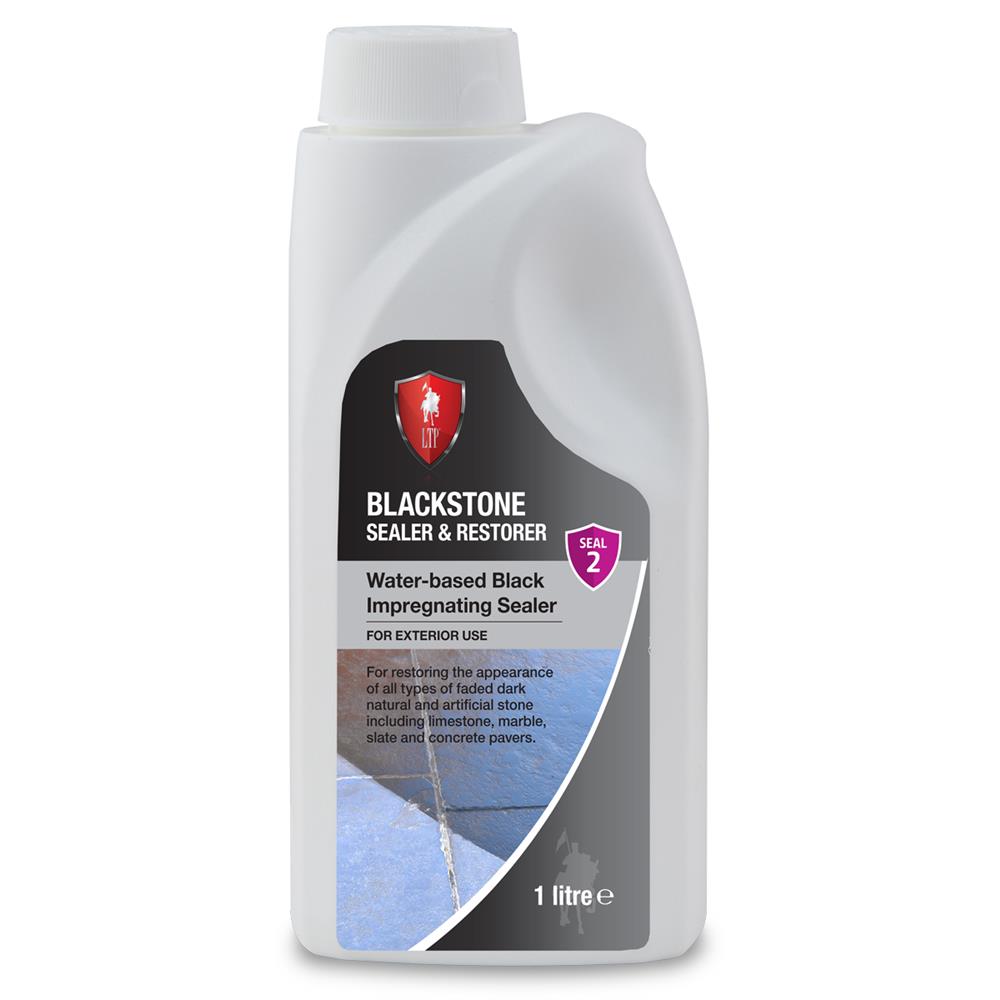 As with all natural stone, before applying a sealer the surface should be clean and free from algae, mildew and stains. Make note that this product is a permanent staining solution that will darken the stone and grouting material.

Removing blackspot, mildew, and algae from your paving patio or driveway.

One of the challenges of maintaining the appearance of paving is battling against naturally growing fungi such as mildew and blackspot, the spores of which are blown onto your patio where they take root are unsightly and slippery when wet.

We recommend LTP Mouldex Paving Cleaner for ridding your patio of this menace. For exterior use only their products effectively removes black spot, lichen, moss and stains from all types of patio paving including natural stone. Ready to use deep cleaning solutions keeps your patio, garden path and driveway looking their best all year round.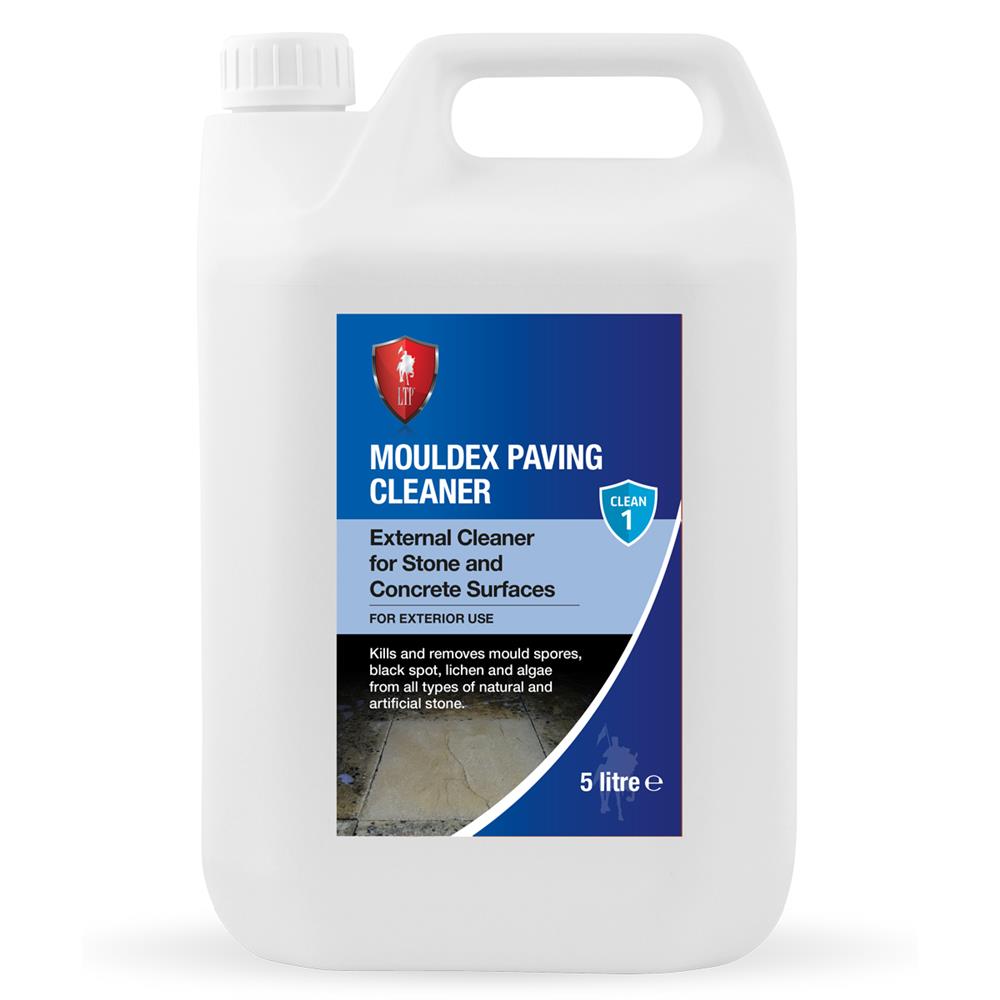 Following the directions for any remedial product is key. Opt for letting the product do its job rather than severe scraping with metal tools which could damage your stone. Apply neat directly to the surface to be treated through a plastic watering can or light pressure garden sprayer. Leave to absorb for 2-4 hours when the product will begin to fizz as it gets to work. Hose off thoroughly with clean water.

As this product contains bleaching action ensure that the area to be treated is cleared of garden furniture and other items so that they are not in accidental contact with the product. Ensure all loose dirt and other physical debris is removed first by brushing before application.

The product can be applied to slightly damp or dry surfaces but do not apply to surfaces saturated from recent rainfall or if rain is due within the time period required to treat the surface.

Once dried consider applying LTP External Stone Sealer to help prevent moisture and organic particles from absorbing and taking hold of the surface and giving you the same problem next season.

Removing rust stain caused by fixtures and fittings

Your patio or path is susceptible to rust from metal furniture or containers and requires a specialist product to remove – we recommend LTP Rust Stain Remover to resolve this issue. As a non-acidic formulation, it is particularly suited for delicate applications and acts directly onto the surface being treated, removing stains in just 15 minutes.

Removing excess grout and grout stain

One of the most common problems householders face is noticing unsightly residual grout after installers have left the premises. For tumbled natural stone with a textured surface, removing excess grout that lingers in every nook and cranny can be a challenge. Often only noticeable when the installation is completely and dry we recommend LTP Cement Grout & Salt Residue Remover. For all types of natural stone, this product has a rapid action cleaning agent for removing cement residues, grout stain, salts, efflorescence and other similar deposits. Always test/practice on an inconspicuous area before proceeding to ensure that the finished result is satisfactory.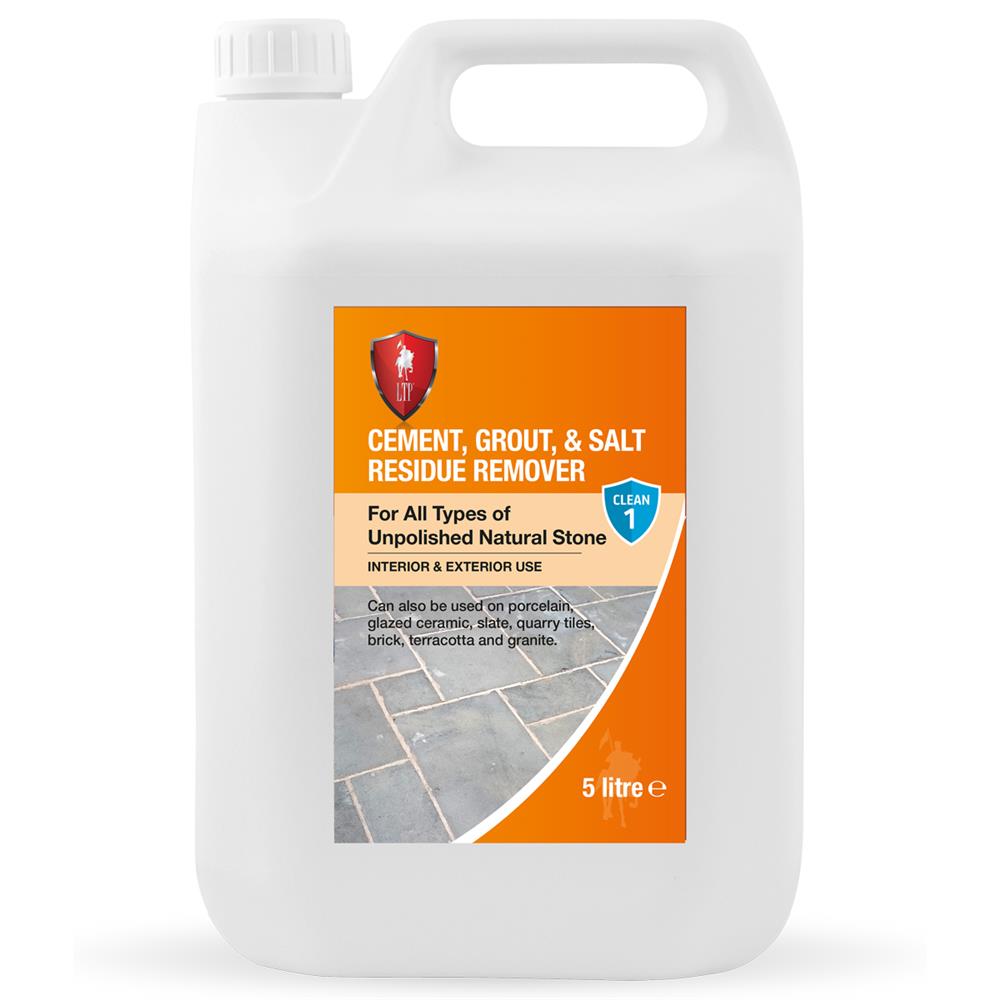 In mild cases dilute 1 part LTP Cement, Grout & Salt Residue Remover in 4 parts cool water. Apply with a cloth or sponge wrung out in the solution. Leave for up to 15 minutes and extract released residues using a sponge and water.

In more severe cases dilute 1 part solution to 1 part cool water. Apply liberally and spread over the surface. If necessary, agitate with a nylon scrubber, scrubbing brush or rotary scrubbing machine and leave to react for 5-10 minutes, keeping surfaces wet with additional solution.

In extremely severe cases dampen the surface to be cleaned with water and apply undiluted. Agitate with a nylon scrubber, scrubbing brush or mechanical scrubber. Immediately extract and rinse thoroughly with clean water.
Conclusions

In conclusion, all products should be tested in inconspicuous areas before proceeding to use on the entire patio, driveway, or path to ensure that the finished result is satisfactory.
See our full range of Natural Stone Paving HERE.