Curious about limestone? In this comprehensive guide, we'll explore the fascinating world of limestone, from its formation to its diverse applications. Discover the characteristics, benefits, and uses of this versatile natural stone and enhance your understanding of limestone's beauty and practicality.
Whether you're considering limestone for your next project or simply want to expand your knowledge and answer the key questions 'what is limestone used for', this guide is your go-to resource for all things limestone. Let's dive in!
What is limestone?
Did you know that limestone accounts for about 10% of all sedimentary rock in the world? Limestone is a hard sedimentary rock, formed by the deposit of minerals on the earth's crust within the water, and is made up of minerals, calcite, and aragonite - different crystal forms of calcium carbonate.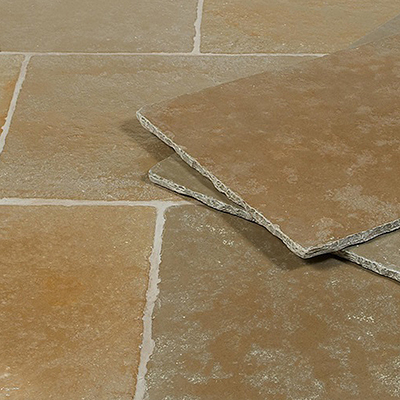 How is limestone made?
Generally, limestone is made of the broken-up remains of shells from animals that inhabited the water, as well as other living organisms like coral. These fragments have been deposited on water beds over millions of years to form a hard compressed rock.
Where does limestone come from?
There are countless types of limestone in existence around the world, even in Britain, where it is generally found in the Peak District and the Cotswolds.
It was the Romans who first discovered that you could polish British limestone into marble. Unfortunately, as with most British stones, production methods and costs make British limestone tiles expensive, which is why most limestone tiles available in the market are imported from places like Turkey & India.
Nowadays, most natural stone tiles, including limestone, are processed and manufactured in Turkey & India. Geologically, Turkey contains more variations of natural stone than any other country. There are hundreds of different marbles, travertines, limestones, and granites available in the hills of the country and different ones are being found all the time.
What colour is limestone?
As a rule, the lighter the limestone, the softer it will be, which can begin to limit the practical uses of the stone. We've compared the different types of limestone and their common colouring.
Jura limestone
At the opposite end of the spectrum is Jura limestone. Quarried out of the ground (instead of from the side of a mountain), Jura limestone is found in the southern part of Germany. A Jura quarry has many different sedimentary layers within it, with each layer presenting a different colour. Typically, though, Jura grey limestone and Jura beige limestone can be quarried from the same place.
Impressively, it's also renowned for being one of the toughest stones available and as such, has recently been the preferred choice of many architects who have specified it for commercial use. The side of Selfridges in Manchester is clad with Jura beige, and the floor of Liverpool John Lennon airport is a Jura limestone mix - with both beige and grey within the same tiles. Find out more about this solid limestone mix in our guide to Jura limestone. Jura limestone is now only available from us as a special-order item.
Dijon limestone
Another beige limestone is Dijon limestone. This beautiful beige limestone features delicate grey fossil patterns on a soft beige background. With its antiqued surface and worn edges, it has a charming, weathered appearance. Ideal for kitchens, open living areas, and cosy cottages, this durable limestone is versatile and adds a touch of elegance to any space. Find out more in our comprehensive guide to Dijon limestone. This stone can also be used outdoors if installed correctly.
Limestone tile quality
Unlike travertine tiles which are categorized into numerous different grades, marble and limestone tiles are only available in two 'selections'. These are:
1st quality: Generally known as a premium grade in the market, these tiles are selected on the production line to conform to a particular factory's premium grade colour and pattern definition. If, for instance, elements like blacks or greens appear in a tile and these are not in the premium grade definition, they are selected out and sold as commercial grade.
Commercial grade: Anything that doesn't fit within the factory's 1st quality selection is sold as commercial grade. Commercial grade doesn't mean inferior integrity of the tiles; it just means that there will be colours and patterns within the tiles that aren't within their 1st quality selection. Typically, the overall appearance isn't as good as the 1st quality selection.
1st quality (or 1st choice as it's often called) generally doesn't form most of a factory's overall production, making it significantly more expensive for retailers to buy in the first instance. Unfortunately, there are numerous retailers only too willing to offer commercial grade products as premium grade, so our advice is to be careful when choosing any natural stone or porcelain product.
Limestone tile finishes
Limestone tiles are cut and processed into several different finishes.
Honed: A dead flat and matte surface with sharp edges.
Tumbled: An aged, worn/weathered, and bleached look with rounded off edges.
Polished: A shiny reflective surface with a sharp edge.
Brushed: A smooth textured surface with a rounded off edge - brushed retains more of the tile's original colour than tumbled.
Half Honed & Tumbled: this is a combination of the two finishes but where the surface only has parts of it that are dead flat (honed) and the rest is undulating and appears aged. This only typical to Indian Limestone Tiles.
In the Turkish limestone market, honed tiles are the most popular, then tumbled, polished, and brushed. Indian limestone tiles are typically half honed, tumbled AND brushed.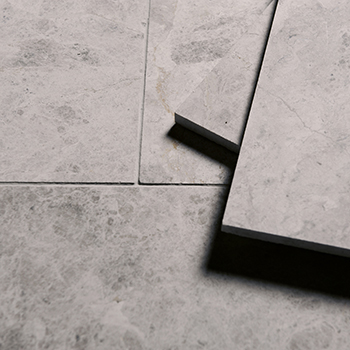 Many limestone tiles are available in a polished surface finish, but the level of the polishing is dependent upon the density of the stone. Soft types of limestone don't take to polishing as well as hard stones, and the polished surface of a soft limestone will wear away over a short period if there is foot traffic on it. We choose not to sell this due to inherent problems with the surface finish and wear over time.
Tumbled limestone tiles are best suited to older properties, although the use of tumbled tiles juxtaposed against modern furniture can look glorious if done properly. While a lot of tumbled limestone is available from the world's main natural stone tile producers, Turkey, recently there has been an influx of some beautiful (and affordable) limestones from Egypt and the Middle East, including our Dijon limestone which originates from Egypt.
The limestone tiles originating from this region are renowned for being some of the hardest available. However, be aware that some of these factories were probably around when Jesus walked the earth, and the quality can be erratic to say the least, so be sure you are buying premium-grade tiles if you do end up choosing a stone from this region!
Importantly, to guarantee premium-grade products every time, Stone Superstore only sources from modern high-tech factories.
Limestone pros and cons
Limestone flooring offers several pros and cons. Here's a breakdown of the advantages and disadvantages of limestone flooring.
Advantages of limestone flooring
Natural Beauty: Limestone is known for its natural elegance and unique patterns, adding a timeless charm to any space.
Versatile: Limestone comes in various colours and finishes, allowing you to find the perfect style to match your interior or garden design.
Durability: Limestone is a durable material that can withstand heavy foot traffic, making it suitable for high-traffic areas of your home or garden.
Cooling Effect: Limestone has a natural ability to stay cool, making it ideal for warm climates or areas where temperature control is desired.
Hypoallergenic: Limestone is a hypoallergenic material, meaning it is resistant to allergens and helps maintain good indoor air quality.
Disadvantages of limestone flooring
Porous Nature: Limestone is a porous material, making it susceptible to stains and moisture damage, so it's important to seal your tiles to protect the surface.
Requires Maintenance: Regular cleaning and maintenance are essential to preserve the appearance of limestone flooring and prevent stains or etching.
Prone to Scratches: While limestone is durable, it is relatively softer compared to some other natural stones, making it prone to scratching and chipping. Fortunately, we've got you covered if you do have to repair scratched tiles.
Limited Resistance to Acids: Limestone is sensitive to acidic substances, such as citrus juices or vinegar. These can cause damage to the surface if not promptly cleaned.
Weathering in Outdoor Environments: When used in outdoor settings, limestone paving may undergo weathering over time, including fading and surface erosion.
Ultimately, the suitability of limestone flooring depends on your specific needs, preferences, and maintenance capabilities. Proper care and maintenance can help maximize the benefits of limestone flooring and minimize its drawbacks, both indoors and in the garden. For even more insight, discover our guide explaining how to maintain limestone flooring, and check out our tile advice page for more tips and tricks.