Two of the most popular flooring choices are tiles and wood. But how do you choose between them when each comes with its own list of advantages?
To help you decide whether to install tiles or a wooden floor, we've compared the pros and cons of each and compiled all you'll need to know about both materials - including detailing the different types of floor tiles and wooden floor options and comparing tiles vs a wood floor across a range of everyday factors.
The different types of floor tiles
There are various types of floor tiles for you to consider, ranging from porcelain to natural stone. We've outlined favourites from our selection to give you an idea of your flooring options.
Porcelain tiles
As well as being available in a range of stunning aesthetics, porcelain tiles rank among the most hard-wearing flooring types.
Ideal for all areas of the home, porcelain tiles are practically stain-proof, making them perfect for high-traffic areas. As well as our stone-effect flooring, some of the most popular types of porcelain tiles include:
- Wood effect: The ideal option if you're stuck between tiles and wooden flooring, wood-effect porcelain gives the realistic appearance of natural timber. A popular pick, the benefits of wood-effect tiles include giving your floor the aesthetic appearance of oak without compromising on the practical benefits of porcelain.
- Terrazzo: A fun and stylish choice that's sure to add extra personality to your home, terrazzo-style tiles are designed make a statement. Offering an artisan aesthetic, terrazzo porcelain works in just about every room, from your kitchen and hallways to bathroom and ensuite.
- Patterned: Decorative, patterned porcelain tiles help to give your home a unique twist, and can be styled to complement any look, from classic mosaicking to contemporary colour combinations.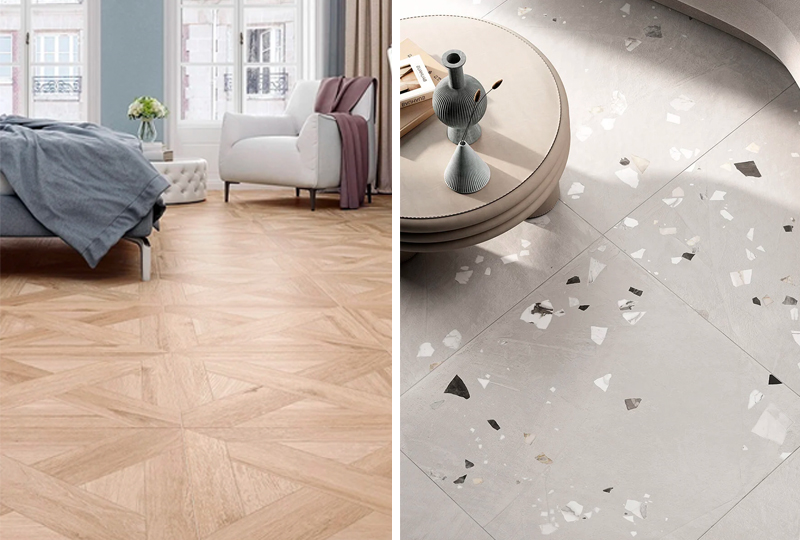 Left: Horsham Oak Porcelain, Right: Lisbon Grey Terrazzo Porcelain
Natural stone tiles
Just like porcelain, stone tiles are durable and hard-wearing which often makes them a worthwhile long-term investment. Available in an array of materials and beautiful finishes, some of the most popular types of natural stone tiles include:
- Marble: Combining durability and style, and suitable in both classic and contemporary homes alike, marble tiles have long been a popular pick thanks to their striking veining and high-quality finish.
- Limestone: Usually available in two surface finishes – honed and tumbled – limestone tiles look great in any home. While tumbled edges can be used to give your floor a rustic appeal, honed limestone has a smooth and contemporary feel.
- Travertine: An uncomplicated material that complements any home aesthetic, travertine tiles are in the limestone family and available in a range of different quality grades.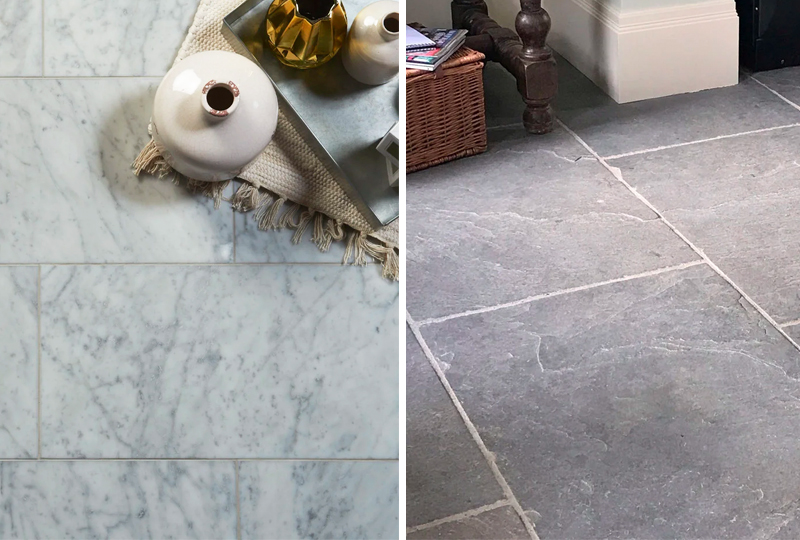 Left: Bianco Carrara Marble, Right: Stamford Limestone
The different types of wooden flooring
Wood flooring refers to anything manufactured from timber and has many practical and aesthetic strengths. Some of the most popular types of wooden flooring include solid wood and engineered wood, while LVT is an increasingly popular pick among Brits looking for affordable wood-effect solutions.
Solid wood
Solid wood flooring is 100% timber all the way through, making it exceptionally durable. Solid oak is particularly long-lasting and can be sanded and re-finished over many, many years.
Engineered wood
As opposed to solid wood, which is timber throughout, engineered wood flooring is created by adding a thin layer of wood to a plywood or fibreboard base. This makes it cheaper than solid alternatives, while still offering the same, natural look.
LVT
While not technically a type of wooden flooring, luxury vinyl tiles mimic natural materials, including offering the appearance of timber, which earns it a place on our list. Rather than using oak or similar, LVT Is actually made from material layers, each serving a particular purpose.
Tiles or wooden floor: how does each compare?
There are a number of reasons why you might want to consider tiles vs wooden flooring (and vice versa). However, to give you a straightforward idea of how each compare to the other, we've outlined the benefits and drawbacks of wooden floor vs tiles.
Durability
One of the main reasons people choose natural stone or porcelain tiles is their long-lasting and hard-wearing properties, with each reasonably expected to last decades.
You can also get this with solid wood, especially if you get a high-quality timber and install it in the right environment (for instance, solid boards will be susceptible to moisture damage in a bathroom), though engineered wood will often need replacing after 25-30 years.
Maintenance
Porcelain and natural stone are relatively scratch resistant, meaning they're a pretty low maintenance flooring option. On the other hand, it won't take much traffic for hardwood flooring to begin showing scratches and signs of wear.
When it comes to cleaning and care, natural stone tiles and timber each require a little diligence, while porcelain upkeep is comparatively simple.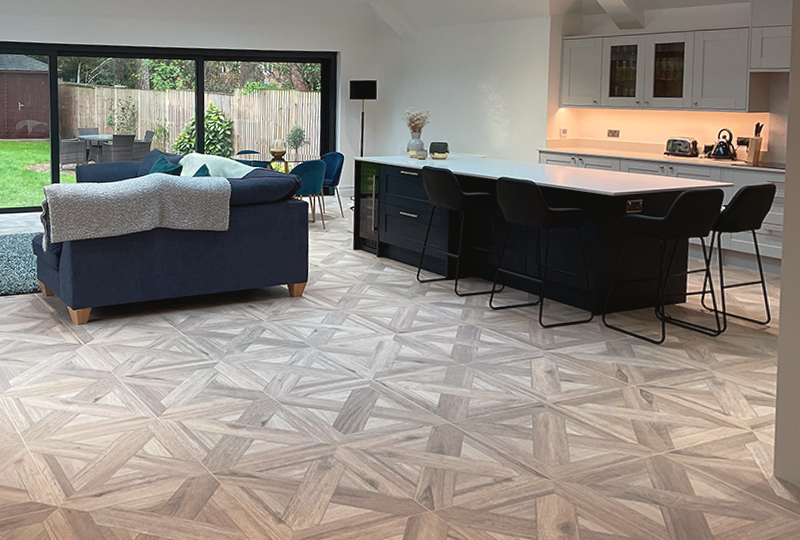 Our Horsham Oak Porcelain Tile offers the illusion of a wooden floor with the convenience and durability of porcelain
Cost
The price of tiles vs wood floor will naturally depend on a number of factors, including the material, overall quality, and availability.
Put simply, though, the price of solid wood flooring sits roughly between porcelain and natural stone tiles. So, for example, marble tiles are typically more expensive than oak, while wood-effect porcelain is usually cheaper.
Choice
From marble and limestone to an array of porcelain picks, one of the main benefits of tiled flooring is the sheer availability of styles, finishes, and types, with options to suit just about any home.
While wooden flooring is also available in different shades and finishes, the variation isn't as broad as you get with tiles.
Installation
When it comes to installation, it's typically trickier to lay floor tiles vs a wooden floor – especially if you're dealing with large format tiles. With this in mind, we'd always suggest getting in touch with a professional to ensure you get a quality installation, whether you choose a tiled or wooden floor.
Though, if you do want to take on the project yourself, we offer a range of tile installation guides that cover everything from measuring your floorplan to grouting and sealing – including the DIY tiling dos and don'ts!
So, with that final point in mind, you hopefully now feel better-equipped to pick between tiles vs a wood floor for your next project. However, if you're interested in learning more about our tiling options, or just want a little insight into tile care and maintenance, get in touch with our flooring experts who'll be happy to help.
In the meantime, discover even more tile advice articles like this, including the best ways to tile over wooden floorboards.