Although all types of natural stone tile and porcelain flooring materials look beautiful in the right space, when it comes to choosing bathroom tiles, only you can really decide which of the options laid out before you are best suited to your home's décor.
Of course, choosing bathroom tiles isn't always a simple process, and you may find yourself spoilt for choice with our selection, not to mention needing to settle on an agreed tile layout with your tiler prior to installation to ensure a smooth, successful project.
So, to give you a better understanding of this process, and to make choosing bathroom tiles for your home that much easier, here are our top browsing tips for choosing bathroom tiles.
What to consider when choosing bathroom tiles
When it comes to preparing for a tiling project such as this, our main tips for choosing bathroom tiles are as follows:
- Choose tiles that highlight the main centre points of your bathroom, such as your bath or shower, with accent tiles being used to break up the space.
- Choose appropriate tile sizes for the size of your room. Small tiles are best used in small bathrooms, for example.
- Choose slip-resistant tiles if you are tiling a wet room.
- Choose tiles that will look good together no matter their layout or the cuts required to install them.
By bearing these suggestions in mind, you'll quickly be able to narrow down the sorts of tiles that will work in your bathroom, allowing you to pick and choose your tile designs more easily.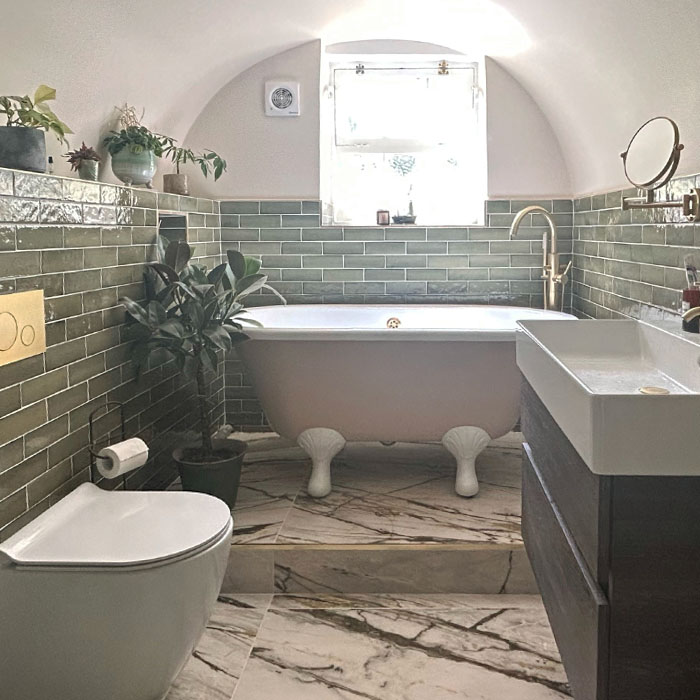 How to choose bathroom tiles: material
Without a doubt, one of the main aspects you'll need to consider when choosing your bathroom tiles is selecting what sort of tile material you want underfoot and on your wall. A white porcelain metro tile might be a classic, but why not also consider a natural marble or honed limestone instead for a more contemporary feel.
So, when deciding on your chosen tile material, consider the overall aesthetic of the room and the décor style you would like to follow. Is it traditional or modern? If it's the former, then natural stone effect tiles might be more suitable to give a classic, timeless look. However, if it's the latter, then you may want to get creative with porcelain tiles to really create a sense of character in the space.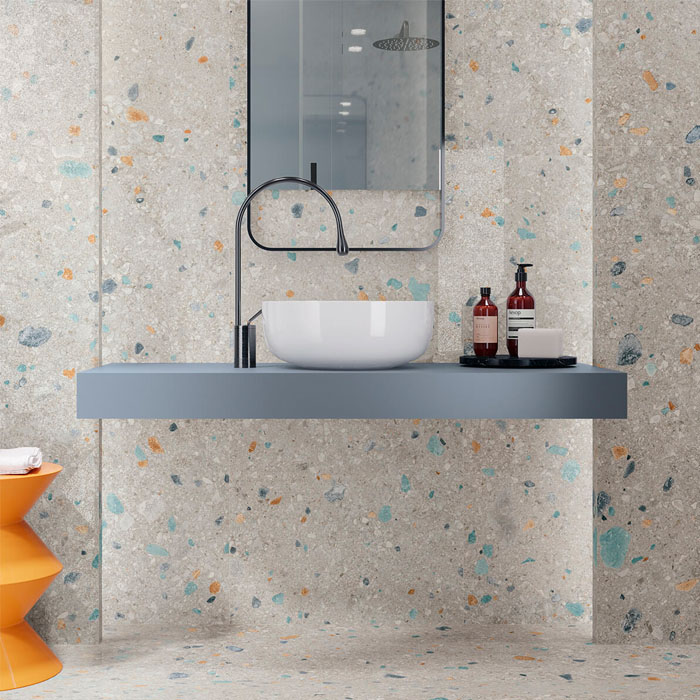 Manhattan Grey Porcelain Tiles
It's also important to consider the patterning of materials when exploring suitable tile choices for your bathroom design. Marble tiles feature intricate and distinctive veining, which have fantastic waves entwined through every tile but don't necessarily work with other natural stone options.
Limestone tiles, on the other hand, generally contain more subtle characteristics including intricate fossil details, which add hints of visual interest without being overpowering.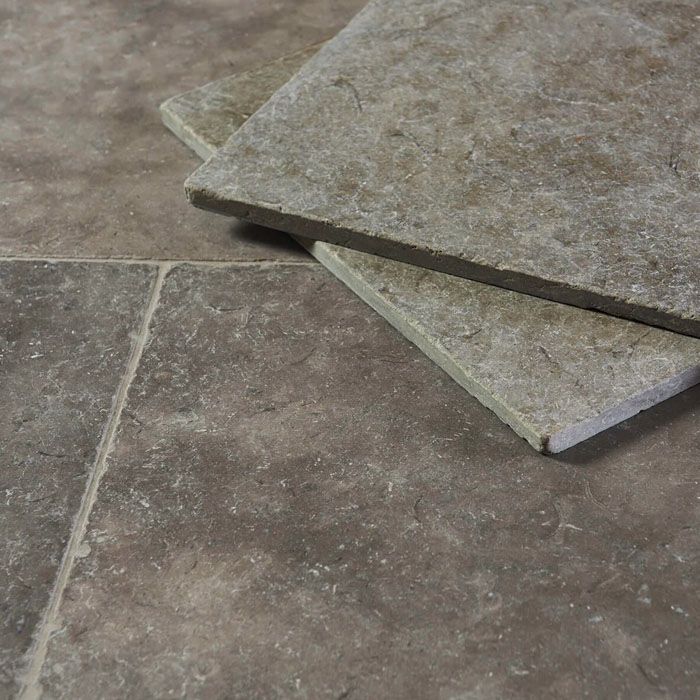 If you are wanting a tile set that is both durable and stylish, then any combination of our porcelain tiles is an excellent choice. Versatility and easy maintenance are just some of the benefits of porcelain as a material choice, helping you to meet your bathroom's needs.
How to pick bathroom tiles: style and colour
Your last step in picking your bathroom tiles is to decide on their style and colour. And to help you with this, we've provided five of our favourite styles and colour options as inspiration:
1. Classic Cottage-core
Natural stone tiles are a great option for a timeless cottage-core look and come in a wide range of finishes. Tumbled edges offer a worn, 'antiqued' look which compliments a cohesive classic-country style. Whereas honed or polished stone tiles will provide more of a smooth, modern look. The colour variation of our natural stone ranges is extensive, meaning you can easily select your tile to best suit your bathroom's paintwork and fittings for a flawless finish.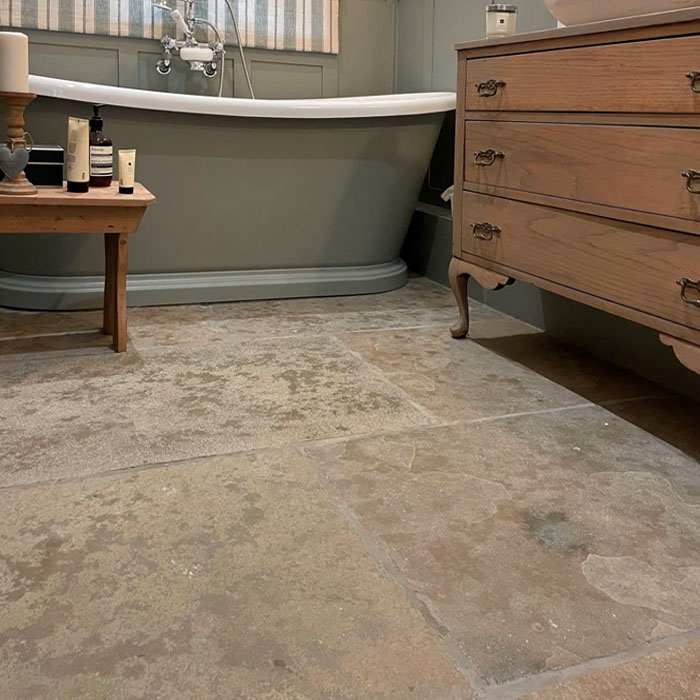 2. Boutique Hotel
If you want to recreate a boutique hotel feel, then we recommend going for a set of silky-smooth, honed marble tiles for that luxurious underfoot finish. Tiling both your floor and walls in marble offers the ultimate design choice in understated glamour and elegance. Finish the look with gold accessories or brassware to take this style to the next level.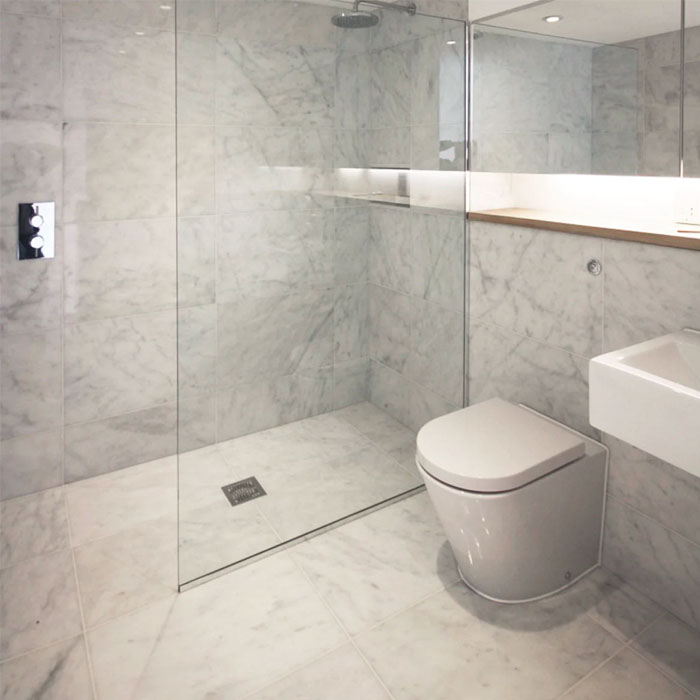 Ibiza Bianco Honed Marble Tiles
3. Minimal Monochrome
White porcelain tiles are the perfect choice for a clean, minimalist bathroom – but a touch of black against the bright white can help it look truly fresh and contemporary. You could opt for a statement by combining white and black metro tiles or add eye-catching accents of black through key features of the room, such as your mirror frames, furniture or bathroom fittings.
4. Natural Scandinavian
Ideal for creating a relaxing spa-like bathroom, wood effect porcelain tiles can emulate the Scandinavian love of wooden floors and walls, without the hassle of natural materials. Wood-effect porcelain tiles will add a natural warmth into your interiors while being safe to use in a bathroom or high-traffic area, due to the durable and versatile nature of porcelain.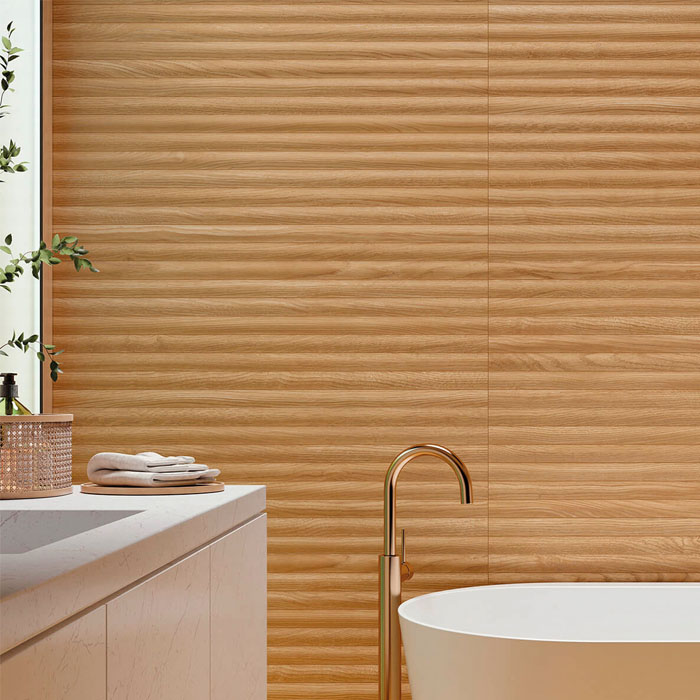 5. Urban Chic
Finally, for a different take on a contemporary design, why not try your hand at an industrial style bathroom by using slate effect porcelain tiles or a concrete-effect grey tile? These styles would be perfectly complemented by some exposed brickwork or black bathroom fittings to work with the industrial, sleek influence of the tiles.
So, those were our top tips for choosing tiles for your bathroom. However, if you have any more tiling questions, be sure to get in touch with our team, or browse the rest of our tile maintenance advice.