When it comes to choosing a set of natural stone tiles, there's something exquisitely timeless about opting for a sheet of Carrara marble. Used since the time of the Romans, Carrara marble in particular is well-known for its exceptional build quality, white, blue-grey base colour, and its striking veining.
But for those wanting to learn a little bit more about this timeless natural stone material, we've pulled together all you need to know about its history, as well as advice on how to clean Carrara marble floors and how to seal Carrara marble to make it immune to staining.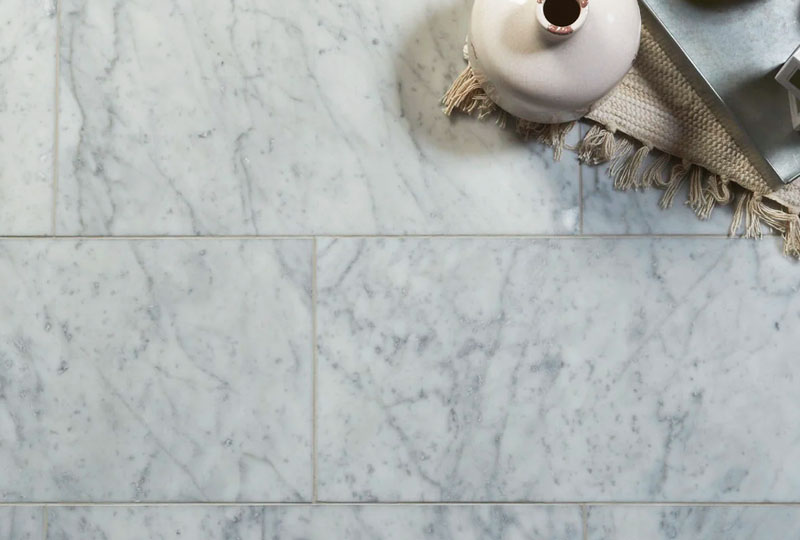 What is Carrara marble and where is it from?
Named after the Tuscan city of Carrara, which is widely seen as the marble capital of the world, this type of marble has been extracted from the Apuan Alps for well over 1,000 years, and its quarries continue to satisfy the demands of even the most discerning customers seeking marble tiles for their modern-day project.
Indeed, it's believed that the consistent quality and high-grade material yet to be excavated from the mountainside is so prevalent that buyers will be able to purchase Carrara marble for centuries to come, and with an annual output of approximately 200,000 tonnes, it certainly won't be in short supply in the near future.
But it's not just Carrara marble that the Apuan Alps provides. In fact, the quarries of Carrara boast a profusion of marble varieties, including Calacatta, Statuario, and the classic Bianco Carrara, which offers a timeless elegance thanks to its honed or polished finish and the striking veining spread across its off-white background.
Where do we get our Carrara marble?
As with all of our marble, natural stone, and porcelain tiles, here at Stone Superstore, we buy our tiles straight from the source. And for our Carrara marble specifically, we work with a partner factory in Italy itself, who are responsible for making the tiles before shipping them to our Manchester warehouse.
How much is Carrara marble?
Due to its vaunted history, Carrara marble is slightly more expensive than our other marble tile options – with tiles costing £69.90 per square metre - though it's difficult to provide you with an exact project price due to the varying cost and installation requirements of each individual installation.
However, because we do buy our marble directly from our suppliers, you can be sure you're getting a much better price than other tiling companies that operate through a longer supply.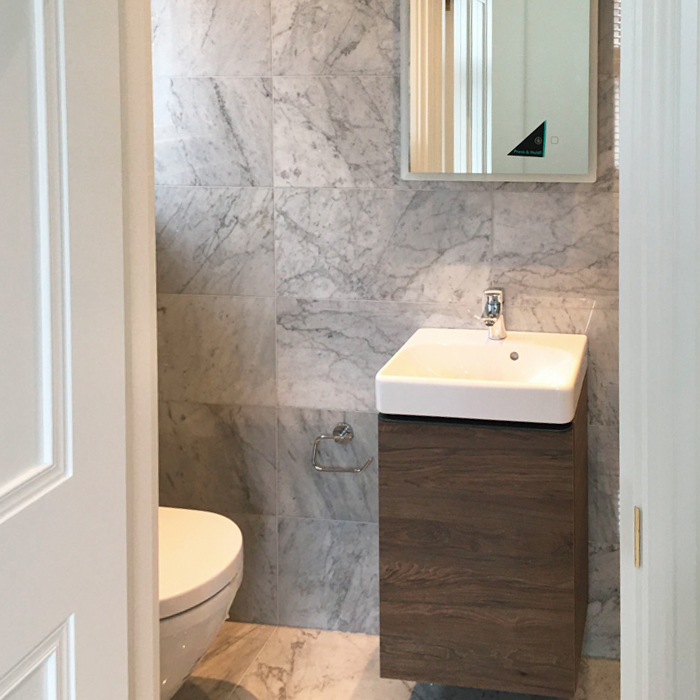 How to install Carrara marble
As with other natural stone materials, like the ever-popular limestone, installing Carrara marble is a relatively simple process, provided you know what you're doing. For Carrara marble installation instructions, read our guide on how to install natural stone tiles.
How to take care of Carrara marble
When it comes to cleaning your Carrara marble, be it floor or wall tiles, you be pleased to hear that the process is quite simple. Like other natural stone tiles, you just need to be careful that you don't damage your tiles with your choice of cleaning materials.
Again, to find out more about caring for natural stone tiles, you can read our article on how to clean natural stone tiles.
How to seal Carrara marble
Last, but not least, as Carrara marble is a natural stone, you will need to seal it to protect it against permanent staining. You can find out how to do this properly in our article on how to seal natural stone tiles.
And there you have it; you now have all the information you need to decide whether or not Carrara marble is right for your home. Of course, if you have further questions, you can get in touch with our team of experts, or browse the rest of our tile advice guides for similar articles to this one.