Whether you plan on doing a small number of tile repairs in your bathroom, or you want to redo your entire kitchen, it really should go without saying that you should get hold of several tile examples for the material you want to use, so you can be sure they're exactly what you want.
Read on to find out how to get different sample tiles from Stone Superstore, and if we can provide you with a set of free floor tile samples before you commit to any purchases.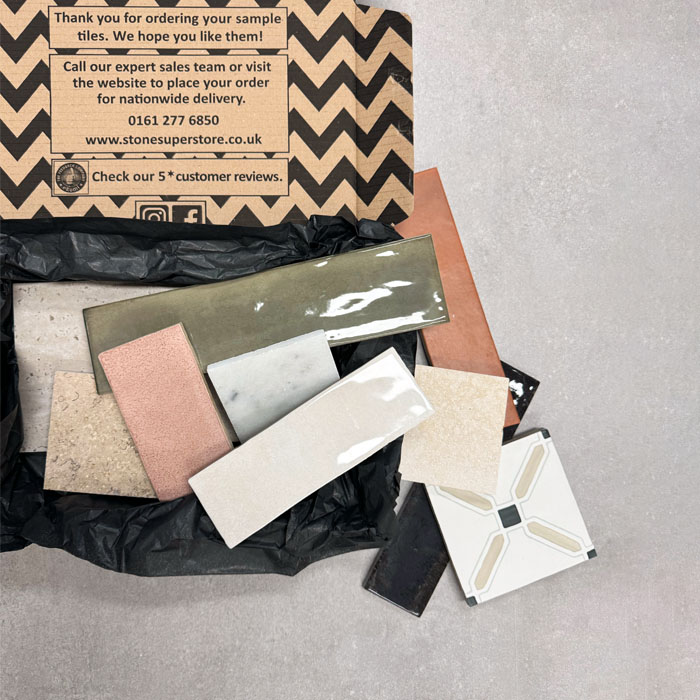 We offer three tile samples for free, with a small charge for any additional samples after that
Ordering sample tiles from Stone Superstore
As an online business that doesn't operate out of physical high-street stores, samples are a fundamental part of our business. They are probably the single most important way of demonstrating the physical qualities of our products so that you know exactly what you might be buying.
So, of course we are ready to offer you as many samples as you want before you start your project. You can simply visit our website directly and easily order your tiles online.
Do we provide free tile samples?
While many website-only companies that deal in porcelain tile and natural stone samples will often charge you to see your desired products before you buy them, here at Stone Superstore, we offer all our customers three tile samples for free.
The samples you will receive are roughly a 100mmx100mm cut of a larger tile, or a full-size sample of a smaller metro tile. They are taken from the most recent batch of the tiles they represent, giving you an insight into the tile quality we offer, and we also hand-select each sample tile in our warehouse so that they best represent the majority of the specific product you're after.
What to bear in mind when ordering stone samples
However, you should remember that a small sample can't fully represent the entire spectrum of colours and patterns of the products we offer, especially in natural stone, which is why we advise our customers to also carefully check our online images of the products.
Unfortunately, if you do request a third tile or more, then there is a £2.50 delivery charge to get each extra tile to you. This is to cover the cost of transportation and tile cutting.
Do we offer larger tile samples?
While 100mmx100mm tiles are our standard size, we do also offer a larger free tile sample service which we can dispatch via FedEx. This single sample is free of charge, but there is a small fee for the delivery. Naturally, the size of the samples is dependent on which tile products are being sent.
Of course, if you're debating between tile sizes, and weighing up which samples to get, you can explore our guide to the advantages and disadvantages of large vs small tiles for a little inspiration.
If you have any more questions about ordering free tiles from us, please get in touch with our team of experts who'll be able to offer all the information you need. Or, for more tiling insights, don't forget to browse the rest of our tile advice guides.